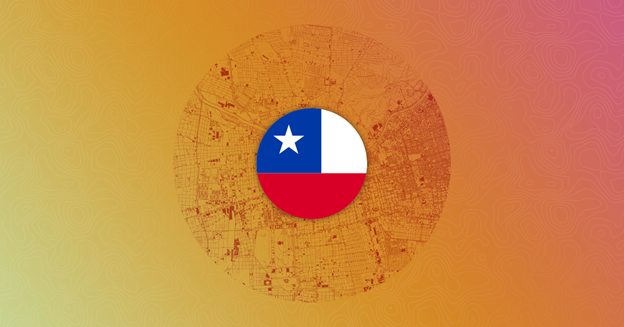 Key messages
From a median download speed of 50.23 Mbps in Q1-Q2 2020 to 205.96 Mbps in Q3-Q4 2022 – Chile punches up on fixed line performance. Chile has been the top performing fixed broadband market across Latin America, consistently outperforming other markets in the region. Over the last three years it has also closed the performance gap to other leading markets globally, and during 2022 consistently featured in the top five of Ookla®'s Speedtest Global Index™, where as of January it placed second.
Strong competition the primary driver. Chile's strong fixed broadband performance — an anomaly in the region — is due primarily to strong competition among Chilean ISPs. Chile has six ISPs with more than 5% market share, all of which are heavily focused on migrating customers to fiber, and five of which recorded median download speeds in excess of 100 Mbps during Q4 2022.
Fixed-line investment focused on driving rapid migration to fiber. Strong competition has promoted heavy fixed-line network investment, with reported data indicating capital intensity ratios in excess of 20% in the market. This has translated into a rapid technology migration, shifting the market from a majority of connections via cable (HFC) at the end of 2019, to fiber now comprising almost two-thirds of connections. Furthermore, it has also seen the formation of a neutral network, On*Net, which offers wholesale fiber access to other ISPs.
Supporting economic growth in the market. Subject to rising inflation and a market overheated following government intervention post the COVID-19 pandemic, Chile's economy is expected to contract in 2023 before returning to growth in 2024. Despite this, broadband adoption among businesses continues to advance at a rapid pace, a positive sign in helping support the market's future growth potential. In addition, broadband performance across the entire market is strong, with median download speeds in all Chilean regions in excess of 100 Mbps as of Q4 2022.
Chile punches up on fixed-line performance
Chile has been a regional leader in fixed line performance in Latin America since 2016, and since then has continually widened its advantage over its regional peers. Over the past three years Chile has driven fixed-line performance increases, from a median download speed of 50.23 Mbps in Q1-Q2 2020 to 205.96 Mbps in Q3-Q4 2022. This makes Chile now a clear anomaly among Latin American markets, having closed the performance gap to the top-performing fixed-line markets worldwide during 2022.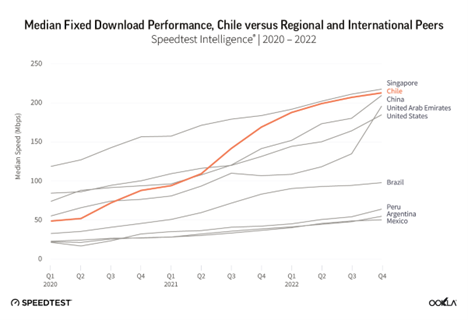 Chile's population is predominantly urban-based, with a rural population of just 12.2% in 2021 according to the World Bank. While connecting rural premises with advanced fixed access networks is more costly and less profitable than in urban environments, the urban nature of Chile is not markedly different compared to its peers in Latin America. Brazil has only a marginally greater rural share of population at 12.7%, while Argentina has a lower share, at only 7.8%.
Speedtest Intelligence® data shows that at a regional level within Chile, ISPs are supporting median download speeds in excess of 100 Mbps across all regions during Q4 2022. Santiago Metropolitan Region is the most populous region in Chile, and recorded a median download speed of 215.73, while the region with the largest rural share of population, Maule, recorded a median download of 189.36 Mbps. The lowest median speed was observed in Aysén, with 117.34 Mbps. This relative equity in fixed line performance across regions echoes a 2020 OECD country report on Chile, which highlighted that while economic disparities between Chile's regions are above the OECD average, it has shown the largest reduction in regional economic inequality among OECD countries since 2008.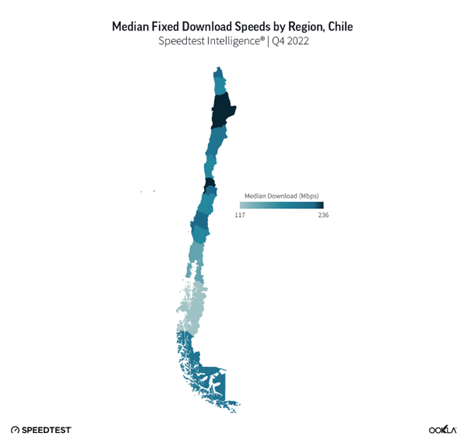 Hyper-competitive fixed broadband market
Of the top eight markets in the Speedtest Global Index, Chile had the greatest concentration of ISPs supporting high-speed broadband services. Speedtest data shows eight ISPs active in the Chilean market with more than 3% share of samples, and of these seven supported median download speeds in excess of 100 Mbps. According to the regulator Subtel, Telefonica led the market with 30.3% market share, ahead of second-placed VTR with 26.2%.
Telefonica also led the market in terms of fiber connections, with a market share of 45.7%, followed by Mundo with 25.0%, which in January 2023 announced that it had completed the migration of its customer base from HFC (hybrid fiber-coaxial cable) to fiber-to-the-home (FTTH). Other smaller ISPs are actively deploying fiber or looking for alternative solutions to boost their reach. Entel agreed to sell its fiber network to On*Net Fibra, a joint venture between KKR and Telefonica Chile to provide a neutral fiber network in Chile, in October 2022. This will allow Entel to continue provisioning new households over the larger OnNet network. We also see SpaceX's Starlink active in the market, alongside Hughesnet, although satellite remains a very small but growing technology within the market.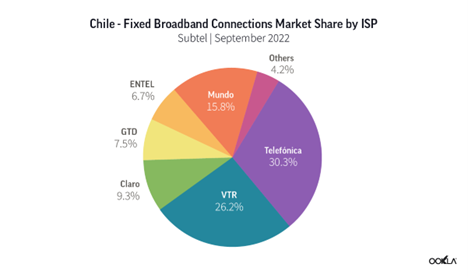 Strong competition driving network investment
Strong competition in Chile's fixed line market has helped drive network investment, with Chilean ISPs focused on expanding the number of homes passed and migrating to more advanced fiber access. The relatively late launch of 5G networks in the region has enabled operators to focus more heavily on fiber deployment, with a view to increasing fixed broadband adoption and also supporting 5G networks.  The first 5G networks in the market launched in December 2021.
While there is limited reported fixed-line financial data in the market, Telefonica Chile has reported capex historically. Its data shows strong early investment in the market, with capital intensity (capex as a share of revenues) well above 20% from 2015 onwards, peaking at 28.8% of revenues in 2018.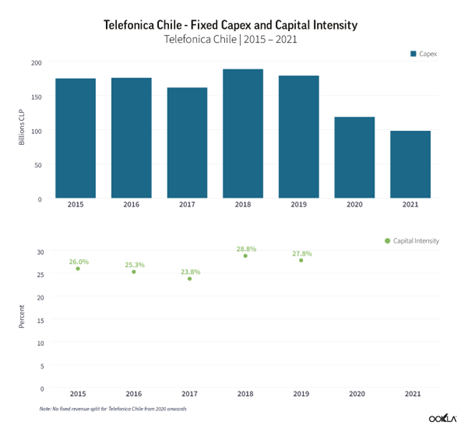 Telefonica Chile stopped reporting fixed revenues in 2020, however its fixed capex dipped significantly, highlighting the change in strategy from its parent group to deleverage its Latin American operation. This eventually led to KKR's acquisition of a 60% share in InfraCom from Telefonica, creating On*Net Fibra, a neutral FTTH network joint-venture, which began offering wholesale services in July 2021. Rival ISP VTR confirms the overall trend of strong fixed-line investment in the country, reporting capital intensity in excess of 20% over the past three years. In addition, Mundo announced in early 2022 that it planned to invest $200 million expanding its fiber infrastructure in Chile, and the ISP is targeting 4.5 million homes passed, by the end of 2023.
Accelerating migration to fiber
As of 2019, a majority of Chilean broadband connections were supported by hybrid fiber-coaxial (HFC) services, with fiber the second most frequently used technology, followed by ADSL. The transformation of the Chilean fixed broadband market since then has been rapid, with the latest data for September 2022 showing that fiber makes up the majority of broadband connections, with HFC's share declining strongly, and ADSL's share dropping below that of wireless broadband connections.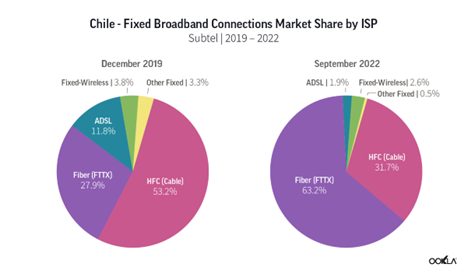 This rapid tech migration has also led to Chile being among the strongest adopters of Wi-Fi 5 and 6 in Latin America, which support faster speeds within business and in the home. In Q4 2022, 71.3% of Chile's Speedtest samples utilized Wi-Fi 5, with less than 20% utilizing Wi-Fi 4. By contrast, Brazil had 38.2% of samples utilizing Wi-Fi 4, and Argentina 53.4%. Adoption of the newer Wi-Fi 6 routers is slower in Chile compared to international peers, standing at 8.5% as of Q4 2022, however it still leads within Latin America by a significant margin. Within Chile GTD led the pack with 33.5% of samples utilizing Wi-Fi 6 during Q4 2022, followed by WOM with 25.9%, Entel with 21.9% and Telefonica del Sur with 19.4%. By contrast, Claro, Movistar, Mundo and VTR all returned less than 10% in Wi-Fi 6 samples, indicating there is plenty of scope to increase median fixed-line performance yet further in the market. Our analysis of the median download speeds shows a strong correlation with adoption of Wi-Fi routers utilizing 5 GHz spectrum (WiFi 5 and above).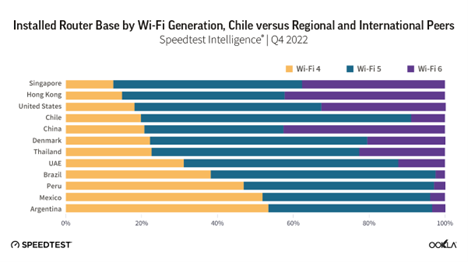 Driving increased fixed broadband adoption
The growth in fixed broadband adoption in Chile was disrupted significantly by the COVID-19 pandemic, and resultant move towards remote working and more people staying at home. Connections growth increased from 5.5% in 2019, to 10.7% in 2020 and 12.8% in 2021, as the importance of home internet connectivity grew.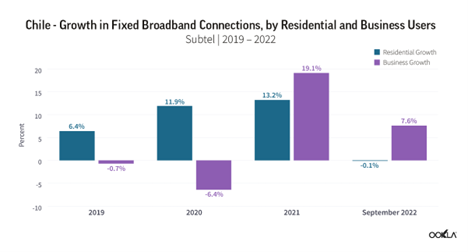 The initial acceleration in connection growth in 2020 was due to growth in residential fixed broadband adoption, with connections increasing by 13% in 2020 and 12% in 2021. Business fixed broadband connections declined in 2020 as the economy contracted, but rebounded strongly in 2021 on the back of government economic stimuli, increasing 19%, and a further 8% in the first three quarters of 2022, demonstrating the important role of broadband in supporting economic growth in the market.
Chile's economy is forecast to contract in 2023, as inflation continues to impact the market, and fiscal stimuli following the COVID-19 pandemic are unwound. However, the Chilean Central Bank forecasts that the market will rebound in 2024, with growth ranging from 2.25% – 3.25%. A key component of Chile's future growth will be the ability of businesses to secure fast and reliable internet connections. From an infrastructure point of view, Chile is very well served in this regard, with a very dynamic fixed infrastructure market, as demonstrated by its operators continuing to push on fiber rollout, the emergence of a neutral fiber network with broad coverage, and even the increasing role of satellite connectivity in the market. Such is the success of its Chilean operation, that Telefonica is using the market as a blueprint for its other operations across Latin America. We'll continue to monitor the rapid progress of Chile's fixed broadband market as it continues to vie with other leading markets internationally at the top of Ookla's Global Index. To find out more about Speedtest Intelligence, please get in touch.
Ookla retains ownership of this article including all of the intellectual property rights, data, content graphs and analysis. This article may not be quoted, reproduced, distributed or published for any commercial purpose without prior consent. Members of the press and others using the findings in this article for non-commercial purposes are welcome to publicly share and link to report information with attribution to Ookla.