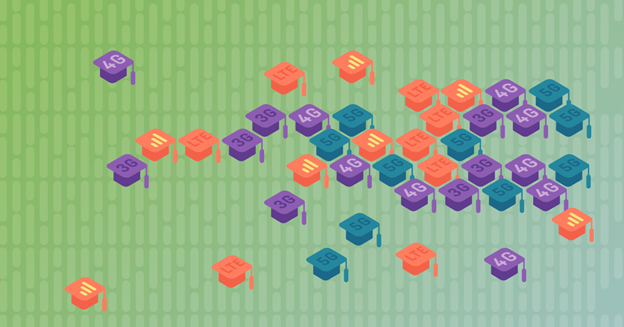 August means back to school in the northern hemisphere and students across the United States are settling into carefully chosen schools, ready to embark on new adventures. While they may have chosen those schools based on academics, athletics, and even location, there may be a hidden benefit for some students: great mobile gaming. We analyzed Speedtest Intelligence® from 100 college towns across the U.S. with a large percentage of students where college is a major part of the industry to look for the kind of mobile performance that lends itself to a strong mobile gaming experience. We also took a sidebar look at 10 schools that are known for their varsity esports programs to see how they stack up.
Introducing Game Score™
We know what online gamers care most about: low "ping" in competitive games, voice chat quality and stability, quickly downloading new games and patches, live streaming, and cloud gaming. We developed Game Score to provide insight into the metrics that matter most to that game experience: download speed, upload speed, and latency and jitter measurements taken to real-world game servers. Game Score includes calculations on median performance as well as 10th and 90th percentile performance to provide a trustworthy assessment of expected network performance.
College towns with the best (and worst) mobile gaming experience
Speedtest Intelligence data from Q2 2023 reveals that three states: Maryland, Michigan, and California contain most of the top 10 college towns from our list for mobile Game Score on all cellular technologies for all providers combined.
Top college towns for mobile gaming
Students living in College Park, Maryland; Annapolis, Maryland; East Lansing, Michigan; Berkeley, California; and Ann Arbor, Michigan can expect top mobile gaming performance, though all the towns on this list do very well. Dover represented for Delaware, State College for Pennsylvania, and Providence for Rhode Island. Madison, New Jersey very narrowly missed out on the top 10. Click the map above for performance information in each town.
These would all be good towns to try your skill at MOBAs like League of Legends, real-time strategy games like StarCraft II, or Battle Royales like Call of Duty: Warzone or Fall Guys where the game mechanics typically rely on real-time communication or reaction. Who knows, your new virtual friends and rivals could be the start of your new IRL community.
College towns where mobile game performance lags
The 10 college towns with the lowest game scores based on Speedtest® data from Q2 2023 are more geographically distributed than the top 10. Socorro, New Mexico had the lowest Game Score on this list, followed by Anchorage, Alaska; Bozeman, Montana; Starkville, Mississippi; and Hanover, New Hampshire. Missoula, Montana; Fayetteville, Arkansas, Bowling Green, Kentucky; Middlebury, Vermont; and College Station, Texas rounded out the bottom 10. These college towns might be better suited for games where players try to best themselves, like practicing math with Sudoku or brushing up on adulting with a game like Florence.
Mobile gaming in places with top varsity esports programs
We took a close look at mobile Game Score in Q2 2023 for 10 locations that are home to colleges with some of the top varsity esports programs.
Berkeley, California, home to UC Berkeley, had the highest Game Score on this list. It was also the only location that made both the "college towns" and "varsity esports" lists, with most of these places primarily known for more than their universities. Irvine, California, second on this list, is home to UC Irvine. Dallas, Texas, home of UT Dallas, may have room to complain to the administration about their mobile performance as they had the lowest Game Score on this list. Akron, Ohio (University of Akron); St. Louis, Missouri (Maryville University); and Oxford, Ohio (Miami University) followed closely.
Most notable for the competitive nature of esports is the range of performance here, with nine of these varsity esports university towns showing mobile game scores that would not qualify them for the top 10 in the U.S. overall.
We're excited for your feedback on mobile gaming where you're at, so please take a Speedtest on Android or iOS then send your thoughts and results to us via Twitter or Facebook. We're also interested in your suggestions for what locations to cover next year. You can also check month-by-month performance for your town and compare expected speeds for internet providers in the Speedtest Performance Directory™, and if you're struggling to connect to an online game at all, check out Downdetector® for details on service outages.
If you're a network operator interested in Game Score performance on your network, contact us.
Ookla retains ownership of this article including all of the intellectual property rights, data, content graphs and analysis. This article may not be quoted, reproduced, distributed or published for any commercial purpose without prior consent. Members of the press and others using the findings in this article for non-commercial purposes are welcome to publicly share and link to report information with attribution to Ookla.