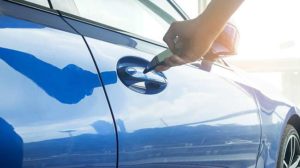 From November 7 to 11, 2022, the Car Connectivity Consortium (CCC) invited its members to the CCC End-to-End Interoperability Plugfest #2, which took place in Santa Clara, CA, USA. The Plugfest allowed attendees to test their NFC-related CCC Digital Key implementations against other member companies' implementations in order to discover and to investigate interoperability issues in the communication between vehicles and mobile devices.
COMRPION provided the test tool that was used to execute CCC Digital Key end-to-end interoperability test cases. The test tool consists of a combined sniffer/disturbance unit based on the COMPRION CL Verify A and antennas for capturing and disturbing NFC communication. It delivers passed and failed results including log files and reports in human-readable format based on the test specification.
Results from these test sessions will be used to validate the test tool. "COMPRION is very proud to attend and to contribute to the Plugfest to help advancing the CCC Digital Key ecosystem and the related certification program," said Andreas Schreckenberg, Product Manager at COMPRION.
With more than 170 member companies, the CCC represents a large part of the automotive and smartphone industries.