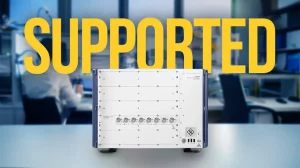 COMPRION, a leading provider of test solutions for the wireless industry, announces that COMPRION SIMfony CMX500, its 5G NR test solution for mobile device certification, now supports the R&S CMX500 mobile radio tester in its One-Box tester configuration.
To obtain 5G market approval for a mobile device, the handset must pass 5G USIM/USAT device tests according to GCF and PTCRB test plans, using a SIM simulator and a 5G network simulator.  Rohde & Schwarz has recently introduced the CMX500 One-Box Signaling Tester. It allows executing also those 5G USIM/USAT tests, which require parallel simulation of multiple 5G SA (standalone) cells, in a single test instrument.
"By seamlessly integrating the R&S CMX500 One-Box Signaling Tester into our COMPRION SIMfony family, our customers can achieve 5G NR USIM/USAT device certification according to GCF/PTCRB much easier, faster and with a streamlined test setup that provides stable measurements on a test platform that is future-proof for upcoming technology requirements," explains Udo Willenbrink, Product Manager at COMPRION.
Manuel Galozy, Senior Product Manager at Rohde & Schwarz, adds: "We are pleased that COMPRION has enabled the integration of the CMX500 One-Box Signaling Tester so quickly, as this device will be Rohde & Schwarz's preferred configuration of its 5G NR network simulator. This extends our 3GPP conformance test portfolio with 5G USIM/USAT tests seamlessly."
The COMPRION SIMfony solution with integrated R&S CMX500 One-Box Signaling Tester will be validated as a new GCF/PTCRB TP227 configuration in the near future and will be available for device certification.
About Rohde & Schwarz
The Rohde & Schwarz technology group is among the trailblazers when it comes to paving the way for a safer and connected world with its leading solutions in test & measurement, technology systems, and networks & cybersecurity. Founded nearly 90 years ago, the group is a reliable partner for industry and government customers around the globe. On June 30, 2022, Rohde & Schwarz had around 13,000 employees worldwide. The independent group achieved a net revenue of EUR 2.53 billion in the 2021/2022 fiscal year (July to June). The company is headquartered in Munich, Germany.
R&S® is a registered trademark of Rohde & Schwarz GmbH & Co. KG.
All press releases, including photos for downloading, are available on the internet at www.press.rohde-schwarz.com.