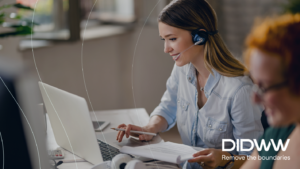 DIDWW, a leading provider of premium quality two-way SIP trunking services, has recently added new features to its cloud-based communications platform to further assist Unified Communications as a Service (UCaaS) providers in meeting the ever-evolving demands of enterprises and SMBs globally.
UCaaS systems can leverage the robust and geo-redundant VoIP network at DIDWW that allows for the simple and efficient management of large volumes of internal and external communications traffic. The company's feature-rich two-way SIP trunking solution supports virtually unlimited call capacity, flexible SIP trunk settings, and direct interconnections. Designed to help expand business communications around the world for companies of all sizes, DIDWW SIP trunking will ensure a fully-compliant and reliable service, as well as excellent call quality.
As a global telecom provider, DIDWW offers extensive coverage of local, national, mobile and toll-free virtual phone numbers in 80 countries. When combined with local two-way SIP trunks, local CLI is guaranteed and both Voice and SMS communications may be enabled on the same number. The DIDWW solution is available for immediate provisioning via the intuitive, self-service user portal or the API.
Raimonda Martinkiene, COO at DIDWW, added, "Our mission has always been to provide customers with outstanding quality and highly reliable solutions that make business communications more efficient and productive. We create effective and fully-customizable tools that match the demands of customers of any size and satisfy their use-cases, with a focus on process speed and automation."
About DIDWW
DIDWW is a platform for telecommunication professionals with full self-service access and real-time provisioning, APIs and all the necessary building blocks for achieving the ultimate control over voice and SMS services.
The company offers the largest fully compliant international coverage of local, national, mobile, toll-free voice and SMS-enabled virtual phone numbers, two-way local and global SIP trunks, access to local emergency services, flexible capacity options, free global number portability, a number selection tool, and more.
DIDWW delivers premium quality services to thousands of operators worldwide through a private and fully geo-redundant network with mission-critical reliability and guaranteed SLAs. Their customers enjoy advanced solutions coupled with a unique service experience and superior value, all driven by a highly motivated team of professionals.
To learn more about DIDWW, please visit https://www.didww.com/.
Press Contact:
Vilija Simkiene
Marketing Department
+1 (212) 461 1854