Dublin, Ireland – June 20, 2023 – Euro-Center, one of the world's leading companies in the fields of medical assistance, travel assistance and insurance claims' handling, has formed a strategic alliance with DIDWW, a global telecoms operator offering premium quality VoIP communications and SIP trunking services. By leveraging DIDWW two-way SIP trunking solution, this partnership ensures high quality voice services throughout Euro-Center's medical assistance and travel insurance business.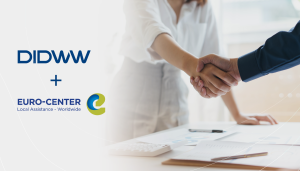 With their global presence, it was crucial for Euro-Center to find a comprehensive cloud solution as opposed to relying on local PBX systems in each of their 11 regional offices. Consequently, the company chose to partner with Genesys Cloud and collaborate with DIDWW to meet the goals of Business Continuity Planning (BCP).
Euro-Center selected DIDWW due to the operator's unique coverage in countries not typically covered by other global SIP providers, such as South Africa, Thailand, Brazil, and Turkey. As Euro-Center has its second-largest office in Thailand, securing premium quality VoIP services in the country is particularly important for the company. Additionally, with DIDWW offering virtual phone numbers in 81 countries, Euro-Center can further expand its ability to provide comprehensive medical assistance and travel insurance services to customers all over the world.
Kevin Terret, Operations Manager at Euro-Center, said, "This strategic alliance with DIDWW allows us to enhance our global presence in key regions and secure premium voice services for our travel and medical assistance business."
Artur Kopcik, Strategic Client Relations Manager at DIDWW, added, "We are proud to partner with Euro-Center to extend their global reach and help them provide customers with high-quality medical assistance and travel insurance services. As our coverage is constantly expanding, we are excited to work closely with Euro-Center to support their growth and success."
About DIDWW
DIDWW is a platform for telecommunication professionals with full self-service access and real-time provisioning, APIs and all the necessary building blocks for achieving the ultimate control over Voice and SMS services.
The company offers the largest fully compliant international coverage of local, national, mobile, toll-free voice and SMS-enabled virtual phone numbers, two-way local and global SIP trunks, access to local emergency services, flexible capacity options, free global number portability, a number selection tool, and more.
DIDWW delivers premium quality services to thousands of operators worldwide through a private and fully geo-redundant network with mission-critical reliability and guaranteed SLAs. Their customers enjoy advanced solutions coupled with a unique service experience and superior value, all driven by a highly motivated team of professionals.
To learn more about DIDWW, please visit https://www.didww.com/.
About Euro-Center
Euro-Center is one of the world's leading companies in the fields of medical assistance, travel assistance, and insurance claims handling. As part of the premier Munich Reinsurance Company, a multinational insurance group, Euro-Center has built a network of 75,000 medical facilities worldwide, with its 11 regional offices and 24/7 medical assistance hubs covering all countries and territories.
Euro-Center's assistance experts speak over 40 languages and are backed up by in-house nurses and doctors. Euro-Centers worldwide provide a local access point for advice, case management support, and claims handling services to insured members (IPMI/expatriate, leisure) and self-insured corporates, with an extensive network of cashless service providers.
Euro-Center delivers extensive reporting tools to clients, online portals, as well as AI-driven services for policyholders. Niche outsourcing solutions for travel claims and related customer services are offered from its location in Cape Town.
To learn more about Euro-Center, please visit www.euro-center.com.
Press Contact:
Vilija Simkiene
Marketing Department
vilija.s@didww.com
+1 (212) 461 1854