Fibocom participates in the GSA 4G/5G FWA Forum Plenary on 10th May, 2022. James Xu, director of FWA GTM Dept. of Fibocom attended the roundtable discussion, addressing key technology enhancements for FWA.
Shenzhen China – May 11, 2022 – Fibocom (Stock Code: 300638), a global leading provider of IoT (Internet of Things) wireless solutions and wireless communication modules, participated in the GSA 4G/5G FWA Forum Plenary. At the forum, James Xu, director of FWA GTM Dept. of Fibocom joined the roundtable discussion, sharing insights about FWA market trends and technology advancement from the perspective of module vendor.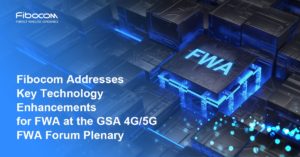 The Global mobile Suppliers Association (GSA) launched the 4G-5G Fixed Wireless Access (FWA) Forum in 2020, with the goal of bolstering the FWA ecosystem and accelerating FWA market adoption. Being one of the GSA member, Fibocom has sponsored the Forum for two consecutive years, sharing insights about the market opportunity and challenges of FWA commercialization. As a key enabler of FWA device, Fibocom joined the roundtable discussion and talked about what technology features are embedded into FWA devices to ensure best user experience.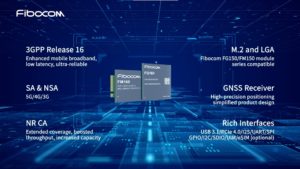 Fibocom is optimistic about the market potential of 5G FWA, and has developed a series of cutting-edge 5G module solutions for the global FWA industry. However, the number of operators delivering FWA services varies widely by region, and there are still obstacles needed to overcome, such as limited bandwidth and signal coverage. The new generation of Fibocom 5G modules support 4×4 MIMO in the low-frequency band, which enables faster 5G download speed and wider coverage. The products also support PC1.5 HPUE, significantly improving the cell edge performance with wider cellular coverage and higher upload speed. Furthermore, the optimal RF design of the new modules can better support rich combination of EN-DC, which meets the deployment needs of customers in the more complex network environment.
Watch the video to learn more about Fibocom's high-performance 5G module solution for FWA: https://www.youtube.com/watch?v=t22uhot1h0o
"Fibocom has always been an active contributor in the FWA ecosystem. Collaborating with industry partners in different sectors of the value chain, Fibocom has been the first to help customers achievING millions of shipments in the field of 5G FWA. We are committed to providing enhanced wireless module solutions suitable for the global FWA market." said James.
For more information, please visit:
Resources
About Fibocom
Fibocom is a leading global provider of wireless communication modules and solutions in the sector of IoT (Internet of Things), as well as the first stock-listed (Stock Code:300638) wireless module provider in China. We provide end-to-end IoT wireless communication solutions for telecom operators, IoT equipment manufacturers, and IoT system integrators. With over two decades' engagement in M2M and IoT communication technology and extensive expertise, we are capable of independently developing high-performance wireless communication modules including 5G, LTE/LTE-A, NB-IoT/LTE-M, Android Smart, Automotive, WCDMA/HSPA(+), GSM/GPRS, Wi-Fi, GNSS, etc. Besides reliable, convenient, safe and intelligent IoT communication solutions for almost all vertical industries, we are also geared to customize the best and optimal IoT modules and solutions catering to your special requirements.
Media Contact
Ellie Cai