Fibocom FWA-dedicated 5G module FG370, based on MediaTek's T830 chipset platform, is designed to empower the FWA devices with enhanced speed performance and optimized reference design. With mass production availability, it is now capable of accelerating the implementation of 5G technologies worldwide.
Barcelona, Spain – March 2nd, 2023 – Fibocom Wireless Inc., a global leading provider of IoT (Internet of Things) wireless solutions and wireless communication modules, in cooperation with MediaTek Inc., the leading global fabless chipmaker, to launch the "Fast-to-deploy" one-stop solution for FWA based on the 5G Sub-6GHz module FG370 at MWC Barcelona 2023.
The innovative "Fast-to-deploy" 5G FWA solution includes the reference designs of two forms of FWA devices, CPE and MiFi, integrating with Fibocom 5G Sub-6GHz module FG370, significantly simplifying the hardware design of FWA devices and reducing the time to market. Leveraging multiple key features of the latest advanced Wi-Fi 7 technology, the CPE supports tri-band Wi-Fi 7 solution delivers a high throughput and seamless in-home connectivity, while the MiFi supports dual-band Wi-Fi 7 solution brings a reliable and stable network connectivity for mobile hotspot users.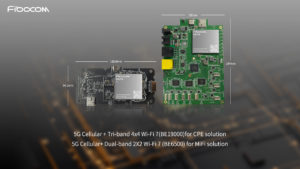 It is worth mentioning that the FG370 was firstly-introduced to the market in October 2022, certified by GCF and CE in early January 2023, now it is ready for mass production. By utilizing the powerful quad-core Arm Cortex-A55 CPU on MediaTek's T830, FG370 supports 4CC CA (Carrier Aggregation) and up to 300MHz of spectrum, as well as 2CC CA and up to 200MHz of spectrum, significantly improves the utilization of spectrum resources and ensures an extended 5G coverage. In addition to new features such as 8RX (Receive Antennas) and Power Class 1.5 (PC1.5) High Power User Equipment (HPUE), FG370 module is capable of delivering maximum 7.01Gbps on the downlink and 2.5Gbps on the uplink.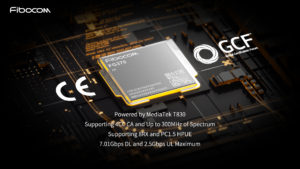 "I am very pleased that Fibocom's FG370 5G module has achieved market-entry certifications such as GCF and CE in a short time," said Evan Su, General Manager of Wireless CommunicationsⅡ, MediaTek. "During the MWC Barcelona 2023, we jointly released the "Fast-to-Deploy" 5G FWA solution based on Fibocom FG370, it will help CPE and Mobile hotpot customers to implement the migration from previous generation to the newest platform in a very short term, bringing ultra-fast gigabit experience. In the future, we will expand our cooperation in product development, industry solutions and more, empowering the future with our 5G innovations."
"The advent of 5G has bolstered the use of FWA solutions, huge opportunities come with challenges, the utilization of 5G spectrum, the complexity in device design, and the reliability of network connection are the obstacles of FWA roll-out," said Simon Tao, General Manager of MBB Product Management Dept., Fibocom. "By working closely with MediaTek, we have achieved several product milestones ahead of the market. We believed that by launching the reference design for both CPE and MiFi, FWA customers worldwide can upgrade to the latest 5G solution smoothly and easily, significantly reduce the time to market and maximize the ROI."
Fibocom will dive deep into the cooperation with MediaTek to launch the mmWave version of FG370 and to introduce the storage separation capability to the module in future generations.
About Fibocom
Fibocom is a leading global supplier of wireless communication modules and solutions in the sector of IoT, as well as the first wireless communication module producer listed on the A-share market in China (stock code: 300638). We provide end-to-end IoT wireless communication solutions for telecom operators, IoT equipment manufacturers, and IoT system integrators. With over two decades' engagement in M2M and IoT communication technology and extensive expertise, we are capable of independently developing high-performance wireless communication modules including 5G/ 4G high speed cellular modules, LTE Cat 1/ 3G/ 2G/ NB-IoT/ LTE Cat M LPWA IoT cellular modules, Android smart modules and automotive communication modules for vehicle applications. Besides reliable, convenient, safe and intelligent IoT communication solutions for almost all vertical industries, we are also geared to customize the best and optimal IoT modules and solutions catering to your special requirements.
Media Contact
pr@fibocom.com