Carrier Grade Reliability Design
IPLOOK uses open-source database Redis in core network system, it is a memory-based Key-Value database, has great performance, and deployed as an active/standby redundancy mode.
All stateful contexts of core network system are stored in this database. Other service processes are stateless such as interface message process, mobility management process, session management process and so on.
But for user plane, the session control process is deployed as active/standby mode to ensure ZERO interruption of the data flow during the service swapping procedure, for the backup forwarding table could be immediately in charge of dealing with packets.
And for O&M plane, the redundancy enforcements are deployed from the bottom at the Linux kernel, watchdog is here to check the active OM process status, this process is in charge of the heartbeat check with every other process.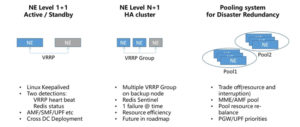 At NE level, IPLOOK provides 1+1, N+1, N+M and pooling redundancy solution for different scenario requirement. 1+1 or N+1 is used for some smaller scale solutions, and N+M are some massive scale deployment scenarios, 3GPP standard pooling system like MME pool, AMF pool, PGW/UPF DNS priorities set is for disaster redundancy.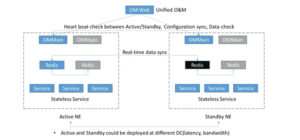 IPLOOK backup mechanism is hot backup, that means active node and standby node are synchronizing user data (context, state, etc) in real-time, and they could be managed by a single unified O&M, so when the active node fails, the standby could immediately handle current service without any service interruption.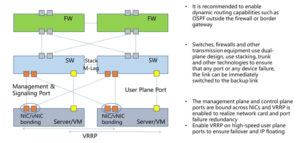 IPLOOK adopts dual plane networking scheme to avoid single point of failure, so from server to EOR/TOR/Firewall, the networking of every service port or IP should have a redundancy link.
Contact us for more details!