Dublin, Ireland – July 04, 2023 – Nuacom, a Software-as-a-Service and telecom company providing complete Cloud Phone System solutions, has announced an extended strategic partnership with DIDWW. As a global telecom operator, DIDWW offers premium quality VoIP communication and SIP trunking services for businesses and telecom carriers.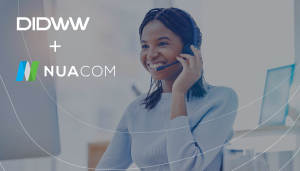 Through this partnership, Nuacom aims to significantly expand its global reach, enabling organisations to connect with customers and partners anywhere in the world. Leveraging DIDWW extensive coverage and vast network of virtual phone numbers (DIDs) in 81 countries, Nuacom will offer its customers a local presence in multiple geographies worldwide. This collaboration will ensure enhanced accessibility, seamless communication and cooperation across borders, driving international growth.
In addition, Nuacom's comprehensive collaboration with DIDWW enables the provider of Cloud Phone Systems to not only utilise DIDWW two-way Voice and SMS services, but also to take advantage of their robust outbound SIP trunking solution. DIDWW VoIP services, delivered over a private, global IP network, offer premium audio quality, virtually unlimited call capacity with flexible SIP trunk settings, and the highest level of service reliability. The combination of these features empowers businesses with a reliable and efficient communication solution.
Igor Toma, CEO at Nuacom, stated, "Through our strong partnership with DIDWW, we are able to offer reliable and innovative VoIP communication services to our valued customers. With our extended global reach, secure cloud-based solutions, and dedication to customer satisfaction, we can meet unique business requirements, promoting their success and facilitating international growth."
Saule Kasciukaitiene, Head of Sales at DIDWW, added, "We are excited to collaborate with Nuacom to help provide their customers with exceptional access to global markets. Combining our powerful SIP Trunking solution and their cutting-edge Cloud Phone System, delivers the highest quality of voice services to businesses in a variety of industries worldwide."
About Nuacom
As a trusted leader in the VoIP industry, Nuacom has been in business since 2009, boasting extensive experience and a proven track record. What began in Ireland has now grown to a global presence, with operations spanning across 60 countries. With over 15,000 users and a remarkable milestone of processing over 1 billion calls, Nuacom has solidified its position as a reliable and scalable communication solution provider.
Nuacom's commitment to cloud-based solutions, innovation, and a customer-centric approach sets the company apart as a forward-thinking VoIP provider. With a focus on seamless integrations and call analytics, Nuacom empowers businesses to maximize the value of their communication systems, gain actionable insights, and drive growth. As technology continues to evolve, Nuacom remains at the forefront, dedicated to delivering exceptional communication solutions.
To learn more about Nuacom, please visit https://nuacom.com/.
About DIDWW
DIDWW is a platform for telecommunication professionals with full self-service access and real-time provisioning, APIs and all the necessary building blocks for achieving the ultimate control over Voice and SMS services.
The company offers the largest fully compliant international coverage of local, national, mobile, toll-free voice and SMS-enabled virtual phone numbers, two-way local and global SIP trunks, access to local emergency services, flexible capacity options, free global number portability, a number selection tool, and more.
DIDWW delivers premium quality services to thousands of operators worldwide through a private and fully geo-redundant network with mission-critical reliability and guaranteed SLAs. Their customers enjoy advanced solutions coupled with a unique service experience and superior value, all driven by a highly motivated team of professionals.
To learn more about DIDWW, please visit https://www.didww.com/.
Press Contact:
Vilija Simkiene
Marketing Department
vilija.s@didww.com
+1 (212) 461 1854