Ookla® hosted its inaugural Telecommunications Regulatory Summit for policymakers across Asia Pacific on July 16, 2023, in Kuala Lumpur, Malaysia. The Summit event brought together over 40 regulatory participants from ten countries in the region, to examine how crowdsourced data can support more effective policy-making. The Summit also reflected on the regional telecommunication landscape, its challenges, opportunities, ways to bridge the digital divide, and ensuring consumers have a good quality of experience (QoE).
Key takeaways
Data-driven regulation to drive connectivity. The summit emphasized that crowdsourced data plays a crucial role in measuring progress, identifying connectivity gaps, and making informed decisions to bridge the digital divide, ensuring that high-quality broadband is accessible to everyone, including rural and remote areas.
Diverse technology solutions for connectivity. While 5G technology can replace fixed broadband access in certain scenarios, satellite and 5G FWA technology are effective solutions for remote areas. Adopting these technologies, combined with digital literacy initiatives, can help address challenges related to device accessibility, affordability, and usage gaps.
Regulation and collaboration as catalysts for digital transformation. Effective regulatory policies, collaboration with various stakeholders, and implementing programs like Malaysia's Jendela initiative are instrumental in promoting digital infrastructure, improving customer experience, and ensuring widespread access to telecommunications services. When internet providers, governments, and regulators work together (like in the Malaysia example), internet service and coverage will continue to improve and expand, including in rural areas.
Data-driven regulation to increase connectivity
Many governments in Asia Pacific see improvements to broadband connectivity as a means to drive digital transformation of their economies. However, this requires that high-quality broadband be accessible nationwide.
Speedtest Intelligence data shows that fixed network performance varies across the region, while mobile networks are catching up in performance and are often the primary means of connection. 5G performance has already exceeded fixed network performance in Malaysia and Indonesia –  Speedtest Intelligence data shows that Malaysia recorded a median 5G download speed of 511.79 Mbps versus 93.19 Mbps for fixed, while in the Philippines, our results showed median download speeds of 133.47 Mbps on 5G versus 93.19 Mbps over fixed broadband.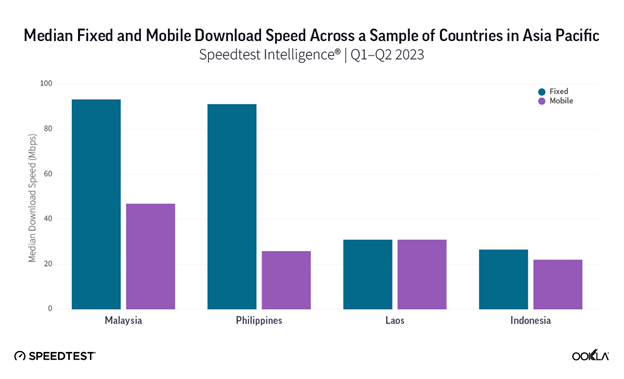 Although connectivity continues to improve, connecting rural and remote areas remains a challenge. To tackle this issue, some countries have established programs like Malaysia's Universal Service Provision and Indonesia's Universal Service Obligation fund. These programs aim to provide basic telephony and internet services to individuals and communities. Operators contribute to the fund, which is then used to deploy networks in rural areas that may not be financially viable otherwise. Mr. Sam Majid, CTIO of the Malaysian Communications and Multimedia Commission (MCMC), emphasized the importance of making informed decisions, driving tangible improvements, and revolutionizing the approach to strengthen internet connectivity in the country. He added, "Crowdsourced data has become critical for us to understand where the demand for connectivity is, where we need to improve, and where we need to deploy. These insights help us manage regulatory policy to address the digital divide, support consumer protections, and increase competition within the market."
A mix of technologies is required to advance connectivity
5G technology can potentially replace fixed internet access in situations where the cost of fiber deployments is high and rolling out traditional fixed broadband networks isn't commercially viable. However, in countries like Indonesia, satellite technology may be a more effective solution for providing connectivity to remote areas. While 5G Fixed Wireless Access (FWA) and satellite technology can complement each other, the adoption of satellite technology is currently limited by factors such as coverage, device affordability, and cost of service (Starlink modems cost around $800) in comparison to existing fixed or mobile broadband options. On the other hand, based on our data from the U.S.A., we can see that in the best-case scenario, 5G-based FWA can compete with fiber in terms of median download speeds.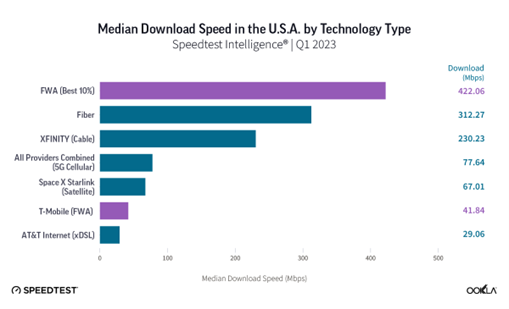 Malaysia has taken a proactive approach to address the growing demand for better quality fixed and mobile broadband coverage. The government's 12th Malaysia Plan (2021-2025) includes the Jalinan Digital Negara (Jendela) initiative, which utilizes various technology solutions for different sub-areas. To achieve its objectives, Jendela uses Ookla's crowdsourced data to monitor mobile broadband speeds and identify coverage gaps. In contrast to other countries, Malaysia has adopted a nationwide single wholesale network (SWN) approach for its 5G rollout. The Digital Nasional Berhad (DNB) was established in 2021 to construct and operate the 5G network infrastructure and provide 5G services to mobile network operators at wholesale prices. With 5G DNB coverage reaching 64.75% as of June 2023, Jendela is making significant progress in expanding internet access and achieving its goals of digital transformation.
Regulators play a role in advancing digital transformation
In a panel discussion about the impact of regulation on digital transformation, MTC Laos' Ms. Phavanhna Douangboupha and Indonesia's DG SDPPI, Mr. Adis Alifiawan, shared their strategies for increasing broadband connectivity and narrowing the digital divide. Ms. Douangboupha revealed that Laos is collaborating with the private sector and government agencies towards Digital Transformation and Digital Economy development. As part of this it recently launched the National Digital Transformation Committee, chaired by the Prime Minister, in order to reduce redundancy to improve efficiency. Laos also launched the 20-year Vision for Digital Economy Development (2021-2040), 10-year Strategy (2021-2030), and 5-year National Digital Development Plan for 2021-2025. The Ministry of Technology and Communications of Laos is also raising awareness for digital transformation by visiting each province and educating on its benefits.
Meanwhile, Indonesia has taken a targeted approach to accelerate the development of digital infrastructure and provide internet access in villages and public service locations as part of the "Connected Indonesia: the more digital, the more advanced" initiative.
The government has developed all three layers of digital infrastructure, including its Fiber Optic Backbone Network "Palapa Ring," high throughput satellite (SATRIA-1) for middle-mile connectivity, and last mile connectivity through 4G base stations and WiFi internet access deployed solely by the government in rural areas. Sharing telecom infrastructure is another supportive regulatory framework, which can reduce business costs, ensure faster rollouts and enhance a country's connectivity, according to Ms. Syeda Shafaq Karim, a representative from the Pakistan's Telecom Regulator. She also added that enabling Telecom Infrastructure Sharing brings multiple benefits for all stakeholders, from telecom consumers, operators, and regulatory perspective. Additionally, Mr. Tith, during his presentation, discussed how the Telecommunication Regulator of Cambodia intervened to address issues related to QoS and network coverage by setting a floor price for mobile data packages, ensuring they are not sold below the cost base.
While much progress has been made, in our recent article, we shared how several markets in the Asia Pacific region experienced faster median download performance compared to that in the top five European economies. For example, Malaysia, South Korea, Singapore, India, New Zealand, China, and Australia achieved a median 5G download speed exceeding 200 Mbps. In comparison, only France recorded speeds above 200 Mbps among the European countries mentioned, while Italy, Germany, United Kingdom, and Spain, recorded median download speeds below 150 Mbps. However, there is another important factor to consider when discussing expanding broadband adoption, and that is the usage gap, those people that live within the footprint of mobile broadband networks and not using them. According to GSMA, almost half of the population in Asia Pacific is connected to the mobile internet. The mobile internet usage gap –  in the region has narrowed significantly from 60% in 2017 to 47% in 2022, reflecting the increasing affordability of devices and improving digital skills.
Mr. Kevin Henry, representing the GSMA, during Fireside Chat: Democratizing Broadband  Through 5G Fixed Wireless Access Implementation, discussed the current challenges to expanding internet adoption across the region, such as device accessibility, affordability, coverage, and usage gaps. These challenges can be addressed through digital literacy, relevant content, and education. He also added that governments and mobile operators have a crucial role to play in driving internet adoption via subsidies or tax, as well as educating the citizens on the benefits of being connected.
Overall, the event emphasized the importance of digital transformation, partnerships, and regulation in shaping the future of the telecom ecosystem. The focus of the APAC Regulatory Summit was on improving customer experience, digital advancement, and closing the digital gap, all of which depend on reliable mobile networks. While progress is clearly being made, we will keep a close eye on 5G and network development across Asia going forward. In the meantime, if you want to learn more, subscribe to Ookla research to be the first to read our analyses.
Ookla retains ownership of this article including all of the intellectual property rights, data, content graphs and analysis. This article may not be quoted, reproduced, distributed or published for any commercial purpose without prior consent. Members of the press and others using the findings in this article for non-commercial purposes are welcome to publicly share and link to report information with attribution to Ookla.