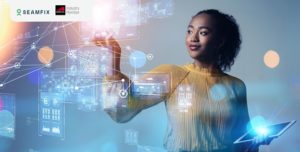 Africa's mobile operations industry is one of the most rapidly developing sectors across the continent. Leading companies and members of the GSMA like MTN, Etisalat, Airtel, and GLO represent some of the biggest operators on the continent.
Joining them in the forefront of transforming mobile operations is Seamfix – a people and technology company on a mission to be the technology partner of choice for thousands of global organizations enabling business growth and customer satisfaction.
Seamfix's mission is to improve the lives of people in Africa who face challenges proving their identities and accessing essential services.
In today's global economy, encouraging digital identity is one of the most critical and necessary ingredients to bring about accelerated development. Yet about 1 billion people live unregistered with 81% of that in Asia and Sub-Saharan Africa.
Worse, 28% of the population in low-income economies lack an officially-recognized ID and 45% of women in low-income countries lack a foundational ID, compared to 30% of men.
The problem is clear – Africa needs an inclusive digital identity ecosystem to ensure that everyone, no matter their socio-economic background, has access to essential services available online.
Mobile Technology as a Catalyst for Digital Identity
Mobile devices operating worldwide are expected to grow from 15 billion to 18.22 billion by 2025.
Seamfix as a solution provider noticed the growing rate of smartphone use and advancement and decided to utilize its technology to improve access to digital services in Africa.
Why adopt mobile technology?
● Low-cost smartphones will put digital identity in the hands of more Africans, businesses, and governments.
● Mobile devices allow for flexibility to reach people, no matter where they live.
● Self-identification using biometrics is possible by using the components integrated into mobile devices.
● More people are getting mobile phones, which give them an identity that is linked to their SIM cards.
● Increased familiarity with mobile device usage will make digital identity projects easier to implement.
● Mobile devices typically have long battery lives and can function in areas where there is no electricity.
The widespread adoption of mobile devices in Africa presents an opportunity to provide citizens with digital identity services that were unavailable due to infrastructure challenges.
Seamfix as an Enabler – Powering Mobile Identification Solutions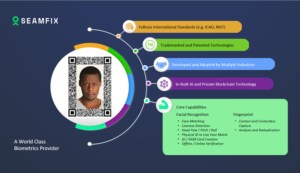 Seamfix is a leading provider of disruptive identity technologies that have been
used successfully in customer and country-wide contexts to realize digital ID objectives.
Its mission is to improve the lives of people in Africa who face challenges in proving their identities and accessing essential services.
Through Mobile solutions like our Android Enrollment technology, and BioRegistra, Seamfix has been able to accomplish the following objectives:
● +180M Biometric SIM registrations
● +700,000 Subscriber records captured per day
● +100M biometric identities captured & verified
● +700,000 identity documents digitized across Africa
● +2.1M unique identities captured for NIN worldwide
● +6M bank accounts opened digitally
When MTN needed a new registration process that would meet all the national regulatory requirements for KYC onboarding as set by the regulatory authority, Seamfix was the first point of call.
When the Nigerian government formulated the NIN (National Identity Number), to be used for all transactions in Nigeria requiring identity verification, Seamfix was the technology partner of choice.
From its humble beginnings 14 years ago, Seamfix is delighted with the progress they've made and this membership with GSMA only serves to reinforce its commitment to pioneering digital transformation across every industry in Africa and beyond as we expand our reach to the United Kingdom.
"As a member of the GSMA, Seamfix has the opportunity to form lasting business relationships across a large community of global mobile network operators, as well as vendors and suppliers of the mobile and digital ecosystem, to further drive innovations across Mobile communication.
What this means is that our clients and end-users, about 1 billion over the next 10 years, can expect next-level engagements from Seamfix as we push the boundaries of what's possible in the mobile and digital frontiers.." – Chimezie Emewulu, CEO of Seamfix.
Our Tested & Proven Capabilities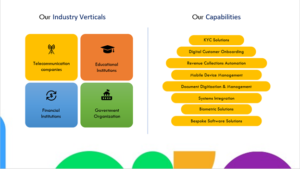 Connect with Seamfix for more information or partnership.
________________________________________
About Seamfix
Seamfix is a software development company that powers digital identity through mobile applications. We empower organizations to onboard and verify people, quickly, without compromising the user experience.
As a leading provider of disruptive identity technologies that have been successfully applied in customer and country-wide contexts to realize digital ID objectives, we offer:
● Advisory services to telcos, national ID authorities, multinationals, and other companies on a broad range of digital identity issues.
● Digital enrollment solutions that help organizations automate the process of getting new users up and running, without compromising on their experience.
● Identity verification platforms that allow organizations to conduct real-time authentications of their users.
● Process automation solutions that support multiple functions, including offline functions—taking into account that many places in Africa lack internet connectivity.