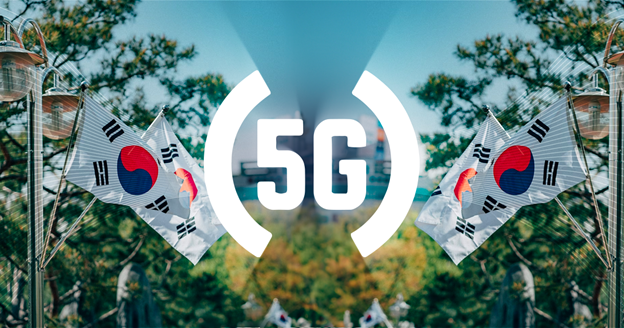 Key takeaways
Exaggerated 5G network speed claims led South Korean operators to a 33.6 billion won ($25.06 million) fine. South Korean operators claimed consumers could experience theoretical 5G speeds, which are not practically achievable in a "real world" environment, as factors such as spectrum usage, network densification, as well as user location and device capability significantly affect actual performance.
Recorded speeds of the top 10% of users fall well short of operators' advertised speed. Reviewing the top 10% and lower 10% of Ookla® Speedtest Intelligence® Q2 2023 samples reveals significant performance disparity among South Korea's 5G users, with 5G speeds peaking at over 900 Mbps for the top 10% of users, while the lower 10% recorded speeds below 135 Mbps.
South Korean operators have delivered consistent 5G performance over the past year. SK Telecom leads the market with a median download speed of 531.89 Mbps, while LG U+ and KT reported speeds of 489.35 Mbps and 470.28 Mbps respectively.
Reality check for South Korea's 5G operators
Despite having one of the fastest 5G networks globally, South Korea's antitrust regulator recently fined three 5G operators in South Korea a total of 33.6 billion won ($25.06 million) for making exaggerated claims about their network speeds. According to the Korea Fair Trade Commission (KFTC), the operators had exaggerated their achievable 5G service speeds and unfairly advertised that they were the fastest relative to their competitors.
In a statement by KFTC, it said, "The three mobile carriers have delivered false or exaggerated information on their services' speeds by deceiving consumers that they can experience 20 Gbps speed, which is only a target in theory for the 5G technology."
Based on many marketing messages around 5G, it is unsurprising that consumer expectations are for 5G to deliver a notable increase in performance. However, operators cannot guarantee 5G performance as factors such as the spectrum used, the level of network densification operators have pursued in their markets, network congestion, and the distance and any obstacles between the user device and the cell site can all impact observed network performance.
South Korea's 5G speeds vary greatly
Speedtest Intelligence® data provides insights into real-world performance based on consumer-initiated tests. While median 5G download speed is a useful metric to benchmark performance, it falls short of providing a complete picture of what users are experiencing. Speedtest Intelligence data from Q2 2023 reveals a substantial variance in performance between the top and bottom 10% of users on 5G networks in South Korea. The top 10% of users in South Korea recorded speeds of at least 968.83 Mbps on average, while the lowest 10% of users experienced speeds of 132.02 Mbps or slower on average. Even if we focus on the top 10% of users experiencing the highest 5G performance, this still lags far behind the 20 Gbps advertised by the operators.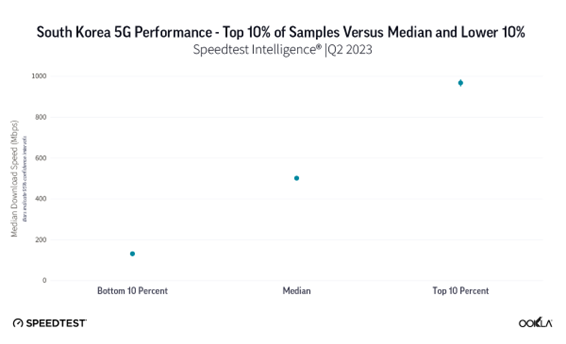 South Korean operators have delivered consistent performance every quarter for the past year. During that time frame, SK Telecom has outperformed its competitors on 5G performance, reporting a median download speed of 531.89 Mbps for Q2 2023, while LG U+ and KT reported speeds of 489.35 Mbps and 470.28 Mbps respectively during the same period.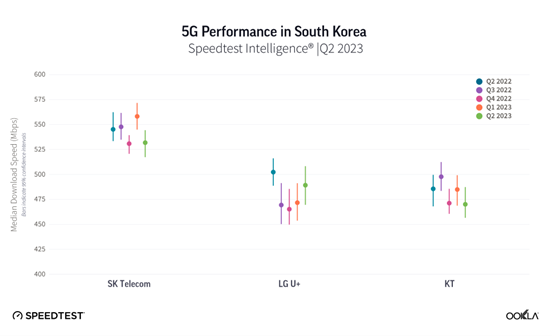 Using real-world performance to manage consumer expectations
Operators must establish clear expectations regarding 5G performance to avoid disappointing customers. Part of the solution to manage this gap is for the operators to rely on data from consumer-initiated tests to understand the real-world performance as experienced by their customers. We will keep a close eye on South Korea's progress in 5G performance as it competes with other major markets on the global stage while managing domestic consumer expectations. To find out more about Speedtest Intelligence, please get in touch.
Ookla retains ownership of this article including all of the intellectual property rights, data, content graphs and analysis. This article may not be quoted, reproduced, distributed or published for any commercial purpose without prior consent. Members of the press and others using the findings in this article for non-commercial purposes are welcome to publicly share and link to report information with attribution to Ookla.