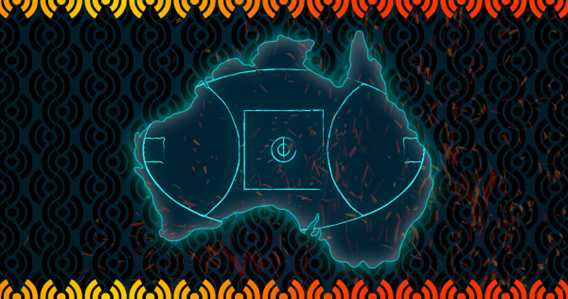 The Australian Football League (AFL) Finals start this weekend and with the Pies holding off a late challenges from the Lions and Port Adelaide to secure the top of the ladder — here at Ookla® we're sure every team vying for a spot in the Grand Final at the MCG on Sept. 30 is sure to put on a show for fans across the country. With such a great footy season in 2023, the Finals are set to be a breathtaking, best-in-world spectacle, and Ookla wanted to find out which stadium's mobile experience made fans the real winners this year.
Methodology
We used Speedtest Intelligence® to examine download and upload speeds and multi-server latencies for all mobile technologies and 5G at AFL stadiums with a 100-meter zone around the stadium from the start of the season in Q1 2023 through Q2 2023. We also used Consumer QoE™ data with the same criteria to determine the web page load time at each stadium to see which footy fans were racing ahead to post their team's come-from-behind wins first, and which fans were left in a lurch waiting for web pages to load to check their rival's scores.
These AFL stadiums had the fastest download speeds in 2023
While Sydney are out to avenge their stinging 2022 Grand Finals loss to Geelong, Swans fans should at least feel great knowing the Sydney Cricket Ground had one of the fastest median download speed of any stadium we surveyed with a download speed at 140.96 Mbps during Q1-Q2 2023. The SCG also had one of the fastest median upload speeds at 26.44 Mbps during Q1-Q2 2023, ensuring fans were getting all the latest real-time updates, and posting their photos and videos with relative ease.
Marvel Stadium was a runner up for both download and upload speeds at 117.50 Mbps and 23.06 Mbps during Q1-Q2 2023, with fans of the mighty Blues, the Dons, the Roos, the Saints, and the Bulldogs all sharing runner-up honors in the Docklands in Melbourne. Next on our list was Optus Stadium in Perth with Fremantle and West Coast fans experiencing a median download speed of 100.40 Mbps, followed by GIANTS Stadium in western Sydney at 81.34 Mbps, the Gabba in Brisbane at 70.63 Mbps, the MCG in Melbourne at 69.28 Mbps, and the Adelaide Oval at 66.79 Mbps. The GMHBA in Geelong and Heritage Bank Stadium in Gold Coast didn't have enough samples to be included in this ranking.
For context, the city of Geelong had a median mobile download speed at 87.60 Mbps during July 2023 and greater Gold Coast had a download speed of 95.32 Mbps during the same time period according to the Speedtest Performance Directory™.
These AFL stadiums with the fastest 5G download speeds were too close to call, but fans in NSW are the true winners
Looking at download speeds over 5G during Q1-Q2 2023, there was no statistically fastest 5G download speed among AFL stadiums we surveyed. However, every stadium we evaluated except the Gabba had median 5G download speeds over 100 Mbps, with the Gabba having a median download speed of just 92.08 Mbps. While there was no winner over 5G, GIANTS Stadium saw a median 5G download speed at 182.61 Mbps, the SCG at 171.43 Mbps, Marvel Stadium at 166.66 Mbps, Optus Stadium at 133.82 Mbps, and the MCG at 122.62 Mbps. The Adelaide Oval, the GMHBA, and Heritage Bank Stadium didn't have enough 5G samples to be included.
Fans at Marvel Stadium were able to upload their videos from matches the fastest, with the fastest median 5G upload speed at 34.27 Mbps. The SCG (29.02 Mbps), MCG (27.35 Mbps), and GIANTS Stadium (27.16 Mbps) followed with median 5G upload speeds greater than 20 Mbps.
Note that some 5G plans may have limited 5G access and 5G coverage varies by provider.
Multi-server latencies showed good parity between stadiums
Latency, also known as ping, is the reaction time of your network's roundtrip connection, which is particularly important for streaming, video chats, and online gaming. For those footy fans who might be video chatting and bragging to their friends about their seats (or more likely their team winning against their friend's team), latency is increasingly a very important measure for real-time online interactions.
Much like the middle of the ladder this season, the AFL stadiums we surveyed had a tight range of multi-server latencies for all mobile technologies combined with the SCG having the lowest at 28.97 ms and GIANTS Stadium having the highest at 36.17 ms. Multi-server latencies over 5G were about the same, with the SCG being the lowest at 28.63 ms and the Gabba having the highest at 35.86 ms. With lower latencies indicating a more responsive network, those looking to livestreaming a last second winner at the SCG might have a slightly better experience for their friends with less lag than those at the Gabba.
These stadiums had the fastest mobile web page load time experience
Speed and latency are important, but they're not the only thing footy fans need from their mobile network while watching their team battling it out on the oval.
Using Consumer QoE data, we looked at web page load time data, which reflects consumers' real-world experiences of trying to use the internet, to see the stadiums where fans could access websites like social media without any delay. A lower web page load time means fans wait less for websites to load and can get straight to bragging to their friends about their team's come from behind victory. With a 2016 Google research study reporting 53% users leave a webpage if it takes more than three seconds to load, fast page load times are very important when gauging mobile users' experience using their network. We're happy to report all of the stadiums we surveyed fell under this benchmark during Q1-Q2 2023, with some fans experiencing slightly faster load times than others.
The SCG and GIANTS stadium led the pack once again, with a median page load time of 1,457 ms (1.457 seconds) and 1,459 ms (1.459 seconds), respectively, though there was no statistical winner. Marvel Stadium (1,533 ms) and Heritage Bank Stadium (1,540 ms) followed, with the Adelaide Oval (1,602 ms), the Gabba (1,606 ms), the MCG (1,623 ms), and GMHBA Stadium (1,654 ms) all having a median page load time under 1,700 ms. Optus Stadium was the only AFL stadium to have a page load time over 1,700 ms, leaving Dockers and Eagle fans waiting just a hair longer than their eastern Aussie counterparts.
Going to the Finals or Grand Final? Take a Speedtest® and show us your results
If you're a supporter of Brisbane, Carlton, Collingwood, GWS, Melbourne, Port Adelaide, St. Kilda, or Sydney, and you're headed to a Finals match — we're very jealous of you — here at Ookla we'd love to see how your experience stacks up to our findings. Before you head to the nearest oval, download the Speedtest app for your iOS or Android device to test your real-world network experience, and be sure to take a Speedtest while you're cheering on your team wherever you may be. After the match, share your Speedtest result with us on Twitter or Facebook — and let us know who you support!
Want to learn more about mobile and fixed broadband internet in your area? Head over to the Speedtest Performance Directory to learn more about internet performance in your area and see if you've got a goal of a provider or you're just scoring a behind.
Ookla retains ownership of this article including all of the intellectual property rights, data, content graphs and analysis. This article may not be quoted, reproduced, distributed or published for any commercial purpose without prior consent. Members of the press and others using the findings in this article for non-commercial purposes are welcome to publicly share and link to report information with attribution to Ookla.