Key takeaways
Top-performing global 5G market and network operator. The U.A.E. was the fastest 5G market globally in Q2 2023 according to OoklaⓇ Speedtest IntelligenceⓇ data, with growing competition between the nation's two network operators helping to drive overall performance in the market to reach a median download speed of 557.63 Mbps. etisalat by e& was the fastest 5G operator globally with a median download speed of 680.73 Mbps.
5G networks trump 4G-LTE for mobile gaming and video streaming experiences. Users accessing both etisalat by e&'s and du's 5G networks experienced median gaming latency of 43 ms and 57 ms respectively, lower than those recorded across 4G LTE. 5G users also experienced improved video start times and experienced less buffering when streaming video compared to those on either 4G LTE or Wi-Fi.
Improved network experience driving industry leading Net Promoter Scores (NPS). With 5G driving improved experiences across use cases such as mobile gaming and video streaming, and with the U.A.E. ranking first in terms of median 5G performance, it's no surprise that NPS in the market are leading the industry. Indeed, 5G users in the market are more likely to recommend the nation's networks when compared to 4G, with etisalat by e& leading the market with a score of 64.7 in Q2 2023, and du following with 46.7.
Lower 10% of Speedtest samples point to room for improvement. du led the market for 5G Consistency – the proportion of Speedtest samples that met a minimum performance threshold of 25 Mbps download and 5 Mbps upload during Q2 2023. Reviewing 5G performance of the lower 10% of samples at a city-level highlights where etisalat by e& has been targeting improvements, while du's has seen its performance erode quarter-on-quarter.
Return to economic growth driving mobile market competition
etisalat by e& and du both launched commercially available 5G services across the U.A.E. in Q2 2019, following the allocation of spectrum for 5G use by U.A.E. regulator, the TDRA (Telecommunications and Digital Government Regulatory Authority). Since then, both operators have rolled out 5G networks aggressively, achieving near universal 5G population coverage as of 2022. Both operators have had to contend with a challenging macroeconomic environment brought on by the COVID-19 pandemic, which led to declining mobile revenues, constrained prepaid spending, and reduced roaming and device revenues.
However, 2022 saw growth return to the market with etisalat by e&'s U.A.E. mobile revenues increasing by 6.0% to reach 11,406 million AED, while du's mobile revenues grew by 8.4% to reach 5,748 AED million. The outlook for the U.A.E. economy going forward is very positive, with the IMF predicting GDP growth of 3.5% in 2023, following a strong rebound in 2022 of 7.4% as COVID-19 restrictions were lifted, international visitors returned to the country and rising oil prices helped bolster economic growth. For the nation's mobile network operators, this return to growth is driving increased competition as both operators seek to demonstrate network leadership, convert prepaid users to postpaid, while also focusing on driving enhanced customer experiences and offering new digital services.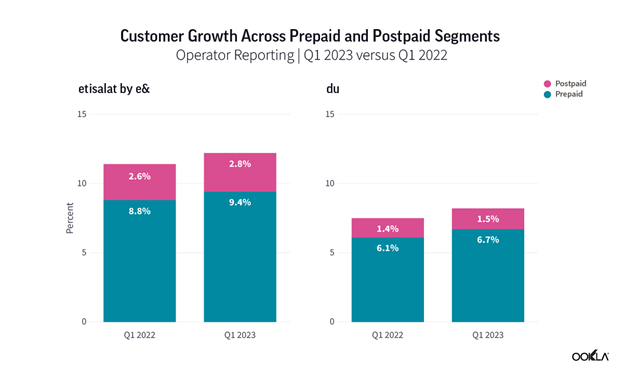 Both mobile network operators are prioritizing the growth of their postpaid customer bases. For example, subscribers of either operator can choose plans that allow them to pick and choose additional services with a strong focus on entertainment options, such as video streaming services, live sports, and mobile gaming, among others.
U.A.E. leads on 5G performance globally
 The U.A.E. was the fastest 5G market globally in Q2 2023, according to Ookla Speedtest Intelligence data, recording a median download speed of 557.63 Mbps, with South Korea placing second at 501.56 Mbps.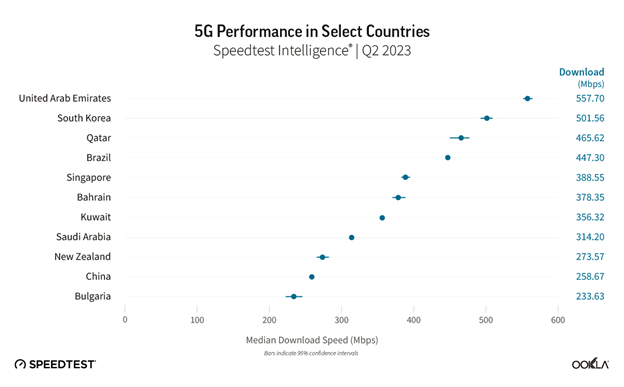 etisalat by e& places first in global 5G performance stakes
 etisalat by e& was the fastest operator within the U.A.E. and globally on 5G, recording a median download speed of 680.73 Mbps during Q2 2023, ahead of du's 453.93 Mbps. The same was true for 4G LTE, with etisalat by e& recording a median download speed of 83.35 Mbps, ahead of du's 64.96 Mbps. 5G performance between the two mobile operators remained similar throughout 2022, peaking in time to support Dubai EXPO 2020. Both operators increased speeds through Q4 2022 and Q1 2023, helping drive overall 5G performance in the U.A.E. to reach 557.63 Mbps, but du's performance declined in Q2 2023, with etisalat by e& extending its 5G performance lead to 226.80 Mbps.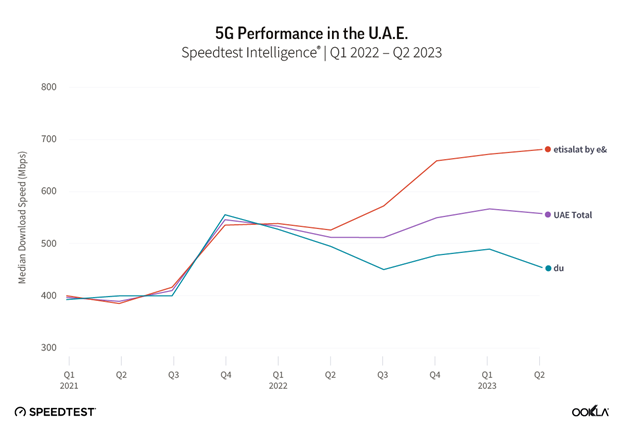 Among a selection of the top-performing 5G networks globally by median download speed, etisalat by e& ranked first in Q2 2023. Du's 5G performance also ranked it among the world's fastest, which reflect the strong position of the GCC States, and leading markets in Asia Pacific, in terms of 5G performance.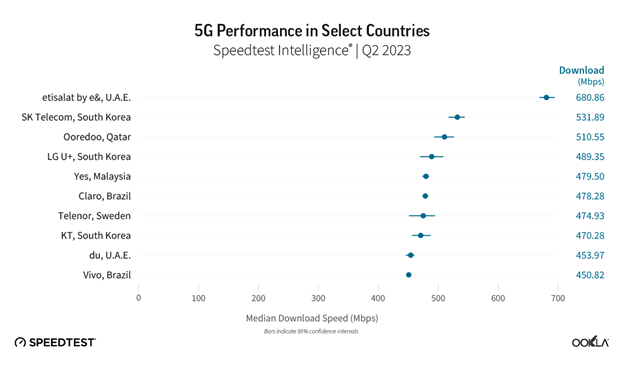 Recent news indicates that both operators will continue to drive investment toward further performance gains, while also looking to offer new use cases over their 5G networks. At MWC Barcelona 2023, etisalat by e& announced the commercial launch of its 5G Standalone (SA) network in the U.A.E., which will initially be dedicated to fixed-wireless access (FWA) customers. At the same time, du announced an agreement with Huawei to collaborate on 5G-Advanced technology and use cases.
etisalat by e& leading on 5G download performance across U.A.E. cities
 Speedtest Intelligence data showed that etisalat by e& was the leading operator across all major cities in the U.A.E. for both median 5G download performance and multi-server latency in Q2 2023. It also led on median 5G upload speed in Abu Dhabi, Dubai and Sharjah, however there was no statistically significant difference between it and du in Al Ain and Ajman.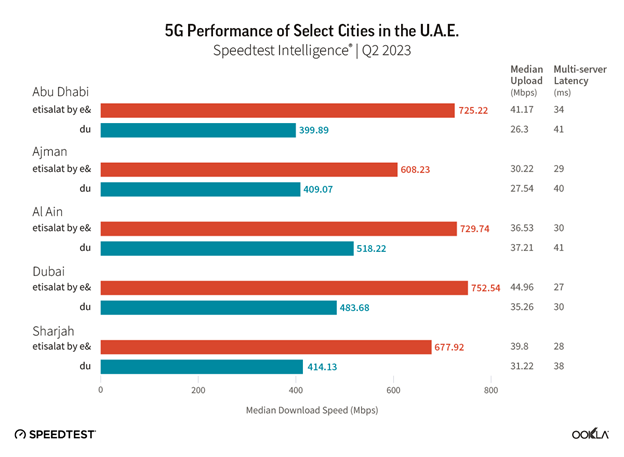 Lower 10% of Speedtest samples point to need for further improvement
 Median 5G performance allows us to gauge the midpoint of user experience on 5G networks, however it doesn't always tell the full story, as 5G performance can vary widely, depending on factors such as the spectrum used, network congestion, and the distance and any obstacles between the user device and the cell site. Ookla tracks network Consistency, which for 5G networks records the proportion of samples which meet or exceed 25 Mbps download speed (the recommended speed for streaming in 4K) and 3 Mbps upload speed.
du and etisalat by e& both performed strongly on 5G Consistency, with scores of 92.1% and 90.9% respectively. Drilling down into the city-level data, and looking at performance for the lowest 10% of samples, reveals some potential improvement points for both operators. For the city of Ajman, etisalat by e& has recorded a significant improvement in the lower 10th percentile of 5G samples, increasing from 9.76 Mbps in January to 93.67 Mbps in June. However despite the increase, its performance in Ajman remains below that recorded in other U.A.E. cities. du on the other hand has returned more stable 5G performance among the lower 10% of samples in the city over the past six months, but is seeing performance decline, from 138.33 Mbps in January to 50.85 Mbps in June.
5G delivering improved mobile gaming and video streaming experiences
 With both operators keen to grow their customer bases and prioritizing migration toward higher value postpaid subscribers, translating 5G performance gains into discernible improvements for the end-user experience is vital.
Consumers in the U.A.E. spent on average 4.7 hours per day playing mobile games during 2021, the most of all MENA markets, according to data.ai's State of MENA 2022. Usage continues to grow, fueled by a young and tech-savvy population with high disposable income. 5G offers the potential for lower latency than previous generations of mobile technology, which alongside higher throughput, enables improved experiences for both consumer and enterprise use cases that rely on a high level of network responsiveness. This is particularly true for online gaming and cloud streaming of games. For example, network response times are critical for Call of Duty Mobile (which etisalat by e& has bundled with some of its postpaid plans.)
According to Ookla Consumer QoE™ data, etisalat by e& recorded lower median latency across both its mobile and fixed networks when compared to du during Q2 2023. 5G latency for both operators was lower than for 4G LTE,  with etisalat by e& achieving a 5G latency of 43 ms, and du 57 ms. Wi-Fi performance differed between the operators, with etisalat by e&'s Wi-Fi recording the lowest latency across all access types, while du's Wi-Fi latency lagged behind its mobile network latency performance.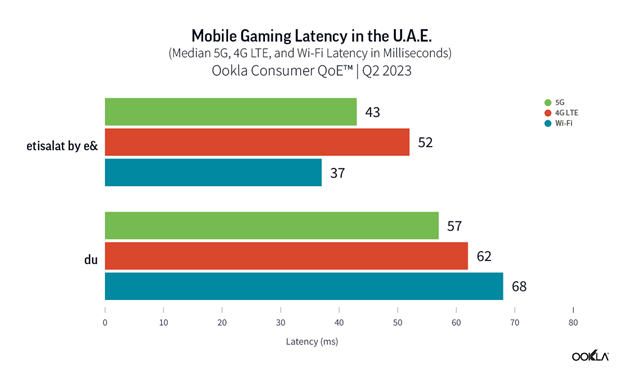 Video content is a primary focus for both network operators in the U.A.E. and a common route for operators globally to add value to consumer mobile subscriptions. We examined Ookla Consumer QoE data, looking at two key video streaming metrics as measures of the consumer experience delivered: video start time and video rebuffering ratio.
Video start time measures the time between when a user clicks play, or the video auto-starts, and when the first frame of a video is rendered. Based on Ookla's Consumer QoE data for Q2 2023, our results showed that 5G networks offered a faster video start time for both network operators compared to their 4G LTE or Wi-Fi networks, of almost half a second.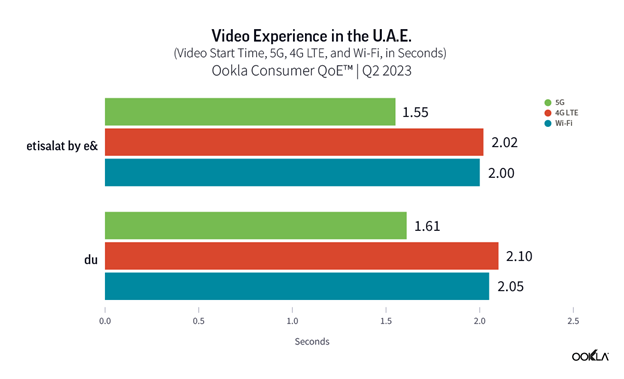 Video rebuffering ratio compares the time users have experienced buffering during a video to the total playtime of the video, excluding the initial video start time. Rebuffering occurs when the video stalls during playback and the user must wait for the video to resume. It is a major source of poor quality of experience, and if rebuffering is severe enough, it can lead to audience abandonment and can also serve as an indication of poor overall network performance. In good news, Ookla's Consumer QoE data for Q2 2023 showed a substantial reduction in median video rebuffering ratios for both network operators, with rebuffering reduced to nearly 0% on 5G for both networks.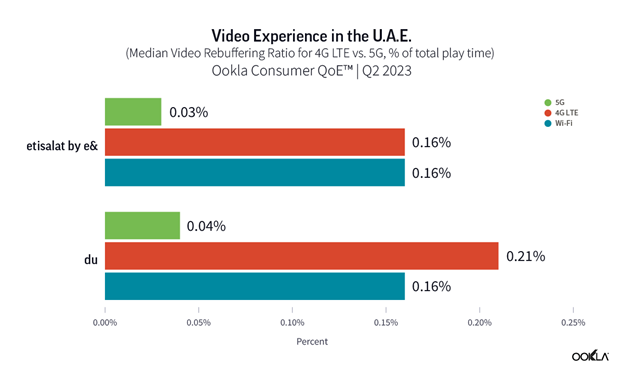 5G driving an uplift in industry-leading NPS scores for both operators
 With the fastest median 5G download performance globally, it's no surprise that NPS for 5G users within the U.A.E. are leading the industry. NPS is a key performance indicator of customer experience, categorizing users into Detractors (score 0-6), Passives (score 7-8), and Promoters (score 9-10), with the NPS representing the percentage of Promoters minus the percent of Detractors, displayed in the range from -100 to 100.
Ookla's Speedtest Intelligence data showed that du's 5G service recorded the largest difference in NPS when comparing users on its 4G LTE network to those on 5G during Q2 2023, with an uplift of 61.0 basis points to reach 46.7. etisalat by e& recorded the higher NPS scores on its 5G network, of 64.7, while its 4G LTE NPS score of 40.4 was equally impressive.

Both operators in the U.A.E. are in prime position to capitalize on their 5G network investment to date, which is already helping drive improved consumer experiences on their networks. They are also poised to take advantage of the deployment of 5G Standalone networks in the market, offering further performance gains, but also opening up opportunities to target services for key enterprise verticals that among other things often demand highly reliability, as well as low latency communications.
Ookla retains ownership of this article including all of the intellectual property rights, data, content graphs and analysis. This article may not be quoted, reproduced, distributed or published for any commercial purpose without prior consent. Members of the press and others using the findings in this article for non-commercial purposes are welcome to publicly share and link to report information with attribution to Ookla.