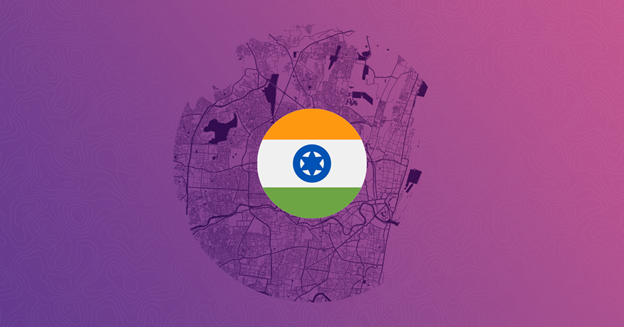 5G has been in place in India for over four months and already it's having a tremendous impact on the state of mobile in the country compared to last October when we commented on initial 5G speeds just after 5G networks launched.
Key takeaways
India's mobile speeds increased by 115%. India has climbed 49 places on the Speedtest Global Index™ since launching 5G, from 118th in September 2022 to 69th in January 2023. Ookla® data shows improvement in LTE speeds for both Jio and Airtel since the launch of 5G services, as all their investments into network modernization are paying off.
Median 5G download speeds are 25 times faster than 4G. 5G performance has increased across early 5G adopters in most of the telecom circles, Kolkata achieved the fastest median 5G download speeds in January 2023 at above 500 Mbps. Jio experienced a top median 5G download speed of 506.25 Mbps in Kolkata, while Airtel of 268.89 Mbps in Delhi.
5G Availability increased 55-fold. Airtel and Jio have ambitious targets in terms of 5G network rollout. From 5G networks' inception, 5G Availability across 5G-capable devices has steadily increased, reaching 8.0% for Airtel and 5.1% for Jio.
5G is further impacting the competitive landscape. We can see Speedtest® users migrating away from Vi, which has been further stimulated by the operator's inability to launch 5G.
5G will benefit Digital India
Speedtest Intelligence® data shows that median download speeds across India increased by 115%  since before the 5G launch, from a 13.87 Mbps median download speed in September 2022 to 29.85 Mbps in January 2023. As a result, India's position on the Speedtest Global Index improved by 49 places from 118th in September 2022 to 69th in January 2023. This puts India ahead of some of the G20 countries, such as Mexico, Russia, and Argentina, and its neighbors: Indonesia, Bangladesh, Sri Lanka, and Pakistan. India is also catching up with the likes of Turkey (a 30.98 Mbps median download speed/65th place on the Speedtest Global Index), South Africa (34.71 Mbps/58th place), and Brazil (35.85 Mbps/57th place).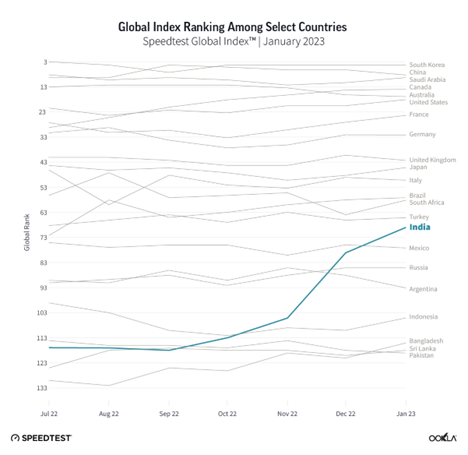 There are over half a billion internet users in India, making it the second-largest online market worldwide, just behind China. India has already made significant progress in terms of mobile broadband growth. One of the key reasons behind the acceleration in adoption was the launch of the Digital India initiative in 2015, which made government services digitally available to citizens. Digital India's goal is to transform India into a digital society and economy. Since its launch, almost 270 million Indians have been connected to the internet via mobile internet. This was enabled by expanding mobile broadband networks, particularly using 4G technology. Now, 5G is stepping in to play a role in enabling digital transformation across multiple sectors of the Indian economy. GSMA Intelligence forecasts that 5G could contribute $455 billion to GDP by 2040.
Median 5G download speed is 25 times that of 4G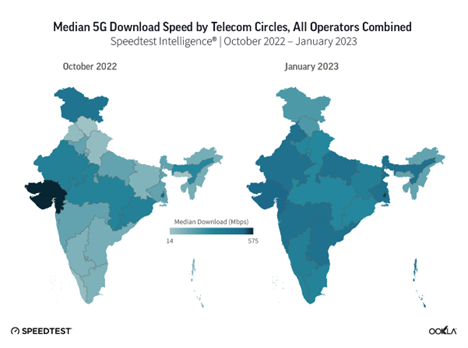 When 5G was first launched in October 2022, there was a wide disparity in the early 5G network performance users were experiencing on 5G-capable devices; median 5G download speeds oscillated between 512.57 Mbps (Gujarat) and 19.23 Mbps (Uttar Pradesh West) as the 5G networks build out started. In fact, in nine telecom circles: Andhra Pradesh, Kolkata, North East, Haryana, Rajasthan, Bihar, Punjab, Kerala, and Uttar Pradesh West, the median 5G download speed was below 100 Mbps because networks were very much at the testing stage. Four months on, in January 2023, 5G median download speeds had greatly increased across all of the telecom circles — exceeding 200 Mbps everywhere except Jammu and Kashmir, with Kolkata clocking speeds over 500 Mbps.
5G investment has also propelled an increase in 4G LTE speeds thanks to the modernization of the underlying infrastructure. When we compare 5G and 4G performance in January 2023:
median 5G download speed is 25 times that of 4G LTE (338.12 Mbps vs. 13.30 Mbps), and
median 5G upload speed is 4.5 times 4G LTE (19.65 Mbps vs 3.55 Mbps)
We see improvements in LTE speeds (both for Airtel & Jio) in multiple cities as they are offloading 4G traffic onto their 5G network, therefore reducing 4G network congestion.  This has to be caveated by the fact that these are still early days for 5G in India, and 5G performance will most likely decrease once those networks are commercially available.
Jio and Airtel are expanding their 5G networks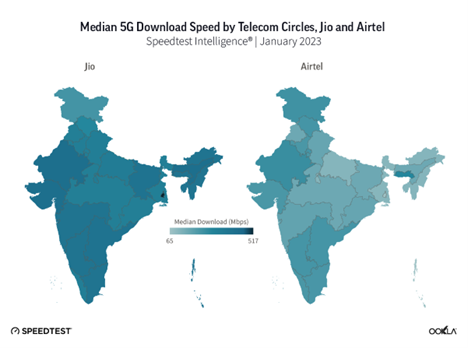 Jio's $25 bn investment seems to be paying off. In January 2023 Jio achieved median 5G download speeds above 400 Mbps across ten telecom circles. Jio's True 5G network is based on a 5G Standalone (5G SA), which doesn't rely on a 4G LTE network. While Jio's initial 5G speeds fluctuated massively – from low single-digit to speeds well above 800 Mbps, which pointed to the operator recalibrating its networks, Jio's 5G performance has stabilized over the past four months. In January 2023, Jio's 5G early adopters experienced speeds ranging from 246.49 Mbps median download speed in Himachal Pradesh to 506.25 Mbps in Kolkata.
Airtel looks to 5G to offload capacity from 4G to 5G. Gopal Vittal, MD & CEO of Bharti Airtel Limited, mentioned during the latest quarterly results call that "between 25% to 35% of traffic is already getting offloaded on 5G from 4G." Airtel deployed 5G in a Non-Standalone mode (5G NSA) – the operator stated that commercial trials using NSA give a 30% higher coverage than SA. In January 2023, Airtel's 5G early adopters experienced speeds ranging from a 78.13 Mbps median download speed in Kolkata to 268.89 Mbps in Delhi.
Operators have already committed a significant amount of capex towards 5G. One of the key challenges Indian telcos face is low ARPU levels, which came in below Rs 200 ($2.41) in Q3 FY 2023 results: Airtel led the pack at Rs 193 ($2.33), Jio followed at Rs 178.2 ($2.15), Vi at Rs 135 ($1.63). Recently, Airtel has removed its based Rs 99 ($1.20) plan across 17 circles, with the new base plan priced at Rs 155 ($1.87). The other two operators have not followed the lead yet. While this could lead to churn, it could help solidify ARPU as Airtel plans to use 5G to migrate customers to higher-value postpaid plans.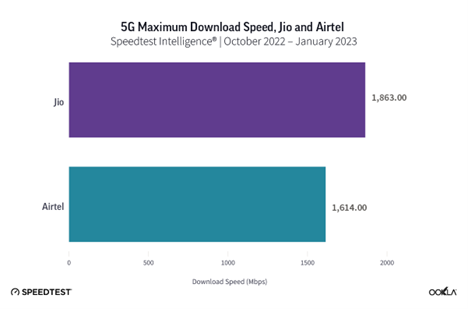 Median 5G performance allows us to understand the midpoint of user experience on 5G networks, but it doesn't paint the full picture. Using Speedtest data we can see that operators have achieved maximum download speeds exceeding 1.6 Gbps – close to speeds that operators in the United States achieved using mmWave spectrum.
Spectrum is not the only factor affecting 5G performance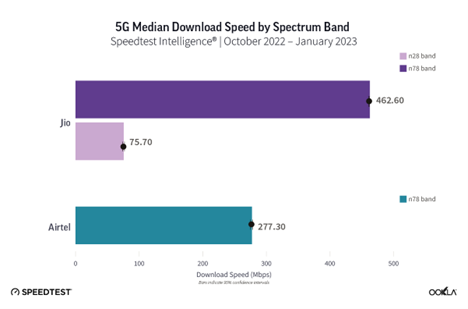 relationship between low- and C-band spectrum and 5G performance. A similar holds true in India. Using Speedtest Intelligence data, we can see that Jio's 5G performance differs depending on the spectrum band it uses. Jio's 5G network using the C-band (n=78) results in a 462.60 Mbps median download speed. When Jio's 5G network uses the lower – 700 MHz frequency band (n=28), the so-called coverage band, the median download speed was 75.70 Mbps. This, however, doesn't necessarily explain the difference in performance between Jio and Airtel, which also uses the C-band spectrum. Airtel deployed 5G utilizing only its C-band spectrum holding in an NSA (Non-Standalone Mode), and it clocks a median 5G download speed of 277.30 Mbps.
There is another factor at play that can explain the difference in performance between the operators – the type of backhaul network they are using. Indian operators heavily rely on terrestrial wireless backhaul solutions. While fiber penetration in backhaul networks is increasing, according to the DoT, only a third of mobile towers are connected with fiber – versus the National Broadband Mission's goal of 70% being connected by 2024. The reason why this presents a challenge in the face of 5G rollout is that the capacity per tower site has to increase substantially to accommodate 5G traffic requirements, which in turn requires fiberized backhaul. E-band spectrum, which operators received last year, helps but isn't enough to support a 5G rollout.
There are various challenges related to laying fiber, including right-of-way (RoW) access and availability of stable power that operators have to overcome. Airtel looks to AI to understand where most of its traffic is located and plans its network roll-out strategy accordingly.
5G Availability in India increased 55 times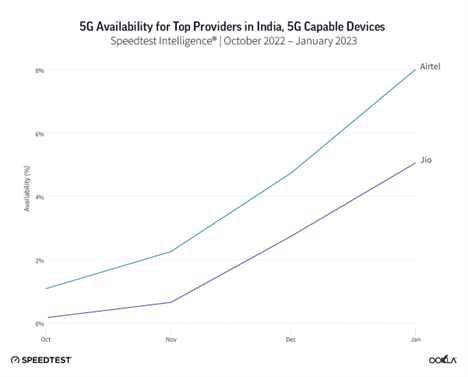 Speedtest Intelligence data shows that 5G Availability – the proportion of users with 5G-capable devices that use 5G network – had increased 55 times between September 2022, when 5G Availability stood at 0.1%, and January 2023, when it reached 5.5%. Operators already have an existing base of consumers owning 5G-capable devices. During the latest quarterly call, Airtel shared that about 11% of their smartphones are 5G ready. Airtel users with 5G smartphones can access Airtel 5G Plus services at no additional cost using their existing 4G SIM cards. Airtel is busy carrying out a 5G network rollout, planning to go live in about 300 cities by March 2023 and to cover all urban areas by March 2024.  
Jio also has ambitious targets for 5G network deployment, it recently stated that it is on track to complete the pan-India 5G rollout by December 2023, having already deployed over 25,000 sites across 700MHz and 3.5 GHz bands. Jio's customers can connect to 5G at no additional cost upon receiving the 5G Welcome offer, which is extended to users with 5G-enabled smartphones who subscribe to a plan or Rs239 or higher. The existing 4G SIM will also connect to the 5G network. There is a need to do a software upgrade for older models of smartphones to be able to connect to Jio's 5G SA network.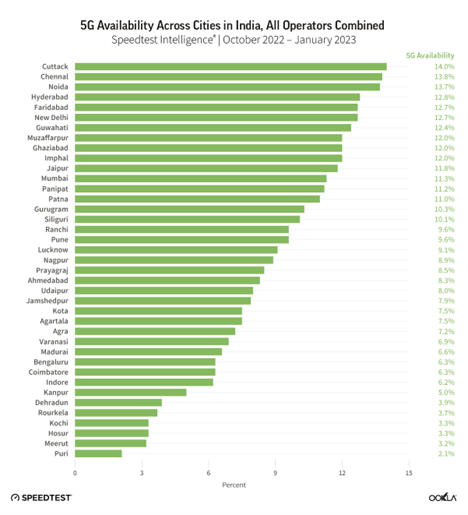 During the early days of 5G – in October 2022 – we could see 5G device testing in just over a dozen of cities. Only three cities had a 5G Availability exceeding 2% – namely, the capital, New Delhi, Hyderabad, and Siliguri. Fast forward to January 2023, and 5G Availability exceeded 2% across 39 cities where both Jio and Airtel had rolled out their networks. 5G Availability across three cities was above 13%, namely in Cuttack, Chennai, and Noida.  
5G will further change the competitive landscape in India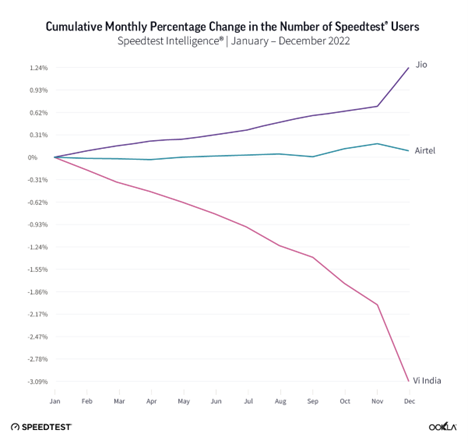 Based on our data, we can infer churn pattern of Speedtest users from January to December 2022, we can see that Vi India has been losing users throughout 2022, following the 5G launch, the disconnections increased significantly. On the other hand, Jio has been adding new users. This has been validated by the latest data released by TRAI, which shows a similar trend: Vodafone Idea had negative 2.5m net additions in December 2022, compared to Reliance Jio (1.7 million net adds) and Bharti Airtel (1.5 million net adds).
We can also gain insights into where consumers move when changing their network providers. Most of Vi's customers have moved away to Jio (1.88%) and Airtel (1.32%). Jio gained around 1.3% of customers from Airtel & Vi India. In comparison, Airtel has lost 0.53% to Jio but gained 0.63% from Vi over the same period of time.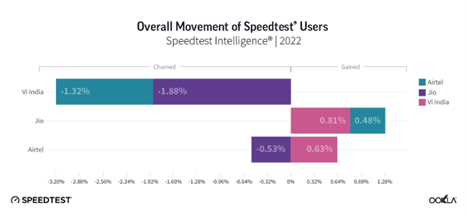 We will continue to monitor 5G performance in India, see how operators scale networks, and assess the real-world performance as more consumers will get online with 5G devices. If you want to learn more, subscribe to Ookla Insights™ to be the first to read our analyses.
Methodology note:
Speedtest® is designed to fully saturate a user's connection, which uniquely allows us to accurately measure the maximum speeds available. This is especially important for 5G connections, which can be capable of tremendous speeds. Speedtest simultaneously measures download speeds from multiple servers in order to ensure that a connection is being fully utilized.
Ookla retains ownership of this article including all of the intellectual property rights, data, content graphs and analysis. This article may not be quoted, reproduced, distributed or published for any commercial purpose without prior consent. Members of the press and others using the findings in this article for non-commercial purposes are welcome to publicly share and link to report information with attribution to Ookla.