RATINGEN (GERMANY) and STEVENAGE (UK): Aeroflex Incorporated, a wholly owned subsidiary of Aeroflex Holding Corp. (NYSE:ARX), and 7Layers, an international group of engineering & test centers, have joined forces to provide the LTE testing market with a cost-effective test system that assesses the interworking of LTE-capable terminals or chipsets with LTE networks and the Universal Integrated Circuit Card (UICC).
Based on 7Layers' InterLab® Test Solution LTE-USIM/USAT in combination with the Aeroflex 7100 Digital Radio Test Set, the new system is a cost-effective and reliable test set-up that is ideally suited for both conformance and R&D test purposes.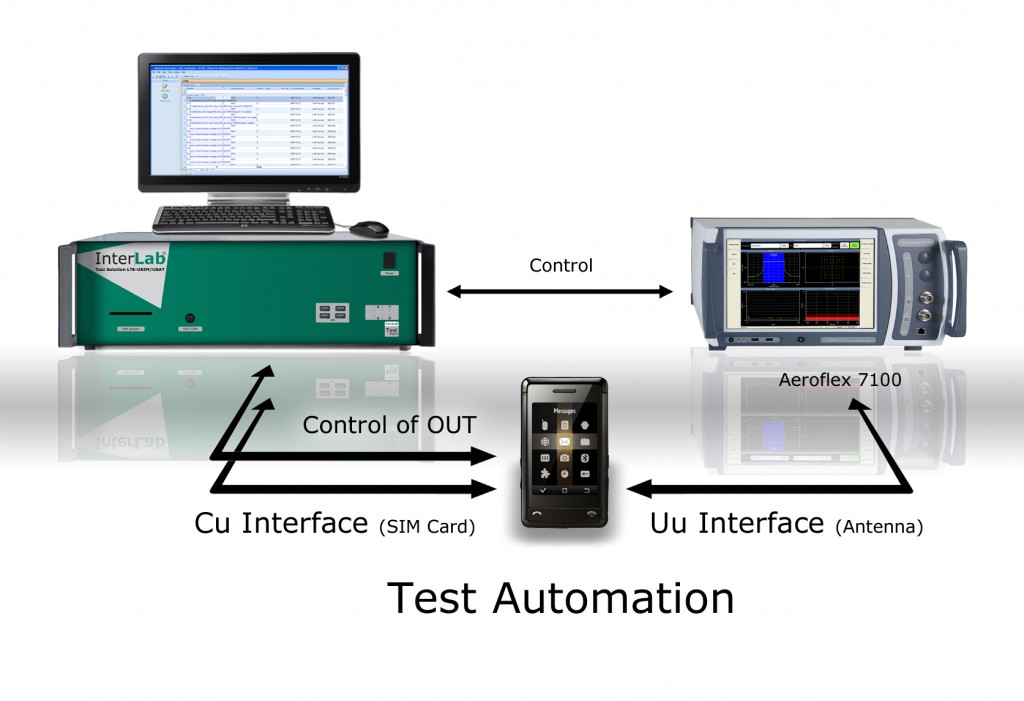 The Aeroflex 7100 Digital Radio Test Set is an LTE network emulator that provides all the tools required during the design, development and test stages of UE chipsets and LTE-capable terminals meeting 3GPP Rel-8 & 9 standards.
The InterLab Test Solution LTE-USIM/ USAT from 7Layers verifies the interworking of LTE-capable devices with LTE networks for TDD and FDD and the respective USIM and USAT applications on the UICC. It covers 3GPP TS 31.121 and TS 31.124 Rel-8/9 test specifications and is a listed test platform at GCF and PTCRB.
In cooperation with Aeroflex, 7Layers has successfully integrated the Aeroflex 7100 with its InterLab Test Solution LTE-USIM/USAT for LTE-only test cases, with further extensions of the test case packages in progress. This will enable the user to migrate UICC conformance testing from expensive test systems to a cost-effective solution that allows UICC testing to be performed during R&D. Thanks to a straightforward graphical user interface, all the test equipment involved is simple to control. The high level of automation provides highly reproducible results that are aligned to meet 3GPP standards, which is essential in order to achieve GCF and PTCRB certification.
"These test cases require the joint operation of several test systems and, due to their complexity, are prone to error when handled manually", explains Magdy Ahmed, product manager at 7Layers. "However, development and conformance test procedures have to be efficient and must provide accurate and exactly reproducible results, which can only be achieved by using dependable, straightforward test set-ups."
"7Layers has had years of experience with USIM and USAT testing in their own laboratories, before developing their new InterLab Test Solution LTE-USIM/ USAT", explains Michael Thorpe, Product Line Manager at Aeroflex. "Based on this experience, 7Layers has developed an extremely easy to handle, reliable solution. It is very well suited for network independent tests as well as for test cases that require the joint operation with our Aeroflex 7100 LTE network emulator. We feel certain that this solution will not only catch the interest of conformance test laboratories but also of R&D labs all over the world."
Price and availability
For more information, contact your local Aeroflex or 7Layers sales office or
call Aeroflex Sales at (800) 835-2352 or info-test@aeroflex.com
call 7Layers Sales at +49 2102 7490 or info@7Layers.com
About Aeroflex
Aeroflex Incorporated is a leading global provider of high performance microelectronic components and test and measurement equipment used by companies in the space, avionics, defense, commercial wireless communications, medical and other markets. 
Forward Looking Statements
All statements other than statements of historical fact included in this press release regarding Aeroflex's business strategy and plans and objectives of its management for future operations are forward-looking statements. When used in this press release, words such as "anticipate," "believe," "estimate," "expect," "intend" and similar expressions, as they relate to Aeroflex or its management, identify forward-looking statements. Such forward-looking statements are based on the current beliefs of Aeroflex's management, as well as assumptions made by and information currently available to its management. Actual results could differ materially from those contemplated by the forward-looking statements as a result of certain factors, including but not limited to, adverse developments in the global economy; changes in government spending; dependence on growth in customers' businesses; the ability to remain competitive in the markets Aeroflex serves; the inability to continue to develop, manufacture and market innovative, customized products and services that meet customer requirements for performance and reliability; any failure of suppliers to provide raw materials and/or properly functioning component parts; the termination of key contracts, including technology license agreements, or loss of key customers; the inability to protect intellectual property; the failure to comply with regulations such as International Traffic in Arms Regulations and any changes in regulations; the failure to realize anticipated benefits from completed acquisitions, divestitures or restructurings, or the possibility that such acquisitions, divestitures or restructurings could adversely affect Aeroflex; the loss of key employees; exposure to foreign currency exchange rate risks; and terrorist acts or acts of war. Such statements reflect the current views of management with respect to the future and are subject to these and other risks, uncertainties and assumptions. Aeroflex does not undertake any obligation to update such forward-looking statements.