TikTok has become the destination for more than a billion people to be entertained, get inspired, and find joy throughout their day. As we continue to offer our community more ways to enjoy the content they love, we are teaming up with luxury automotive brand, Mercedes-Benz, to bring TikTok inside the newly announced interior of the Mercedes-Benz E-Class.
Announced today at the Strategy Update: Mercedes-Benz Operating System event, the E-Class, equipped with new MBUX Superscreen, will have TikTok integrated. From passing time waiting while stationary in your vehicle to simply enjoying a moment to yourself while your car is at rest before heading in to your destination, TikTok will be your new favorite activity when parked, delivering you a stream of videos tailored just for you. Passengers can get in on the fun too! The two screens in the vehicle run independently, so both the driver and passenger can log in to their own accounts and For You feeds. Those without an account can browse as a guest and enjoy a selection of TikTok's top content that has received an extra layer of moderation, making it perfect for adults and teens alike. Available later this year, Mercedes-Benz and TikTok are taking in-car entertainment to innovative new heights.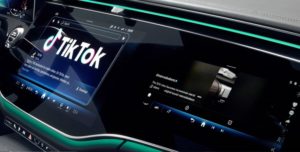 "With our mobile app, we bring people little moments of joy throughout their day," said David Saidden, Director of Distribution Business Development, TikTok "As we aim to expand that experience for our users, we're excited to partner with Mercedes-Benz to introduce immersive in-car entertainment, which will give our community more opportunities to enjoy the content they love."
Safety is at the center of all our initiatives as a company and our partnership with Mercedes-Benz is no exception. Through advanced technology, Mercedes-Benz ensures our community safely enjoys this offering. When the vehicle is in motion, image transmission is not activated, and usage of all entertainment apps is restricted on the center display.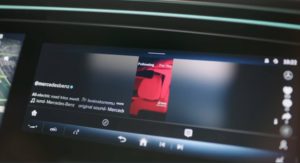 TikTok will be available for download directly from the touch-activated home screen. People can then opt to browse as a guest without logging in or opt to login to their TikTok account to receive their tailored For You feed. Specifically designed and configured for E-Class vehicles, users are able to like, comment and enable auto-scrolling for a more leaned back experience.
From movie theaters to airplanes to billboards, we are excited to offer our community new and exciting ways to experience the entertainment, joy and creativity of TikTok. This collaboration with Mercedes-Benz is an important step forward in our mission to bring the TikTok experience to new screens, venues and audiences.