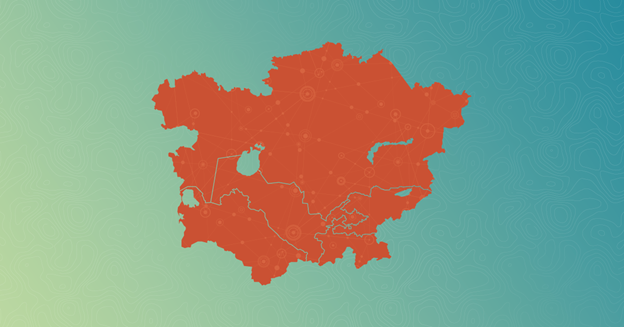 5G is coming to Central Asia, begging the question: what is the current performance and availability of mobile networks? In this article, we will examine the state of mobile networks across five countries that comprise the Central Asian region: Kazakhstan, Kyrgyzstan, Tajikistan, Uzbekistan, and Turkmenistan. Central Asia is a region comprising upper-middle and low-income countries, rich in natural resources and sharing a common history. The countries within the region recognize that they have to enable good connectivity to ensure people and the economy can benefit from digital transformation.
Key takeaways
Need for more market reforms. The International Telecommunication Union ICT Regulatory Tracker puts three of the five countries: Tajikistan, Uzbekistan, and Turkmenistan, as regulated public monopolies (G1). Kazakhstan and Kyrgyzstan have more supportive regulatory environments, but none of the countries is fully transparent. According to the ICT, improved regulatory framework and performance correlate to increases in telecom investment, which positively affects coverage, price competitiveness, adoption levels, and GDP per capita.
Kazakhstan led on median download speeds. Kazakhstan topped the ranks in terms of mobile download speed, while Tele 2 Kazakhstan for median download speed across all Central Asia operators in Q4 2022.
Kyrgyzstan performed well on 4G Availability. Thanks to the supportive regulatory environment, Kyrgyzstan punches above its weight in terms of mobile performance and 4G Availability compared to other, richer neighbors.
Banking on digital transformation. Apart from Turkmenistan, Central Asian countries have initiatives to stimulate mobile adoption and drive digital transformation. Uzbekistan and Kazakhstan, in particular, invest in digital infrastructure to stimulate all facets of the digital economy.
Kazakhstan and Kyrgyzstan shined the brightest for mobile across Central Asia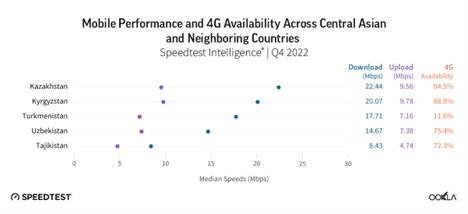 We used Speedtest Intelligence® data to compare performance across Central Asian countries. Kazakhstan had the fastest median mobile download speed at 22.44 Mbps during Q4 2022, and Kyrgyzstan topped the ranks for median upload speed at 9.78 Mbps.
Kyrgyzstan also came first in terms of 4G at 88.8%, up from 81.9% in Q2 2021. Tajikistan made the most progress with regard to 4G Availability — increasing by 12.8 ppt from 59.5% in Q4 2021 to 72.3% in Q4 2022, followed by Uzbekistan, which increased from 67.1% 4G Availability in Q4 2021 to 75.4% in Q4 2022. Turkmenistan had the lowest 4G Availability at 11.6% in Q4 2022, far behind its peers but up from a year prior (6.5% in Q4 2021).
Across Central Asia, where close to half of the population lives in rural areas, it is imperative to make sure that those communities are not left behind when it comes to fast and reliable internet. Speedtest Global Index™ shows that the "stans" still have a way to go to improve their ranking. Governments across Central Asia need to address the root cause of the poor connectivity, which partially stems from the lack of an open and competitive telecom market.

The International Telecommunication Union (ITU) ICT Regulatory Tracker sheds light on where Central Asia sits when it comes to regulatory environment  — it provides a composite score derived from a set of 50 indicators across four pillars such as regulatory mandate, regulatory authority, regulatory regimen, and competitive framework, as follows:
G1: Regulated public monopolies — command and control approach
G2: Basic reform — partial liberalization and privatization across the layers
G3: Enabling investment, innovation, and access — dual focus on stimulating competition in service and content delivery, and consumer protection
G4: Integrated regulation — led by economic and social policy goal
The ITU puts three of the five countries: Tajikistan, Uzbekistan, and Turkmenistan, as regulated public monopolies (G1). Kazakhstan (G2) and Kyrgyzstan (G3) have more supportive regulatory environments, but none of the countries is fully transparent.
Central Asia embraces digitalization to level up
The availability and quality of mobile networks are crucial across Central Asia due to the low proliferation of fixed-line broadband and mobile being the only de-facto connectivity option, especially in Tajikistan, Turkmenistan, and Kyrgyzstan. Access to mobile broadband enables a range of services, such as mobile banking and remote education, which are key to digital inclusion and supporting economic growth. All Central Asian countries, bar Turkmenistan, have put strategies in place to stimulate telecom infrastructure and the wider ecosystem.
ITU ranks Kazakhstan's regulatory status as G2 means that basic reform took place, and the market is partially liberalized and privatized. Through the Digital Kazakhstan program, Kazakhstan set an ambitious goal to ensure 100% country coverage with high-quality internet and 95% home broadband adoption by 2025. Furthermore, in 2020, Beeline, Kcell, and Tele2 agreed to deploy a shared network to support the government's "250+" project, which aims to extend high-speed internet to all villages of more than 250 residents. Each operator will build and operate the network in one area providing equal access to the shared infrastructure to the other parties. The five-year project will deliver 3G/4G service to 600,000 people in nearly 1,000 rural settlements. Also, the operators offer a special social tariff, "Tugan zher," for less than 900 tenges ($1.88).
The Kyrgyz Republic, known as Kyrgyzstan, has the highest levels of mobile penetration across Central Asian countries — 159.9% with 2.94 SIMs per unique mobile subscriber, according to GSMA Intelligence. Despite being the second poorest country across CA, Kyrgyzstan came first regarding 4G Availability (the proportion of users of 4G-capable devices who spend most of their time on 4G networks). The National Development Strategy of the Kyrgyz Republic 2018-2040 is one initiative that facilitates digital transformation to hasten the country's economic development. The State Communications Agency (SCA) stated in its annual report for 2021 that a total of 2,049 settlements across the country were covered by 4G LTE mobile networks at the end of 2021, equivalent to 96% of the country's 2,130 officially registered cities, towns and villages. 2G mobile network technology extended to 2,088 locations (98%), while 3G networks were present in 2,081 (97%). Overall, 42 settlements (1.9%) were outside mobile network coverage, some due to a lack of power transmission lines.
At the end of 2020, Uzbekistan embarked on a "Digital Uzbekistan 2030" strategy to stimulate the country's digital transformation across various industries. To achieve this, Uzbekistan is expanding its telecommunication infrastructure to improve communication quality and close the urban-rural divide (50% of the population lives in rural areas) by inking several partnerships. VEON, Beeline Uzbekistan's parent company, announced in May 2022 that it would invest $250 million over the next five years to develop the communications infrastructure and ecosystem of digital services in Uzbekistan to support Digital Uzbekistan 2030.
Andrzej Malinowski, the CEO of Beeline Uzbekistan, acknowledges that "there is a clear understanding that (mobile) is a driver of the economy and the best way to further improve education level within the country. We want to enable remote education and build an education platform as a social project, make it zero-rated and available to all".
VEON also announced it would advise and provide digitalization services to the Uzbek government during the country's accession to the World Trade Organization (WTO). In September 2022, state-backed Uzbektelecom signed eight contracts with Huawei and ZTE worth $506.8 million. The deal, backed by Uzbekistan's Ministry of Information Technologies and Communications (MITC), to implement a telecommunication network and infrastructure across the western and eastern regions of the country in two phases to deliver expanded population coverage and QoS. Furthermore, Uzbektelecom has also signed a contract with four Japanese companies — NTT, NEC, Toyota Tsusho, and Internet Initiative Japan (IIJ) — to deploy a telecommunications infrastructure development project to provide data center and telecommunication infrastructure to enable "Digital Uzbekistan 2030".
Tajikistan is the poorest country in Central Asia, with most of the population living in rural areas (72%). Unsurprisingly, the country ranked low on the Speedtest Global Index, taking 132nd place for mobile and 124th for fixed networks. According to the State Communication Service, only one-third of the population (3.3 million) used mobile Internet in Tajikistan in 2021. One of the reasons behind this is the high expense of mobile broadband subscriptions which costs on average 7.5% of monthly GNI per capita, as per data from the ITU, one of the highest in the region. It also has one of the largest (20 percentage points) gender gaps in mobile ownership. Tajikistan outlined its priorities in the National Development Strategy 2030, as it aims to leverage digital technologies to fight poverty, achieve energy independence, boost food security, and create new jobs for the population.
Turkmenistan, known for its autocratic government and large gas reserves, has the least developed telecommunications sector across Central Asia, partially because of the strong government control over most economic activities, including telecommunication which prevents foreign investment. ITU gave the country an overall score of 6.70 in 2022, second worst only to Djibouti. There is only one operator in the country, Altyn Asyr, which operates under the brand name TM Cell after MTS exited the market in 2019. The lack of competition harms telecommunication services' availability, affordability, and quality. The treatment of MTS doesn't encourage foreign investment, which the country desperately needs to build telecom infrastructure. In late 2021, Turkmenistan reportedly purchased equipment, software, and technical support from Huawei.
Tele 2 Kazakhstan topped median download speed; Mega Kyrgyzstan uploads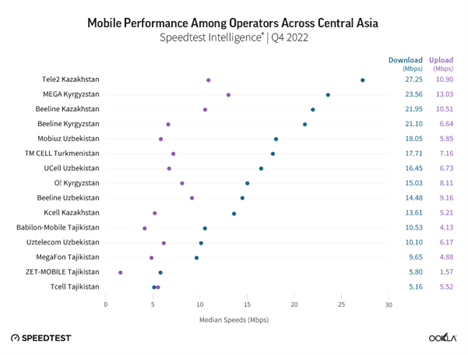 Tele 2 Kazakhstan achieved the fastest median mobile download speed across all of the operators in Central Asia in Q4 2022, of 27.25 Mbps, a slight uptick over Q4 2021 (26.13 Mbps median download speed). The only privately owned company in Kazakhstan, Beeline Kazakhstan, was the second fastest operator in Kazakhstan and third across Central Asia — the operator's investment into mobile is paying off as it has increased its median download speed from 17.97 Mbps in Q4 2021 to 21.95 Mbps in Q4 2022. The operator reported 7.2 million 4G users in Q3 2022, a 25.5% year-on-year increase, translating into 69% 4G penetration of the total customer base (7 percentage points year over year). Beeline Kazakhstan is already the largest mobile operator in the country, with around 42% market share, and it is also the winner regarding mobile number portability.
Kyrgyz operators performed well on 4G Availability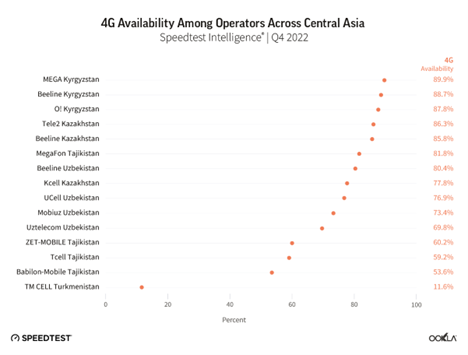 4G Availability is a function of smartphone availability and affordability and 4G coverage. According to the National Statistics Office, smartphone shipments to Kyrgyzstan reached 968,000 units between January and July 2022, of which the majority (872,000) were from China, with an average price of $69. Affordable smartphone shipments, combined with the operators' efforts to expand 4G LTE network coverage, resulted in Kyrgyz operators topping the 4G Availability rankings in Central Asia. The top-ranking operator regarding 4G Availability has had an eventful past couple of months. In December 2022, Megacom Kyrgyzstan, run by the state-owned Alfa-Telecom, started its rebranding campaign to MEGA following Megacom ownership transfer to the state-owned Kyrgyzstan State Development Bank. The operator announced that it expanded and upgraded its 2G, 3G, and 4G networks in seven regions and the capital of the Kyrgyz Republic. It plans to continue network coverage expansion across remote areas of Kyrgyzstan.
The second operator on the chart, Sky Mobile, operating under the Beeline Kyrgyzstan brand, announced In September 2022 that it has expanded its LTE network by deploying or upgrading 1,000 base stations. Additionally, between November 2021 and May 2022, Beeline Kyrgyzstan offered smartphones in installments for six or twelve months bundled with its mobile service package.
Tele2 and Kcell, controlled by the same company Kazakhtelecom, differ regarding 4G Availability. Kcell reported that the 4G/5G smartphone share of total subscribers was 72.8% in Q2 2022 (3.6% higher than a year prior), while LTE traffic accounted for 78.7% of all traffic. Kcell is actively working on expanding LTE coverage — it has increased from 65.1% in 2020 to 67.5% as of 1H 2022. At the end of end-2022, around Kazhtelecom's twin subsidiaries: Kcell and Tele2-Altel, operated 14,000 cellular base stations. On the other hand, Beeline Kazakhstan, part of the VEON group, reported that it installed over 4,000 base stations during 2022, taking its total to more than 25,000 base stations. The operator also stated it provides 97% LTE coverage within each area where it has deployed 4G base stations.
Beeline Uzbekistan outperformed other Uzbek operators on 4G Availability; the operator stated that it covered 79% of the population with an LTE network in 2022, a 16% year-over-year increase. In Q3 2022, the operator reported a 40% year-over-year data revenue increase based on strong mobile data usage (+42.2% YoY). 4G users grew by almost 35% during Q3 2022 to 5.2 million, driven by an expanded network rollout and portfolio of digital products. The absence of big tech such as Spotify means Beeline can drive local content. Beeline Uzbekistan follows its parent company's strategy of offering digital products and bundles, which helps with churn reduction and increased consumer loyalty — 33% of its customers are multiplayer consumers. My Beeline, its locally developed self-service app, had 2.6 million monthly active users (MAUs) — almost a third more than a year ago. Local entertainment platforms such as Beeline TV and Beeline Music had 1.2 million MAUs. Beeline has set up a wholly owned software house called BeeLab, which has been recently awarded a license from the Uzbekistan Central Bank to provide payment services. Beeline Uzbekistan subscribers can pay for a total of 500 services by using the Beepul mobile application. Mr Malinowski recognized a need to build an ecosystem around mobile payment to bring a third of the Uzbek population, currently unbanked, into the economy to enable a cashless society.
Megafon Tajikistan outran other Tajik operators in Q4 2022; its network investment can partially explain this — it announced that the number of 4G base stations increased by nearly 40% during 2022, while it added around 300 4G base stations until November 2022.
The International Finance Corporation (IFC), part of the World Bank, provided a $30 million loan to Tcell, the largest mobile operator in Tajikistan, to support its network expansion and improve connectivity across the country, especially in remote, less-densely populated areas of the country.
Almaty in Kazakhstan took the top spot in terms of mobile download speed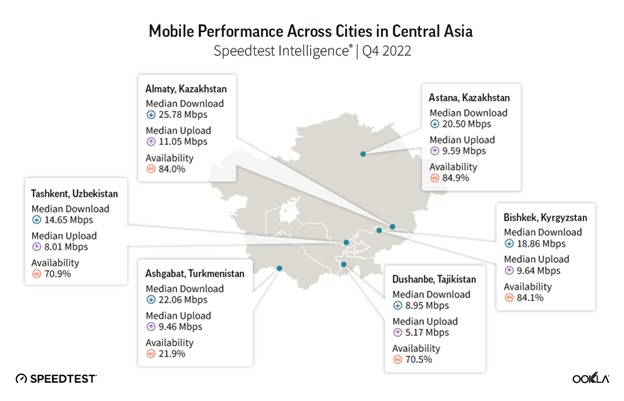 Given that Kazakhstan had the fastest mobile speed amongst its peers, it is not surprising that Almaty, the largest city in Kazakhstan, the country's former capital, and financial and cultural center of Central Asia, was the top-ranked city in Q4 2022, with a median download speed of 25.78 Mbps and 11.06 Mbps upload speed. Tele2's median download speed was 30.10 Mbps, just ahead of Beeline with 29.27 Mbps but double that of Kcell (12.39 Mbps download speed).
Despite Kyrgyzstan having the best 4G Availability across neighboring countries, this is not the case when it comes to capital cities; three cities share the honors here: 4G Availability in the Kazakh cities of Almaty and Astana, and the capital of Kyrgyzstan, Bishkek, exceeded 84%.
4G for all, or 5G for a few?
Across the countries Beeline operates, its strategy is to primarily deploy 4G networks rather than to focus on 5G. This was particularly visible as Beeline didn't participate in Kazakhstan's latest 5G spectrum auction. In December 2022, the consortium of mobile operators Mobile Telecom Services (Tele2 and Altel brands) and Kcell (Kcell and Active brand), both controlled by Kazakhtelecom, won two 100 MHz blocks in the 3.6 – 3.7 GHz and 3.7 – 3.8 GHz spectrum band. In December 2022, the Minister of Digital Development announced that 75% of Astana, Almaty, and Shymkent and 60% of regional centers will be covered by 5G networks by 2027. The state-owned operator, Kazakhtelecom, already outlined its plans concerning the 5G services launch, with the first 486 base stations scheduled to be launched in Astana, Almaty, and Shymkent in 2023, ahead of a wider rollout of over 7,000 5G cell sites across the Kcell and Tele2-Altel networks by the end of 2025.
Operators across the rest of Central Asia, apart from Turkmenistan, followed suit. Mobile operators started to deploy and test 5G networks, although with limited geographic reach.
Surprisingly Tajikistan was one of the first countries in Central Asia to launch 5G. MegaFon Tajikistan was the first in Tajikistan to activate a 5G base station in Dushanbe in February 2020, followed by Tcell in August 2020, and ZET Mobile in 2021. Operators in Kyrgyzstan are piloting 5G as well. In September 2022, MegaCom, in partnership with Huawei and the Ministry of Digital Development, launched a 5G showcase zone in Bishkek. Nur Telecom (O!) opened a second demo zone in October 2022 in the city of Osh, in addition to the one in Bishkek.
Central Asian countries understand the benefits digital transformation brings, and some, such as Uzbekistan and Kazakhstan, have initiatives to stimulate mobile adoption and drive the country's digital transformation. Others need to take a hard look at the regulatory and competitive landscape to drive telecom market development.
Operators continue to modernize their networks and we are keeping a close eye on how the network deployments are progressing and the network performance end users experience. If you are interested in benchmarking your performance or if you'd like to learn more about internet speeds and performance in other markets around the world visit the Speedtest Global Index.
Ookla retains ownership of this article including all of the intellectual property rights, data, content graphs and analysis. This article may not be quoted, reproduced, distributed or published for any commercial purpose without prior consent. Members of the press and others using the findings in this article for non-commercial purposes are welcome to publicly share and link to report information with attribution to Ookla.