Recognized in the categories of Marketing and Brand Initiative of the Year and Travel Product of the Year.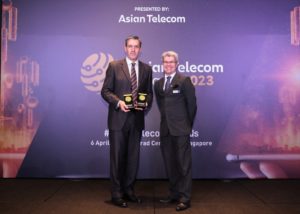 Lawrence Corbett, Chief Operating Officer of Circles and Simon Hyett, Contributing Editor of Asian Telecom Magazine.
SINGAPORE, 10 April 2023 – Circles, the leading global digital telco and consumer company, won two prestigious awards from the Asian Telecom Awards 2023. The award recognises the remarkable achievements and initiatives of Asia's leading telco companies.
The Travel Product of the Year was awarded to Circles' digital telco, Circles Life Singapore's travel lifestyle app, Jetpac. Launched in 2022 to provide greater convenience and experience to post-COVID travellers, Jetpac promises travel freedom for all with its fuss-free e-sim activation, unbeatable global roaming rates and travel perks. Within 4 months of launch, Jetpac achieved more than 10x growth in sign-ups, of which, more than 50% were new customers.
The second award, Marketing & Brand Initiative of the Year, was awarded to Circles Life Australia for its 'Big Freeze' campaign. When several leading national telco operators raised their mobile plan prices, Circles Life did the 'untelco' thing and froze their prices for 18 months to help the everyday Australians adapt to the rising cost of living without compromising on their digital experiences. Through the campaign, Circles Life saw a 28% increase in sales, including a significant spike in new customers from the leading telcos.
Abhishek Gupta, co-founder of Circles said, "We are honoured to receive two accolades from the Asian Telecom Awards 2023. This recognition is a strong testament that we are delivering the digital telco experiences that people want and need. It also reflects our agility in rapidly bringing innovative services that deliver greater convenience and value to our customers."
"We are pleased to confer Circles' digital telco two Asian Telecom Awards. Circles' innovative and customer-centric marketing approach has truly set them apart from the competition, and it's no surprise they've earned the Marketing & Brand Initiative of the Year and the Travel Product of the Year awards. We can't wait to see what they come up with next," says Tim Charlton, Publisher and Editor-in-Chief, Asian Telecom Magazine.
###
About Circles
Founded in 2014, Circles builds technologies that power digital telcos to connect people with communication services globally.
Today, Circles is partnering operators in 13 countries with the mission to deliver delightful digital experiences to millions of people through our businesses.
With Circles Life, our digital lifestyle brand, we empower and delight customers across the world by offering digital experiences that go beyond traditional telco services.
With Circles X, our digital telco technology empowers operators to launch digital telco from anywhere in the world. Built for operators by an operator, Circles X is powering both Circles Life and our partner operators' digital mobile brands.
Circles is backed by global investors such as Sequoia, Warburg Pincus, EDBI and Founders Fund – renowned institutions with a track record of backing industry-shaking innovators.
To learn more, visit www.circles.co.
Media contact:
Rachel Wong
Global Public and Analyst Relations Lead, Circles