The European Union's Digital Decade target is rather ambitious. It wants gigabit connectivity for everyone and ubiquitous 5G coverage by the end of 2030 to assist with digital transformation. When we reflected on 5G progress last year, we concluded that Europe had fallen behind its international peers. In this article, we will assess 5G progress across Europe.
Europe trails others' performance. Although more spectrum has been awarded over the past year, European 5G performance trailed the likes of the UAE and South Korea.
5G Availability is on the up. Whilst still behind its international peers, 5G adoption has increased during 2022. This, combined with the greater availability of 5G smartphones and the rollout of 5G networks using low-band spectrum, resulted in higher 5G Availability across most European countries.
A tale of two Europes. In the Nordics and some Eastern European markets (Bulgaria and Cyprus) 5G outperformed the big 5 European economies (U.K., Germany, France, Spain, and Italy). Operators call for more consolidation and regulatory intervention to facilitate 5G investment.
A hotbed for private networks. European governments and regulators are keen supporters of enterprise digitization efforts, and 5G is heralded as a key enabler to assist with that. Over 40% of all private networks worldwide are in Europe, a growing proportion of which are utilizing 5G.
Mid-band is most assigned spectrum across Europe
As per the European Commission's 2016 5G Action Plan, EU countries are meant to make low-band (700 MHz) spectrum available for use by June 30, 2020, and mid- (3.6 GHz) and high-band/mmWave (26 GHz) spectrum by December 31, 2020. At the EU level, there are the so-called 5G pioneer bands. These are the changes compared to when we last reviewed 5G spectrum assignments across Europe:
Four countries still needed to assign spectrum last year. Now, Poland is the only one without dedicated 5G spectrum.
Over the course of last year, three more countries awarded spectrum across all of the 5G pioneer bands, making a grand total of eight countries.
Four more countries awarded spectrum across both low- and mid-band spectrum, tallying up the count to 17.
Mid-band spectrum is the most popular spectrum band, with 28 countries already awarded mid-band spectrum — an additional five to when we last took stock. The remaining countries, Poland and Netherlands, will finally auction the 3.5 GHz spectrum in the summer of 2023.
26 countries auctioned spectrum in the 700 MHz bands, compared to 21 a year ago.
Eight countries have awarded mmWave spectrum thus far. Spain is the only addition in 2022, raising €36 million.
Legacy networks give way to 4G LTE and 5G 
5G pioneer bands are not the only frequencies that operators use to deploy 5G. As operators shut down legacy networks, they can refarm sub-3GHz frequencies for 4G LTE or 5G. European operators tend to support 2G in the short term, phasing out 3G networks instead. MNOs also look to optimize their network operations, and the upkeep of legacy networks comes with additional cost and complexity.
The rate of network shutdowns is increasing. So far, across Europe, 21 operators across 11 countries have retired 3G networks compared to only two 2G network shutdowns. 2G is still needed to support M2M/IoT use cases, e.g. ongoing long-term enterprise contracts with utility providers. In contrast, operators see less traffic carried over 3G networks hence the desire to retire them. For example, Magyar Telekom noted 2.3% and 0.84% of total voice and data traffic on the 3G network. Proximus stated that 2% of its data traffic uses 3G, while Telenet/Base shared that 3G devices account for just 1% of its network. Looking ahead, 43 operators across 26 countries announced their plans to switch off 2G networks, and 37 operators in 21 countries will pull the plug on 3G.
5G adoption lags, 5G performance doesn't impress either 
Most European countries have commercial 5G networks in place. However, 5G adoption across Europe lags behind its global peers. According to GSMA Intelligence, in Q4 2022, 5G uptake in Europe accounted for 7.4 % of total mobile connections, a substantial increase over the Q4 2021 level of 2.5%. Across European countries, 5G adoption is at most 21% (Switzerland), compared to 43.1% in the United States, 42.4% in South Korea, China (36.3%), Australia (30.1%), and Japan (28.5%).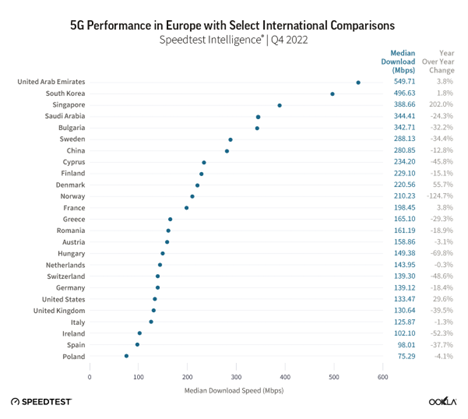 Our recent article identified four broad clusters of 5G performance based on Speedtest Intelligence® data. Most European countries achieved median 5G download speeds under 200 Mbps, placing them within the 5G Improvers category. Bulgaria was the only country that made it into the 5G Leaders category, which includes the likes of the UAE, South Korea, Singapore, and Qatar, with a median 5G download speed of 342.71 Mbps, a slight decrease compared to last year (374.90 Mbps in Q4 2021). Five countries made it into the High Performers cluster, achieving a median 5G download speed exceeding 200 Mbps: Sweden, Cyprus, Finland, Denmark, and Norway. Interestingly enough, the big five European economies (U.K., Germany, France, Spain, and Italy) were outperformed by the Nordics and two Southern Eastern European markets (Bulgaria and Cyprus). The Nordics have always played a leading role in European telecoms, but the 5G performance gap between them and the big five points to challenges in those markets. 

Across most of Europe, median 5G speeds have actually decreased. This isn't surprising, as increased adoption leads to higher network congestion, but other factors are at play. Operators feel the pressure of the economic crisis, higher energy costs, and reduced consumers' spending power. Europe also suffers from fragmentation, low ARPU levels brought about by intense competition, and Capex levels that are half that of the U.S. and Canada. A report by the European Court of Auditors estimates the deployment cost of 5G across all EU member states at around €400 billion. Operators are yet to see additional revenue coming from 5G that can support that level of investment. The optimal market structure and role of governments in supporting the rollout of 5G remains a heavily debated topic as operators' M&A activities heat up.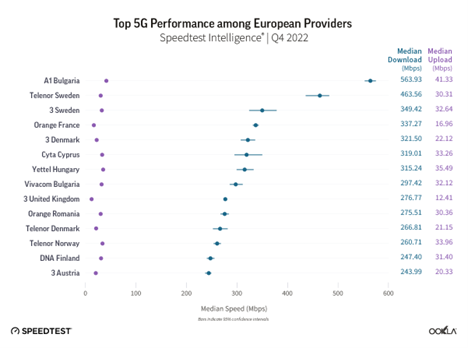 Operators' performance tells an interesting story as there are vast differences between countries and even within a country. The Nordics operators' 5G performance tends to rank highly compared to other European countries thanks to having access to dedicated 5G spectrum and supportive regulatory environment. Denmark and Sweden have a greater level of network sharing as two operators share Multi-Operator Core Networks (MOCNs) and spectrum. In some countries, operators have to adhere to conditions stipulated by the 5G license, either in terms of network coverage or the number of 5G sites. For example, in France, each operator had to deploy 3,000 5G sites by the end of 2022. Challenger mobile operators often outperform incumbents — strong results from Three in the chart above are proof of that.
5G Availability shows improvement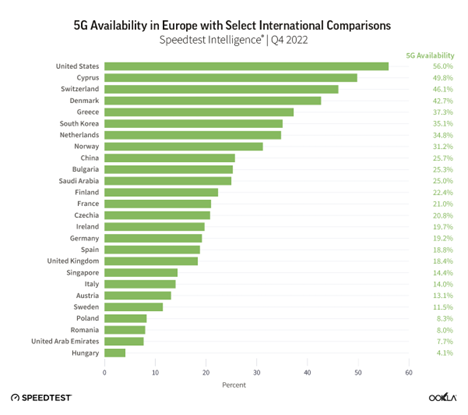 Given the growth in 5G adoption, not surprisingly, 5G Availability (the percentage of users on 5G-capable devices that spend most of the time with access to 5G networks) has been on the rise too. 5G Availability is a function of 5G network coverage, and 5G tariff and 5G-capable device adoption. At 56%, the U.S. continues to have the highest level of 5G Availability, having started 5G deployment in the 600 MHz (low band) range and with a large pool of customers owning 5G capable devices. The 600 MHz frequency band has further reach compared to 700 MHz and even the LTE mid-band. Within Europe, 5G Availability exceeds 40% in three countries: Cyprus, Switzerland, and Denmark, but the range is broad across those countries. Cyta Cyprus has reached 67.1% 5G Availability in Q4 2022, thanks to extending 5G coverage to 100% of Cypriots. Swisscom ranks highly too, with 61% Availability in Q4 2022. Its 2022 Annual Report notes that the operator covers 99% of the Swiss population with a basic version of 5G (using Dynamic Spectrum Sharing, which borrows capacity from its LTE spectrum) and 74% with 5G + (delivered using mid-band spectrum). 

One critical component driving 5G Availability is the affordability and availability of 5G-capable smartphones. According to Counterpoint Research, in Q4 2022, 5G smartphone sales across Europe totaled 26.8 million, equivalent to 67% of total smartphone sales, compared to 84% in North America and 87% across China, Japan, and South Korea. Europe still needs to catch up to other advanced markets in smartphone adoption. Within Europe, there is also wide variation, with Germany at 90%, Sweden at 88%, the UK at 86%, and Eastern European markets at 49%. Over time, smartphone sales will translate into a more extensive installed base of 5G devices and share of overall subscriptions.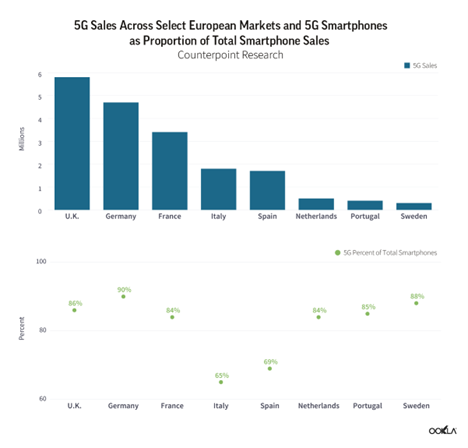 A glimmer of hope for 5G investments
As per the EU Commission's 5G Action plan, operators should extend 5G networks to all urban areas and major roads and railways by 2025 and populated areas by 2030. For Europe to catch up with its peers and to achieve its digital ambitions, it needs more investment. Operators frequently call for a more supportive policy and regulatory ecosystem to stimulate Capex. During Ookla's Southeast Europe Regulatory Summit, Professor Konstantinos Masselos, President of Hellenic Telecommunications and Post Commission and BEREC Chair 2023, recognized that Europe is still behind the rest of the world, there is a need to fill the gap for investments, and Europe needs to solve demand issues and cost-effectiveness while not forgetting sustainability.
According to Assembly Research, an issue that came to the fore during 2022 was 'fair share' – i.e. the idea that tech companies should contribute to telecoms network costs. Many large telcos believe that deploying Europe's digital infrastructure should be more evenly distributed among those generating traffic (and costs). However, some smaller operators and access seekers, such as MVNOs, are concerned by the possible implications of fair share, arguing that it could create a competitive distortion that puts them at a disadvantage. In addition, an October 2022 report by BEREC found little evidence that large content and application providers should contribute towards the cost of building telecom networks, considering that this model could risk harming Europe's internet ecosystem.
Nevertheless, the European Commission is considering potential changes to how networks are funded. Commissioner Thierry Breton is poised to launch the EC's fair share consultation at MWC23, which will reportedly outline proposals on Big Tech's contribution towards telecoms network costs. Whether the European telcos' lobbying campaign will bear fruit, only time will tell. But this will also depend on how well telcos outline what 'fair share' should look like. In Assembly's view, the next step is to develop a practical means of implementing fair share, one which telcos have yet to set out in detail. In response to the EC's forthcoming consultation, the onus is on operators to present compelling, justifiable policy actions, including how contributions to network costs should be calculated and applied.
European regulators support enterprise digitization efforts
Digitization of different sectors of the economy is key to supporting sustainable development and climate goals. However, enterprise requirements differ. Some prefer to retain control over their networks, isolating them from the public network. Private mobile networks play an important role in broader digital transformation and addressing Industry 4.0 objectives. According to GSA, there were 954 private networks globally, of which almost half were in Europe (405). In terms of the number of private networks, the U.S. ranked first internationally, Germany was second, and the U.K. came fourth, followed by Japan, Finland, France, and Sweden. All of these countries embarked on digitization strategies to strengthen their position as manufacturing hubs, and it is no coincidence that these are also the markets where enterprises can purchase dedicated spectrum.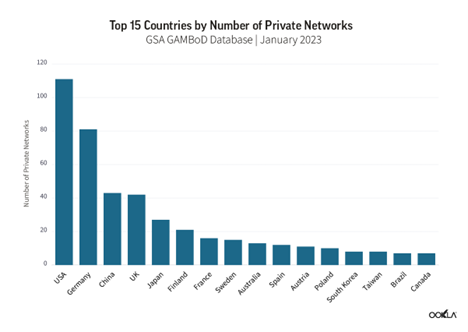 Historically, Wi-Fi has been the connectivity choice for private networks. However, mobile technologies such as 4G LTE and 5G are better suited to Operational Technologies' network requirements of high volume, high reliability, mobility, and always-on operations. In Europe, almost half of the private networks run on 4G LTE (44%), 21% use a mix of 4G and 5G, with 5G accounting for close to 30% of deployments. As we have noted before, the introduction of industrial chipsets, based on Release 16, scheduled to come to market in 2023, will stimulate the private 5G networks market too.
Furthermore, regulators are creating an encouraging environment for enterprises to deploy their own networks to support their digital transformation targets. A dedicated spectrum for private mobile networks has already been allocated to industry players in France, the U.S., Germany, Japan, and the U.K., among others. Recently, Norwegian regulator Nkom opened up a 3.8 – 4.2 GHz band for interested parties to apply for a license to offer private 5G networks. Germany spearheads the Industry 4.0 movement, with some of the country's biggest industrial players awarded their own 5G spectrum and experimenting with private 5G networks to address their particular needs. Other countries that look to support their national manufacturers standing in the global marketplace look to follow, as we have discussed the case for private networks in India.
Ookla will be at MWC Barcelona 2023 — visit us at our Stand 2i28 in Hall 2 to talk with us about telco trends and to learn about Ekahau's private 5G offering. If you are interested in what are the new and exciting use cases as we enter the 5G Advance era, join us at the 5G Futures Summit. In the meantime, please contact us if you're interested in discovering more about Ookla Speedtest Intelligence and its wealth of fixed and mobile consumer-initiated data and insights.
Ookla retains ownership of this article including all of the intellectual property rights, data, content graphs and analysis. This article may not be quoted, reproduced, distributed or published for any commercial purpose without prior consent. Members of the press and others using the findings in this article for non-commercial purposes are welcome to publicly share and link to report information with attribution to Ookla.