Nuremberg, Germany – March 13th, 2023 – Fibocom Wireless Inc., a global leading provider of IoT (Internet of Things) wireless solutions and wireless communication modules, announces the cooperation with Sony Semiconductor Israel (Sony), a leading provider of Cellular IoT chipsets, in launching the 5G LPWA module MS18 series which will be announced officially at Embedded World 2023. Powered by Sony's Altair, best in class ALT1350 chipset, the Fibocom MS18 module series is designed to provide ultra-low power consumption and reliable wireless connectivity for the 5G massive IoT market.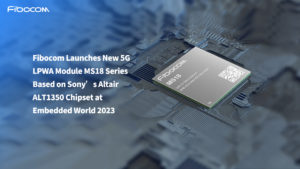 With optimized power consumption, Fibocom MS18 series is a SOC integrated LPWA module with an AI engine for edge processing, supports the latest 3GPP Release 14 through 17 of LTE-M/NB-IoT, unlicensed spectrum communications protocols, Non-Terrestrial Network (NTN) satellite communications, Wi-Fi SSID-based location, and Short-range radio. MS18 series will also adopt a compact footprint of less than 200 sq millimeters to be best utilized in the 5G Massive Machine Type Communication (MTC) applications such as smart metering, asset tracking and connected health. It is worth mentioning that the MS18 series adopts LGA form factor, with ultra-compact size and optimized low power consumption, offering unprecedented battery life up to 15-20 years.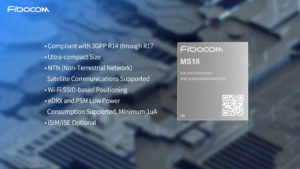 Jason Zhu, General Manager of MTC BU, Fibocom: "By collaborating with Sony and combining Fibocom's 23+ years of know-how in the cellular module industry, we are excited to bring to the market an ultimate LPWA module with excellent performance yet best in class power consumption, compact size, broad communications protocol with vast integrated features such as Open CPU, iSIM, hardware based application security, and FOTA. MS18 series provides a rapid and flexible integration experience for our customers launch their devices in LPWA applications, such as smart metering, tracking, telematics, telehealth, smart city, consumer electronics. Fibocom is very honored to be a partner of Sony, to bring our new MS18 series, powered by ALT1350 to the 5G IoT Ecosystem."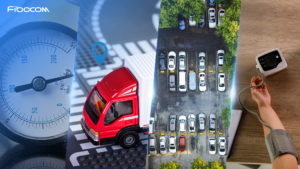 Engineering sample of MS18 series will be available in Q3 2023. Welcome to visit Fibocom Booth 3-222 at Embedded World 2023, Nuremberg Germany, to learn more about Fibocom module portfolio and solutions.