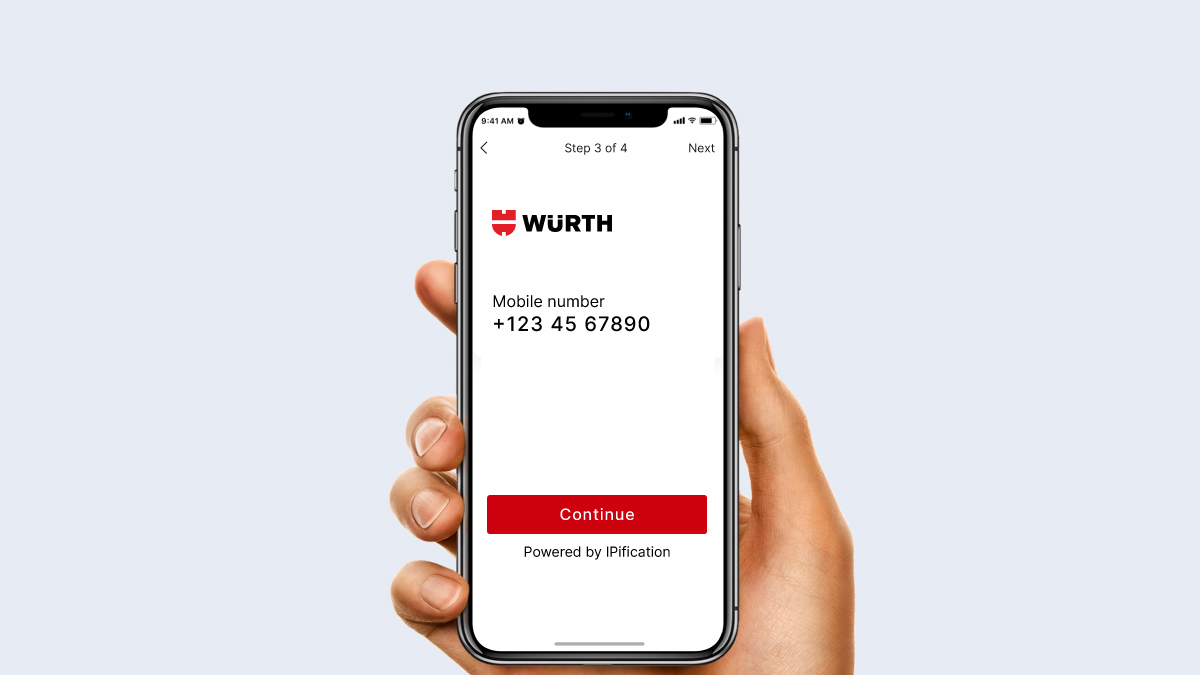 Zero-click compatible mobile authentication and fraud prevention solution, IPification is now integrated within the mobile app for the development of retail sales teams, created for Wurth Serbia by Softech Solutions on the Digital Spark™ platform. Wurth's retail B2B and B2C brand teams using this seller-focused incentive and management mobile app will now be able to login and authenticate their phone number in one click, without relying on SMS one-time pins (OTP).
The global leader in the direct selling of technical products, German Wurth Group founded Wurth in Serbia in 1996. Since then, they have been supplying professionals in the region with the most innovative high-quality industrial equipment. Partnered with the development company Softech Solutions, Wurth has created this mobile app to make the management, and incentives of sales teams across the region easier. By implementing IPification, Wurth Serbia is enabling one-click mobile user authentication and verification, therefore significantly improving both the user experience and security for salespeople and their teams.
Wurth Serbia has been reshaping its market position into a regional leader when it comes to digitalization of sales via a variety of software solutions and process improvements. With this mobile app Wurth Serbia will be the first company in the region to focus on incentivising the sales force directly through a built in loyalty program that includes training and awards.
IPification will be the go-to option for the user one-click login and registration replacing the unsafe and non reliable SMS OTP.
In direct partnership with mobile network operators across the globe, IPification has developed the unique and patented mobile user authentication improving the mobile user security while elevating the user experience to the highest level.  One-click login is enabled by assigning each mobile user a unique MobileID that is created from unique device, SIM card, and network parameters.
Stefan Kostić, IPification Chief Executive Officer, said, "It gives us great pleasure to partner up with Wurth Serbia and Softech Solutions on this innovative project, having seen the results it produces. We are excited to see the impact IPification will bring to the app users by further improving their user experience and security. We are happy to be a part of business transformation and digitalization across the variety of industries as we become the go-to mobile user login and security option in the region."
"We have significantly increased the security by implementing IPification. Since Digital Spark™ is a tool for sales management that companies use in their everyday sales activities, the verification component represented the main security challenge," said Ognjen Lukić, the founder of Softech Solutions. "Our partnership with Wurth Serbia is a great example of the digital transformation of businesses who use innovative solutions from domestic companies."
"Our users have reacted positively to the new, streamlined user experience which is why we have decided to integrate IPification as a part of the Digital Spark™ licence package whose user base is made up of various distributors of technical goods," they added from Softech Solutions.
About IPification
IPification is building the backbone for mobile authentication of today and tomorrow.
By verifying the device, SIM & phone number via IP address, IPification patented technology is enabling secure, passwordless, zero-tap compatible mobile user authentication, phone verification and fraud prevention solutions for any mobile application.
Readily available across numerous countries and regions, IPification is trusted by some of the leading telco, technology, payment, and OTT companies including Microsoft, GBG, DataZoo, 3HongKong, Axiata Digital.
As part of Benefit Vantage Limited, the leader in Asia for providing security and data backup solutions headquartered in Hong Kong, IPification has offices and representatives operating in the U.S., U.K.,Serbia, Switzerland, Bosnia, Brazil, India, Vietnam and Pakistan.
For more information, please visit  www.ipification.com
Media Inquiry:
IPification
Alexandra Kalinina
alexandra.kalinina@ipification.com