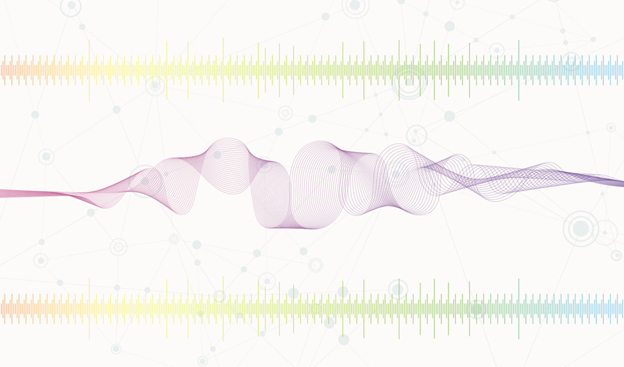 We have recently written about 5G performance at length, ranked the countries, looked at operators' 5G strategies, and even commented on consumers' perception of 5G performance. Most recently, we commented on the state of the worldwide 5G in 2022 and the fastest 5G mobile devices. This article will examine the relationship between spectrum and 5G performance.
Key takeaways:
Based on Speedtest Intelligence® data, we can see a significant variance between countries in median 5G speed, with four broad clusters of 5G performance emerging: 5G Leaders, High Performers, Improvers, and 5G Outliers.
5G performance depends heavily on the operator's 5G spectrum holding.
The larger the allocation of the C-band spectrum, the faster the 5G download speed, with the contiguous spectrum enhancing performance further.
Operators with access to 100 MHz of contiguous spectrum, e.g., in the U.A.E. and South Korea, led the 5G global ranking in Q4 2022 with a median download speed of 516.15 Mbps and 511.70 Mbps, respectively.
Access to low-band spectrum is just one factor that impacts 5G Availability.
Four tiers of 5G performance
Looking at market-level Speedtest Intelligence data, we can see significant variance in median 5G download speeds between the 52 countries we analyzed. We identified four broad clusters of 5G performance as measured by median 5G download speed.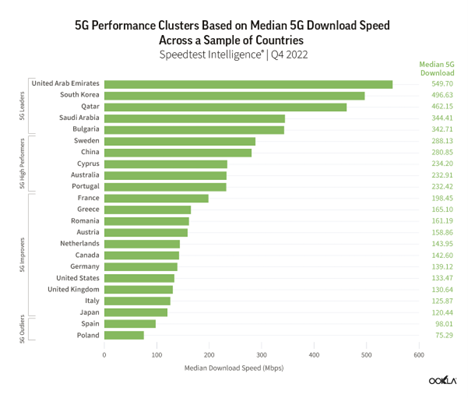 5G Leaders: > 300 Mbps
These markets are the 5G pioneers, being among the first to launch 5G services, and are continually pushing the boundaries of 5G performance with median download speeds typically greater than 300 Mbps. High-performant 5G markets have allocated substantial amounts of spectrum for 5G use, particularly with wide allocations in the coveted C-band, and have assigned and, in some cases, begun limited use of mmWave spectrum. In some cases, we see a trade-off between 5G performance and 5G Availability (the proportion of time users with 5G capable devices spend connected to 5G networks).
5G High Performers: 200 – 300 Mbps
These markets share many of the characteristics of 5G leaders, having made an adequate spectrum allocation for 5G use and fostered competition between operators, which has helped spur network investment. However, they lag behind 5G Leaders based on their level of network densification. They typically use Dynamic Spectrum Sharing (DSS), which allows operators to share spectrum between network generations, but it can weigh on performance. Median 5G download performance in these markets typically ranges from 200 Mbps to 300 Mbps. We don't generally see as much of a trade-off between performance and 5G Availability in these markets. 
5G Improvers: < 200 Mbps
These markets typically have limited C-band availability or a regulatory environment promoting strong price competition, with operator investment constrained. As a result,  median 5G download speeds are between 100- 200 Mbps in these markets. In some cases — for example, in the U.S. and U.K., we see 5G spectrum allocations (based on spectrum currently in use) giving a significant advantage to one player in the market, which has then sought to capitalize on this through aggressive 5G network deployment. Furthermore, with the exception of the U.S., which had a 5G Availability of 56.0% in Q4 2022, 5G Improvers all have 5G Availability in the low double digits, ranging from 13.5% in Japan to 19.2% in Germany. 
5G Outliers
Only in a few markets did 5G performance drop below 100 Mbps. Polish performance can be explained by the lack of a dedicated 5G spectrum; Polkomtel trading under the Plus brand, utilizing 50 MHz of spectrum in the 2.6 GHz band, and all other operators deploying 5G using DSS in the 2.1 GHz spectrum band. Spain, on the other hand, has assigned spectrum across all three bands, with C-band blocks ranging from 80MHz (MasMovil) to 110 MHz (Orange), and most recently, awarded mmWave too. However, operators focus on meeting coverage obligations that rely heavily on the 700 MHz band. For example, Movistar's 5G network reached a total of 1,719 municipalities at the end of 2022, equivalent to 83% of the population. 
Fast 5G and good 5G Availability don't always go hand in hand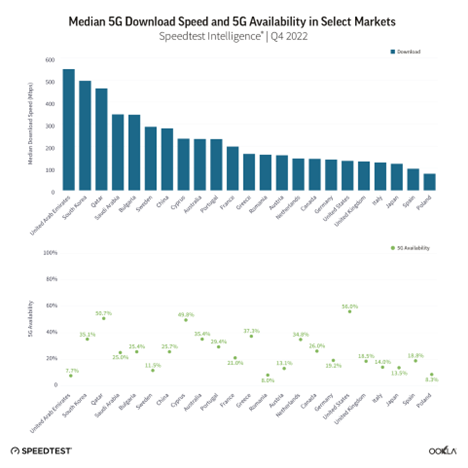 Using Speedtest Intelligence data, we examined a relationship between the country's 5G median download speed and 5G Availability. And for the most part, there isn't one. Fast networks don't immediately come with high 5G Availability. For example, the U.A.E. and South Korea have topped our ranking in terms of the fastest median download speed over 5G at 549.70 Mbps and 496.63 Mbps, respectively, during Q4 2022. Yet, when it comes to 5G Availability, the U.S. came first in the ranking at 56.0% in Q4 2022, South Korea's 5G Availability stood at 35.1%, while the U.A.E recorded a 5G Availability of 7.7% in Q4 2022.
All eyes on spectrum
The key to understanding 5G is understanding operators' 5G spectrum holding. There are two key considerations to keep in mind when discussing the spectrum for 5G: speed performance and geographical coverage. Regulators assign 5G spectrum across three spectrum ranges: low, mid (lower mid-band and upper/C-band), and high (mmWave).
Low-band (sub-1GHz) spectrum can travel farther, cover a greater geographical region, and provide deeper penetration within buildings, given its good propagation characteristics. But, the low band spectrum cannot deliver "true" 5G speeds, peaking at 100 Mbps median download speed. Another challenge is that these frequency bands are in high demand and in low supply, and in some countries, still used for analog television.
Mid-band spectrum (1-6 GHz spectrum) is the so-called "sweet spot" for 5G, especially the upper mid-band (C-band), which offers the best of both worlds in terms of coverage and capacity.
Existing networks such as 2G, 3G, and 4G already use the lower mid-band. This spectrum band has been the 4G data traffic capacity layer, often used in Frequency Division Duplex (FDD) mode. FDD is a technique that uses separate frequency bands at the transmitter and receiver sides. For example, the U.S. and China used the 2.6 GHz spectrum band in Time Division Duplex (TDD) mode to drive their 5G deployment. Most counties will use TDD for 5G network rollout. This means that the 5G base station and end-user device use the same channel to transmit simultaneously, potentially creating interference issues while allowing more flexibility. Furthermore, this spectrum band will grow in importance as legacy networks are retired and spectrum refarmed.
The upper mid-band, especially 3.3 GHz to 3.8 GHz (otherwise known as C-band), offers a good combination of propagation and capacity. 3GPP standards currently support a 100 MHz wide channel and a maximum bandwidth of 400 MHz in carrier aggregation mode.
The high band, also called the millimeter wave (mmWave), spectrum can deliver super-fast speeds (thinking gigabits) but has limited range. Recently we published an article looking at the mmWave performance and recent developments.
Using Speedtest Intelligence background data, we can gain insights into which spectrum bands operators use for 5G.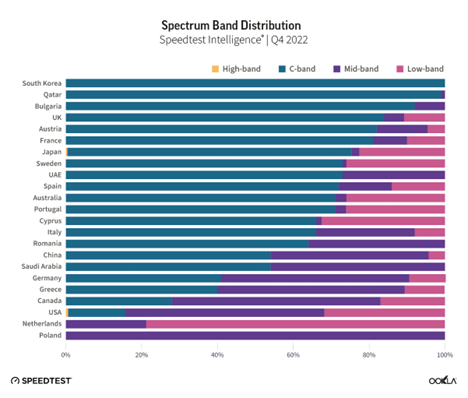 High band (mmWave) accounted for less than 1% of the scans in four countries: Japan, U.S., Qatar, and Australia.
Most countries used the mid-band spectrum.
C-band spectrum is used by all countries that have allocated it (21 out of 23 countries), with a notable exception of the Netherlands and Poland, which will finally auction the 3.5 GHz spectrum, set to take place in the summer of 2023.
All countries we have analyzed, bar South Korea, use lower mid-band partially due to operators switching off their legacy networks (2G/3G) and refarming their existing spectrum holdings to support 5G networks rollout.
Low band was used by 78% of analyzed countries (18 out of 23) across our sample.
Addressing spectral challenges via DSS and CA comes at a cost
The ITU minimum technical requirements to meet 5G performance requirements identify at least 100 MHz channel per operator and up to 1 GHz per operator in mmWave bands. This, however, is only sometimes the case. We can see imbalances in terms of operators' performance within a country, which can be partially explained by having larger spectral resources. For example, Three UK benefited from having the largest, dedicated 5G spectrum — 140 MHz of frequency across several 5G spectrum bands, including a 100 MHz block of continuous spectrum in the 3.3-3.8 GHz band, which positions it well in terms of median download speeds compared to other U.K. operators.
In the absence of a dedicated 5G spectrum or to supplement the existing spectrum, operators can use two technologies to aid their 5G deployment: Dynamic Spectrum Sharing (DSS) and Carrier Aggregation (CA). DSS enables operators to allocate spectrum flexibly across low-, mid-, and high-bands and switch between LTE and 5G New Radio depending on network demand. However, there is a downside to that in terms of 5G performance. For example, in Poland, apart from Plus, all other operators deployed 5G using DSS in the 2.1 GHz spectrum band, which can partially explain why they have lower speeds.
Conversely, CA enables operators to use two or more bands together, integrating them as one big block to deploy 5G. This allows for the aggregation of non-contiguous spectrum blocks, but it impacts performance by introducing latency and signaling overhead.
Access to low-band spectrum has a positive impact on 5G Availability, but it is not the only factor at play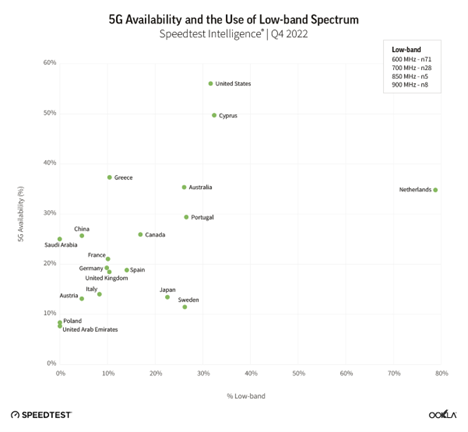 Ookla® data indicates that 5G coverage, which is often enabled by having access to a dedicated low-band spectrum (600 – 900 MHz), is just one part of the puzzle when it comes to 5G Availability. Low-band (700 MHz) spectrum, initially used for LTE, is now allocated to 5G because it allows extended coverage. According to the GSA, the 700 MHz spectrum band is particularly precious. GSA's data shows that spectrum at 700 MHz has generated an average of $0.309/MHz/pop in assignments and auctions since 2015, significantly above the average price for C-band. For example, India's highly anticipated 5G spectrum auction garnered $0.380MH/pop for 700 MHz compared to $0.031/MHz/pop for C-band.
Qatar, Saudi Arabia, South Korea, and the U.A.E. don't have any 5G devices using low-band spectrum simply because there has been no spectrum assigned in this band to 5G services. During the initial 5G auction in 2016, South Korea's 700 MHz spectrum remained unsold.
Other essential aspects driving 5G Availability are the affordability and availability of 5G-capable smartphones, 5G tariffs, and end-user demand. Case in point, despite the lack of low-band spectrum, South Korea reached a 5G Availability of 35.1% in Q4 2022, driven by customer adoption and 5G network densification. According to the Ministry of Science and ICT, in November 2022, there were 27.5 million 5G subscriptions in South Korea, equivalent to 36% of all mobile subscriptions. According to its Communication Agency, there are 215,000 5G base stations, which translates into 319 people per 5G base station, nearly seven times more than the EU and 13 times more than the U.S.
A country's geography impacts 5G coverage too. For example, in addition to having access to low band spectrum, the Netherlands benefits from being flatter and more densely populated, resulting in a greater ability to expand 5G coverage.
Another factor at play is the spectrum license conditions that stipulate coverage requirements, for instance, as part of the 700MHz licenses in the Netherlands, there is a minimum speed of 8 Mbps in 98% of the cases in each municipality of the country in 2022.
While the relationship between low-band spectrum and 5G Availability is not a direct one, we wanted to investigate whether there is a link between the median 5G download speed and the C-band spectrum.
Larger the share of the C-Band spectrum, the faster the 5G download speed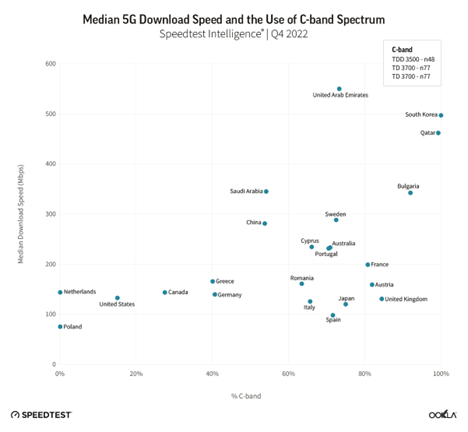 Our analysis found that access to C-band spectrum typically translates into a faster median 5G download speed. Unsurprisingly, operators are keen to deploy 5G services using C-band spectrum. According to GSA, since the end of 2015, 54 countries have auctioned, assigned, or renewed licenses for C-band spectrum.
All eyes on 5G Leaders
Countries where operators solely rely on the mid-band spectrum for 5G, and where 5G services have been available for more than 13 quarters have achieved over 300 Mbps median download speed in Q4 2022. Bulgaria is an exception, having launched services just over two years ago. We can also conclude that operators' overall spectrum holding and whether they have access to a contiguous spectrum matters, too. Contiguous spectrum helps achieve faster speeds, lower latency, and improved spectral efficiency.
U.A.E.: Emirati operators – Etisalat and Du –  use two carrier spectrum in the 3.5 GHz and 2.5 GHz frequency range, each carrier at 100 MHz, to establish a 5G network. This results in speeds exceeding 500 Mbps. The U.A.E. had a median 5G download speed of 511.70 Mbps in Q4 2022.
South Korea: KT and SKT bought a 100 MHz channel each in 2018. In July 2022, LG+ secured an additional 20 MHz C-band spectrum, bringing its total spectrum holding to 100 MHz. Alongside the 5G spectrum auction, the government outlined the rollout milestones for the operators' 3.5 GHz rollout: 22,500 base stations by the end of 2021, 45,000 by the end of 2023, and 150,000 at completion. Thanks to that, South Korea has the most base stations per population. South Korea is one of the early adopters of 5G, having commercialized 5G in 2019 and over a third of all mobile subscriptions on 5G. One of the reasons behind South Korea's fast-paced 5G adoption is the support from the government, which adopted the 2021 action plan for the "Digital New Deal" to support 5G development and a wider digital transformation.
Qatar: Qatar, clocking a median 5G download speed of 462.15 Mbps and 5G Availability of 50.7% in Q4 2022, delivers the best of the worlds — good speeds and 5G Availability. In November 2022, Qatar's Communications Regulatory Authority (CRA) amended the mobile licenses held by Vodafone Qatar and Ooredoo Qatar in early 2019, authorizing each operator to utilize 100 MHz of C-band spectrum and committing them to roll out commercial 5G networks before the end of 2020 in all densely populated areas. Operators' heavy investment into their network to achieve near-universal service coverage and incentives to migrate users to 5G networks has paid off. We have closely monitored 5G performance during the recent World Cup. Not only did Qatari 5G networks manage to withstand the additional network load that World Cap brought, but it has also improved in performance, with the median 5G download performance hitting 472.13 Mbps in November 2022.
Saudi Arabia: Operators in the KSA have access to more than 1000 MHz of licensed spectrum for IMT use in the low- and mid-band ranges. Saudi regulator – CST (Communication, Space and Technology Commission) – championed data-driven, evidence-based policy decisions to enable a 5G rollout by conducting analysis of spectrum usage, the performance of various bands, and existing network infrastructure to see where investments had been made within certain bands (e.g., extra capacity in specific bands in urban areas and coverage of rural areas using adequate bands). If you would like to find out more, read this case study.
Bulgaria: In April 2021, Vivacom Bulgaria won 100 MHz in the 3.7-3.8 GHz band for BGN4.6 million (€2.35 million). Vivacom utilizes DSS, combining frequencies in 1.8, 2.1, and 3.6 GHz bands for 5G. A1 Bulgaria, on the other hand, uses a dedicated 100 MHz band.
We will continue to monitor 5G performance across the world and investigate the factors that impact 5G performance. If you want to learn more about 5G performance, head to Ookla InsightsTM and subscribe to our newsletter to stay up to date with our latest analyses.
Ookla retains ownership of this article including all of the intellectual property rights, data, content graphs and analysis. This article may not be quoted, reproduced, distributed or published for any commercial purpose without prior consent. Members of the press and others using the findings in this article for non-commercial purposes are welcome to publicly share and link to report information with attribution to Ookla.