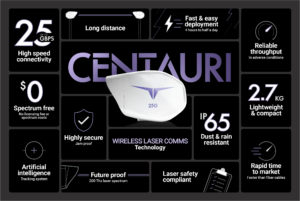 The breakthrough is built on the manufacturing-ready CENTAURI technology which uses Wireless Laser Communication. This is expected to revolutionize wireless bandwidth and time to service for 5G, residential & enterprise broadband networks.
24 FEB 2023, SINGAPORE:  Transcelestial today announces its new product, CENTAURI 25G. Built on the underlying architecture of its CENTAURI 10G product, Transcelestial upgraded the bandwidth to a whopping 25Gbps – World's Fastest Spectrum-less Wireless Device, commercially available in Q2 2023.
"The cost to connect the world is not commercially viable if upgrades depend on the rollout of new fiber cables. Upgrading to new fiber infrastructure amidst challenging terrain can slow down improvements by years. With CENTAURI 25G, we're glad to be the first to meet the demand for reliable wireless laser links above 10Gbps and provide a much-needed solution that's not limited by spectrum." said Mohammad Danesh, Co-Founder and CTO of Transcelestial.
Transcelestial developed the new devices in response to market demand from mobile operators and urban enterprise and residential enterprise broadband providers for wireless laser links that could perform with a reliability above 10Gbps.
CENTAURI 25G delivers high-speed internet connectivity via laser beam, eliminating the need for underground cables or radio frequency-based devices. Its technology can connect buildings point-to-point in less than a day. Not only are these laser links easy to set up, but they are also tough enough to withstand harsh weather conditions and compact enough to withstand high wind speeds.
Until now, mobile operators and enterprise broadband providers have no viable alternative outside of fiber cables to meet the requirements of last-mile connectivity with 25Gbps reliability and wirelessly. Existing wireless solutions such as E-Band radio cannot do 25Gbps today – requiring multi-GHz spectrum even for 10Gbps, while fiber comes with high costs, right of way and long deployment challenges. This makes upgrades to network infrastructure costly when physical limitations such as bodies of water and challenging terrain prevent telecoms from laying new cables.
The unveiling of the new CENTAURI 25G product follows Transcelestial's $10M boost to expand early market access to the US and double down in Asia. The company's last technology showcase proved the world's first commercial 5G at a 10Gbps capacity alongside the University of Technology Sydney.
"It is important that Transcelestial leads the way in the industry to continue bringing new high bandwidth capabilities in the wireless industry to eventually match and exceed even the best fiber optic connections in the world. This is Step 1 in that direction of leading the Wireless Industry going ahead," said Rohit Jha, Co-Founder and CEO of Transcelestial.
For more on CENTAURI 25G visit: https://transcelestial.com/centauri25g/
– END OF PRESS RELEASE –
For press enquiries and requests, please contact: Rachael De Foe (rachael@rdfy.co)
For more, visit our website www.transcelestial.com OR follow us on Twitter (@trans_celestial)
For sales enquiries, please contact: sales@transcelestial.com
About Transcelestial:
Transcelestial has mass-produced a solution for superfast global Internet distribution that leverages its proprietary wireless laser communication technology to create a wireless distribution network between buildings, traditional cell towers, street-level poles and other physical infrastructure – with a much lower total operating cost for Mobile Network Operators, Internet Service Providers and enterprises.
Shortly, Transcelestial aims to develop a constellation of small satellites positioned in Low Earth Orbit, allowing their laser network to not only beam across cities but upwards to connect continents globally too.
Transcelestial has won numerous industry and global awards such as Most Frontier Company by Asiastar10x10, SPIFFY San Andreas Award for Most Disruptive Technology by Telecom Council, Forbes 30 Under 30 to our CTO Dr. Mohammad Danesh, Edge 35 Under 35 to our CEO Rohit Jha, The Most Ambitious Start-Up in Photonics Award by The Optical Society (OSA), etc.