Case Studies – 5G in Verticals in China 2022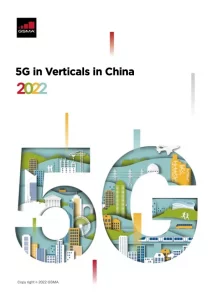 2021 is a key year for 5G to score initial success and further fledge. Globally, 5G is steadily growing to become a mobile technology with the fastest commercialisation speed in history. Now, China takes the lead world-widely in the numbers of 5G base stations and 5G connections. There are 480 million 5G connections in China by the end of 2021 and the number will grow to 640 million in just one year according to GSMA Intelligence forecast, representing more than 60% of global 5G mobile connections.
The historic mission of 5G is to empower the industries and drive their digital transformation. The success of 5GtoB is the main battlefield for 5G to fully realise its values. As the first year of commercialised use of 5GtoB, 2021 is also the first year of its scale development, which is a key task for the industry to turn "one" into "more". Scale development of 5GtoB is a destined path for the success of 5G, also for finding new business formats and models in 5G era.
To realise scale development of 5GtoB, we need to roll out massive screening of application scenarios to find those with rigid demands. That means, in these cases, 5G is not an "optional technology", a "substitutional technology", or a "backup technology", but rather a "preferred technology" and even a "mandatory technology". This year, we launched some efforts to select 3 areas, which are 5G City, 5G + smart manufacturing, and 5G + smart mining, as breakthrough points for scale development of 5GtoB. With analysis and screening on typical application scenarios, we found multiple use cases for global promotion and large-scale replication to facilitate the transitioning towards digitalisation and intelligence from informatisation and automation in relevant areas.