Proof of Concept, by Telefónica: Drones for road hazard warning system using C-V2X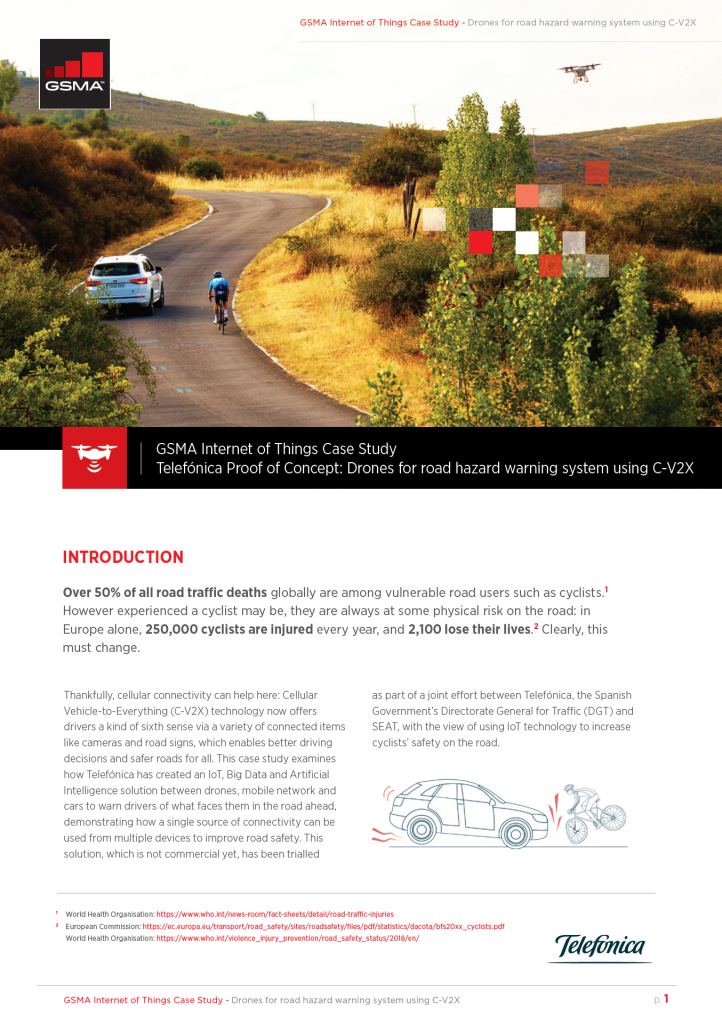 Over 50% of all road traffic deaths globally are among vulnerable road users such as cyclists. However experienced a cyclist may be, they are always at some physical risk on the road: in Europe alone, 250,000 cyclists are injured every year, and 2,100 lose their lives.2 Clearly, this must change.
Thankfully, cellular connectivity can help here: Cellular Vehicle-to-Everything (C-V2X) technology now offers drivers a kind of sixth sense via a variety of connected items like cameras and road signs, which enables better driving decisions and safer roads for all. This case study examines how Telefónica has created an IoT, Big Data and Artificial Intelligence solution between drones, mobile network and cars to warn drivers of what faces them in the road ahead, demonstrating how a single source of connectivity can be used from multiple devices to improve road safety.
This solution, which is not commercial yet, has been trialled as part of a joint effort between Telefónica, the Spanish Government's Directorate General for Traffic (DGT) and SEAT, with the view of using IoT technology to increase cyclists' safety on the road. […]