5G Drives French Digital Transformation


Key takeaways
The French government has put a lot of emphasis and effort in promoting industrial transformation, and 5G is an important factor. Dedicated spectrum available for private mobile networks has already been allocated in France and the government is providing funding to target startups and drive innovation. During Q1 2022, Orange dominated the competition as France's fastest 5G provider by achieving a median 5G download speed of 366.42 Mbps. SFR followed at 247.32 Mbps.
In terms of 5G Availability, Free France led the market with 26.0%, ahead of the country's average of 15.7%. Free is the only operator that deployed 5G using the 700 MHz spectrum band, which contributes towards its higher 5G Availability.
Bordeaux has the fastest median 5G download speed.
The need for 5G networks densification
France is leading the way in terms of 5G network deployment across Europe. According to the latest 5G Observatory, published by the telecom regulator, the Electronic Communications, Postal and Print Media Distribution Regulatory Authority (ARCEP), the number of mobile base stations providing commercial 5G services in France equated to around 22,000 sites at the end of 2021. Free had the most 5G sites (13,470, primarily in the 700 MHz band), followed by Bouygues Telecom (6,730), SFR (4,984) and Orange (3,035) (these numbers cannot be added up across operators and frequency bands as the same site can broadcast across multiple frequency bands).
Based on the French population as of 2020, this would equate to over 3,000 people per 5G base station, placing it behind South Korea, China, and Japan but just ahead of the EU average, according to the EU 5G Observatory's International Scoreboard.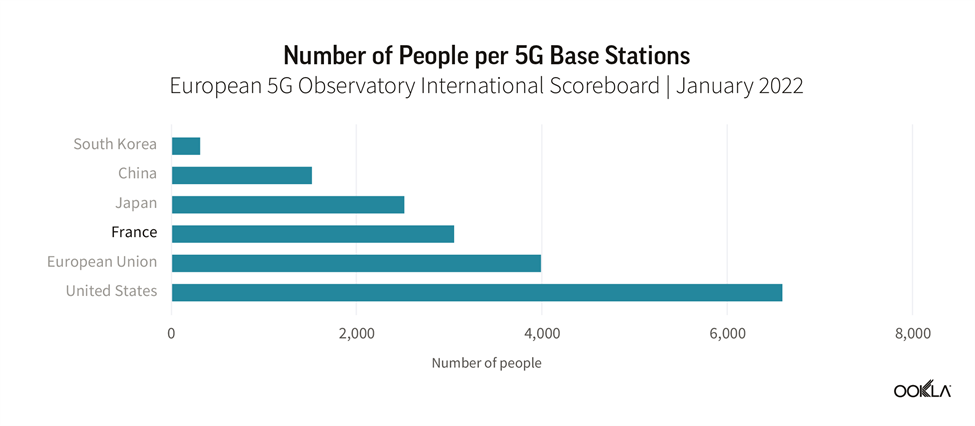 French mobile operators are providing 5G services through the 700 MHz, 2.1 GHz and 3.5 GHz spectrum bands. The final stages of the French 5G mid-band spectrum auction ended on October 1, 2020, with 310 MHz of spectrum awarded in the 3.4-3.8 GHz band. Orange paid €854 million for a total of 90 MHz; SFR €728 million for 80 MHz, and Bouygues Telecom and Free Mobile (Iliad) €602 million each for 70 MHz. Shortly after, in November 2020, all mobile operators were granted an authorization to use these frequencies. The operators can also use the 700 MHz frequency band, which was awarded by ARCEP in 2015, and in the future 26 GHz, yet to be allocated.
Free remains the only French operator to deploy 5G on 700 MHz spectrum. As of December 31, 2021, its 5G footprint included 13,479 sites already operational out of 18,929 permits secured for this frequency band. In addition, Free had 2,384 sites utilizing the 3.5 MHz frequency band. The remaining operators use 2.1 GHz and 3.5 GHz spectrum for 5G (see chart for more details).
The roll out of commercial 5G networks started in mid-November 2020, in a Non-Standalone (NSA) mode. It is noteworthy that 5G licenses come with coverage obligations outlined below, which stimulate the operators 5G network rollouts:

Doubling down on enterprise digitalization
The French government is an avid supporter of industrial digital transformation. The "France 2030" programme earmarked €800 million to accelerate digital transformation of industries by leveraging cloud, 5G, and Artificial Intelligence (AI). Of which, €400 million was assigned to support startups and innovative businesses in developing their offerings and €400 million to help to transform industrial sites. The government also launched an acceleration strategy for 5G and future telecommunications network technologies to capture 5G opportunities and position France at the forefront of new digital uses. The objective is to create 20,000 new jobs by 2025, support the growth of the French 5G market, as well as innovative French SMEs and overall ecosystem in the country and externally.
International collaboration is high on an agenda too, including a Franco-German partnership on private 5G networks. To strengthen the 5G private network ecosystem, France and Germany commited a total of €17.7 million in support of four projects on 5G applications: 5G-OPERA, 5G4BP, 5GB4BP, and 5G FORUM. Another cross-country collaboration, this time involving France, Germany, and Luxembourg, is the EU-funded 5GCroCo (Cross-Border Control) project. The objective is to trial 5G technologies in the cross-border corridor to validate the use of 5G-networks and equipment from multiple car manufacturers.
Supporting enterprises is an important part of the overall digital transformation strategy. As such, the industrial verticals are already utilizing frequencies in the 2.6 GHz and 26 GHz spectrum band, with a particular focus on private 4G/ 5G networks.
Recently, the French government announced a set of new measures aimed at accelerating the development of industrial 5G use cases, following on from a report and recommendations published by the president of the Mission 5G Industrielle, Philippe Herbert. Mr. Herbert identified seven reasons why 5G in the French industrial sector is lagging behind other European countries, including poor access to relevant spectrum, availability of equipment and services, and lack of maturity of the 5G ecosystems.
To aid that, the government together with ARCEP, is encouraging the industrial companies to apply for a trial spectrum in 3.8 – 4.0 GHz band. Businesses from across a range of verticals including manufacturing, logistics, health and energy (amongst others), will be able to use a 100 MHz spectrum block for three years to trial different applications, while benefiting from a "mature and varied ecosystem of terminals and equipment" thanks to being in a close proximity to the mid-band spectrum band.
In addition, operators' 5G licenses stipulate that they have to activate 5G functions such as slicing and "differentiated services" by 2023 at the latest, so as to cover the needs of industries, e.g. health and automotive.
French operators are testing 5G use across multiple industries including in the factory setting. For instance, Orange is looking at 5G applications across a number of "factory of the future" projects. In November 2021, ArcelorMittal France, Orange Business Services, and Ericsson announced the launch of an industrial 5G network: 5G Steel. 5G Steel will provide indoor and outdoor coverage, high data throughput for connected devices, low latency for autonomous vehicles, data security, and network slicing to tailor services to each business process and requirement. Another operator, Bouygues Telecom teamed up with its sister company Bouygues Construction to test where 5G can aid with digitization of the construction industry, one of the use cases is using 5G as a technology powering the data transmission between a crane and a remote control cabin on the ground.
Sustainability is high on French operators' agenda
As we discussed in 5G Comes of Age: Five Predictions for 2022, reducing the environmental impact of 5G is top of the agenda. To that end, ARCEP published a study in January 2022 looking into different energy consumption scenarios in order to assess the impact of 5G networks. It has revealed that 5G network rollouts initially increased energy consumption. However, there are expected efficiency gains in the most densely populated areas starting from 2023, by 2028 total energy savings will be up to ten times the 2002 consumption levels when compared to a 4G-only network densification. In more sparsely populated areas with lower traffic density, the efficiency gains will be lower.
All of the French operators are committed to sustainable energy. For instance, Bouygues Telecom became the first operator in France to use renewable produced hydrogen to power one of its cell sites thanks to a collaboration with its sister company, Bouygues Energies and Services and PowiDian, a French startup. The operator has set a 100% target  of its electricity consumption being sourced from renewable power (wind and hydroelectrics).
Another mobile operator, SFR, has also committed to renewable energy by partnering with French supplier EkWateur to supply part of telecom sites with 100% renewable energy. The operator has also committed to supply part of its 5G sites with renewable energy in partnership with TotalEnergies. In a 2021 statement, it indicated that since July 2021, more than 160 5G sites have been powered by renewable energy such as hydroelectric dams, windmills, or solar panels.
France leads amongst its regional peers for median download speeds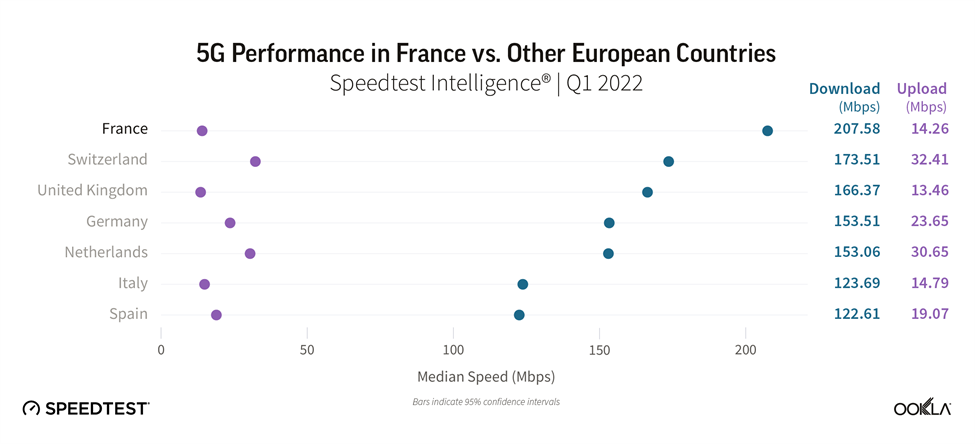 Using Speedtest Intelligence®, we compared 5G in France against that of its peers. These measurements are based on 5G-capable devices using Speedtest Intelligence® on both iOS and Android. In the Q1 2022, France topped our list with the fastest median 5G download speed (207.58 Mbps), ahead of Switzerland (173.51 Mbps), the U.K. (166.37 Mbps). Germany (153.51 Mbps), the Netherlands (153.06 Mbps), Italy (123.69 Mbps), and Spain (122.61 Mbps) followed. Interestingly, despite all of the French operators launching 5G service in December 2020 — relatively late compared to other analyzed countries — they achieved top median download speeds due to substantial network investments. However, this has not yet translated into a large customer pool. The number of 5G subscribers has reached almost 3 million as of Q4 2021 — equivalent to 4% of total subscriptions (excluding M2M) and almost double the Q2 2021 level of 1.6 million.
Orange steams ahead for median 5G download speed

Orange had the fastest median 5G download speed among top operators, achieving 366.42 Mbps during Q1 2022, far ahead of SFR (247.32 Mbps), Bouygues Telecom (151.58 Mbps), and Free (150.11 Mbps). Orange deployed 5G in nearly 900 municipalities at the end of 2021, which translates to 38% coverage of metropolitan population. The operator has the most 5G bandwidth (90 MHz) in the 3.5 GHz spectrum band, and has primarily chosen to deploy 5G in this spectrum band: it had 2,698 active sites in the 3.5 GHz band compared to 471 in 2.1 GHz at year-end 2021.
Orange's approach to 5G rollouts has been to deploy it "where it is useful for its customers," in the busiest places where there is a risk of 4G saturation in the short to medium term. The operator has also recently announced its plans to decommission 2G by 2025 and 3G by the end of 2028 to achieve cost savings by being able to retire legacy networks. Additional benefit is the ability to refarm its 900 MHz spectrum, currently assigned to 2G and 3G. Orange is also a strong supporter of Open RAN, it was one of the five leading telco groups: Deutsche Telekom (DT), Orange, Telefonica, Telecom Italia (TIM), and Vodafone Group, that published a joint report to highlight the urgency of collaboration on Open RAN in November 2021. Also in November 2021, Orange opened its first research lab in France dedicated to Open RAN, Orange's CTO Michael Trabbia commented that the launch fits into the group's ambition to deploy exclusively Open RAN equipment across Europe from 2025 onwards.
France is middle of the road when it comes to 5G Availability
The country ranking shifts when it comes to 5G Availability — the percentage of users on 5G-capable devices that spend most of the time with access to 5G networks. France comes in bang in the middle amongst the analyzed countries for this metric. In Q1 2022, the Netherlands had the highest 5G Availability at 34.7%, Switzerland came in at 33.2%, Spain at 15.9%, France 15.7%, the U.K. at 14.0%, Germany at 9.1%, and 9.0% for Italy.
Free leads on 5G Availability
Free had the highest 5G Availability among French operators at 26.0% in Q1 2022, ahead of Bouygues Telecom (18.3%), SFR (11.8%), and Orange (10.8%). Free remains the only operator that deployed 5G on 700 MHz spectrum, which helps to explain why it ranked better on 5G Availability as low band spectrum propagates further. According to the spectrum agency ANFR, the operator's 5G footprint included 14,568 sites on air as of April 1, out of 19,289 permits it has secured for this frequency band. Currently, Free's 5G network coverage extends to 81% of the population and is present in 9,652 municipalities. Free repeated its market entry strategy by pricing 5G services at the price of 4G, just the same when it initially entered the French market and offered 4G for the price of 3G.
Orange 5G Consistency stood at just over 90%

Consistency Score™ measures what percentage of a provider's samples equals or exceeds both a download and upload threshold. Current thresholds for mobile 5G is 25 Mbps download and 3 Mbps upload. Across France, 5G Consistency stood at 84% as of Q1 2022. Orange earned the top spot as France's most consistent 5G mobile operator with a Consistency Score of 90.6% during Q1 2022, ahead of Free (83.7%), SFR (83.2%) and Bouygues Telecom (77.5%).
Bordeaux has the fastest 5G
Bordeaux was the clear winner for 5G speeds across French cities, with a median 5G download speed of 333.46 Mbps during Q1 2022, a 44% year-over-year increase for all operators combined. Orange's 5G network in Bordeaux reached a median download speed of 456.69 Mbps, just ahead of SFR at 445.07 Mbps. The 5G launch in Bordeaux was slightly delayed till February 2021, as the city was asking the government for a moratorium on 5G technology and a postponement of the frequency allocation to no avail. Yet, the operators waited until the installation of the autonomous exposure measurement sensors, from which data is reported into the Wave Observatory.
In terms of 5G Availability, there is no clean winner across the five largest French cities.
5G in France is rapidly expanding and we'll be following the market closely
Mobile operators are actively expanding 5G networks and the 5G adoption in France is growing, stimulated by the strong government support. We'll be watching 5G performance closely in France using Speedtest Intelligence. If you want to learn more about how Speedtest Intelligence can help you benchmark your 5G performance against competitors, please inquire here.
Ookla retains ownership of this article including all of the intellectual property rights, data, content graphs and analysis. This article may not be quoted, reproduced, distributed or published for any commercial purpose without prior consent. Members of the press and others using the findings in this article for non-commercial purposes are welcome to publicly share and link to report information with attribution to Ookla.
Disclaimer: The views and opinions expressed in this article/press release are those of the authors and do not necessarily reflect the approved policy or position of the GSMA or its subsidiaries.