How 5G Module Empowered Industrial Gateways Revolutionize the Smart IBCs Real-Time Monitoring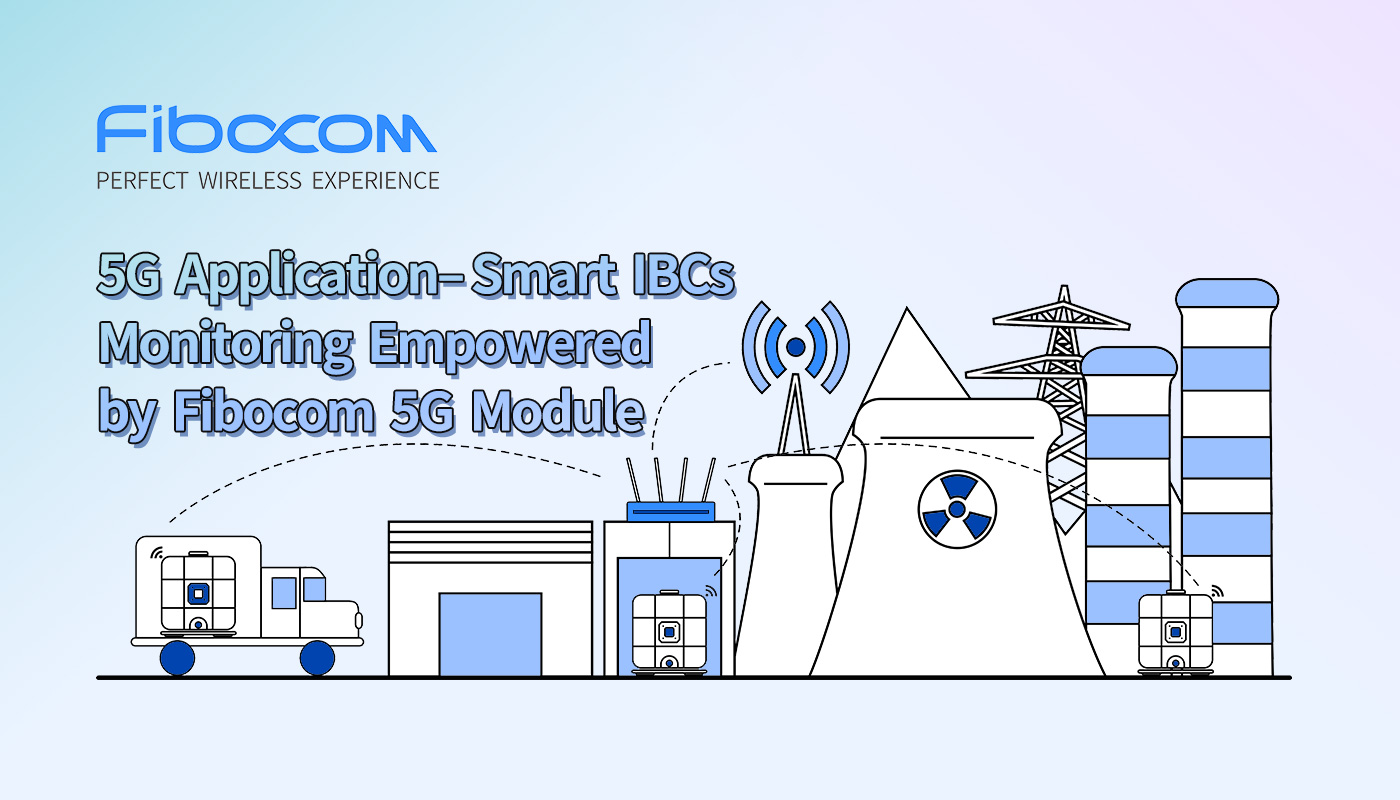 Keywords: 5G Module, Industrial IoT, Intermediate Bulk Containers (IBCs), Liquid Level Monitoring, Logistics Tracking.
If you've ever worked for a manufacturing or shipping firm, chances are that you've encountered Intermediate Bulk Containers or IBCs.
What is an Intermediate Bulk Container (IBC)?
The first IBC emerged in 1992 when an employee at a manufacturing firm sought an alternative to storing liquid and powdered materials in 200 litres drums. At its most basic, an IBC is a container attached to a pallet and surrounded by a protective metal cage, and the container typically features a lid and nozzle to easily fill and dispense material.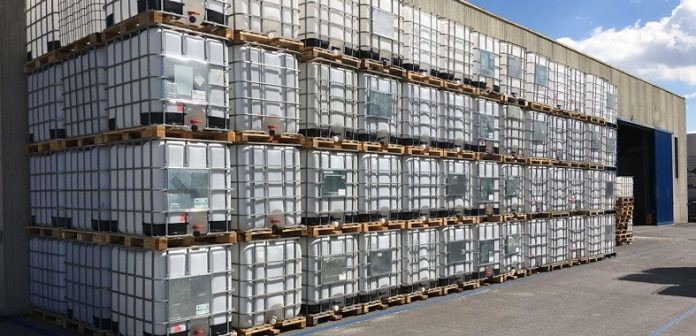 Intermediate Bulk Containers (IBCs)
These massive, pallet-sized containers are commonly used in a wide range of industries for purposes that range from shipping and storage to waste collection. Different variations of the IBCs have emerged as demand for these types of containers has grown, and while the original IBCs design remains popular, IBCs now come in many shapes and sizes.
What are the Challenges to Monitor IBCs?
From wastewater, chemical and petrochemical industries to mining and agriculture, IBCs are an integral part of process manufacturing. Most of the time, plant employees have to manually verify the contents and amounts in an IBC. For IBCs containing hazardous materials, spilling could lead to disastrous environmental impacts and associated cleanup costs. Failing to refill feedstock IBCs in time could also cause businesses to run out-of-stock, which leads to delayed production and delivery.
Even if deploying a level sensor, it requires a local solution; connecting it to the local network then having a local measurement. And many applications use mechanical level sensors (like floats) that need a particular structure to work properly. Not to mention, when the IBC tank leaves the site, manufacturer can no longer monitor it until it comes back. Having these gaps in monitoring complicates product inventory and management.
Industrial monitoring solutions using wired sensors have been introduced to provide more accurate insights into IBC levels and eliminate the need for dispatching staff to the site. Nevertheless, trenching hundreds or thousands of meters of cables around complex industrial facilities is expensive and cumbersome.
5G Module Empowered Gateways Revolutionize Real-Time IBCs Monitoring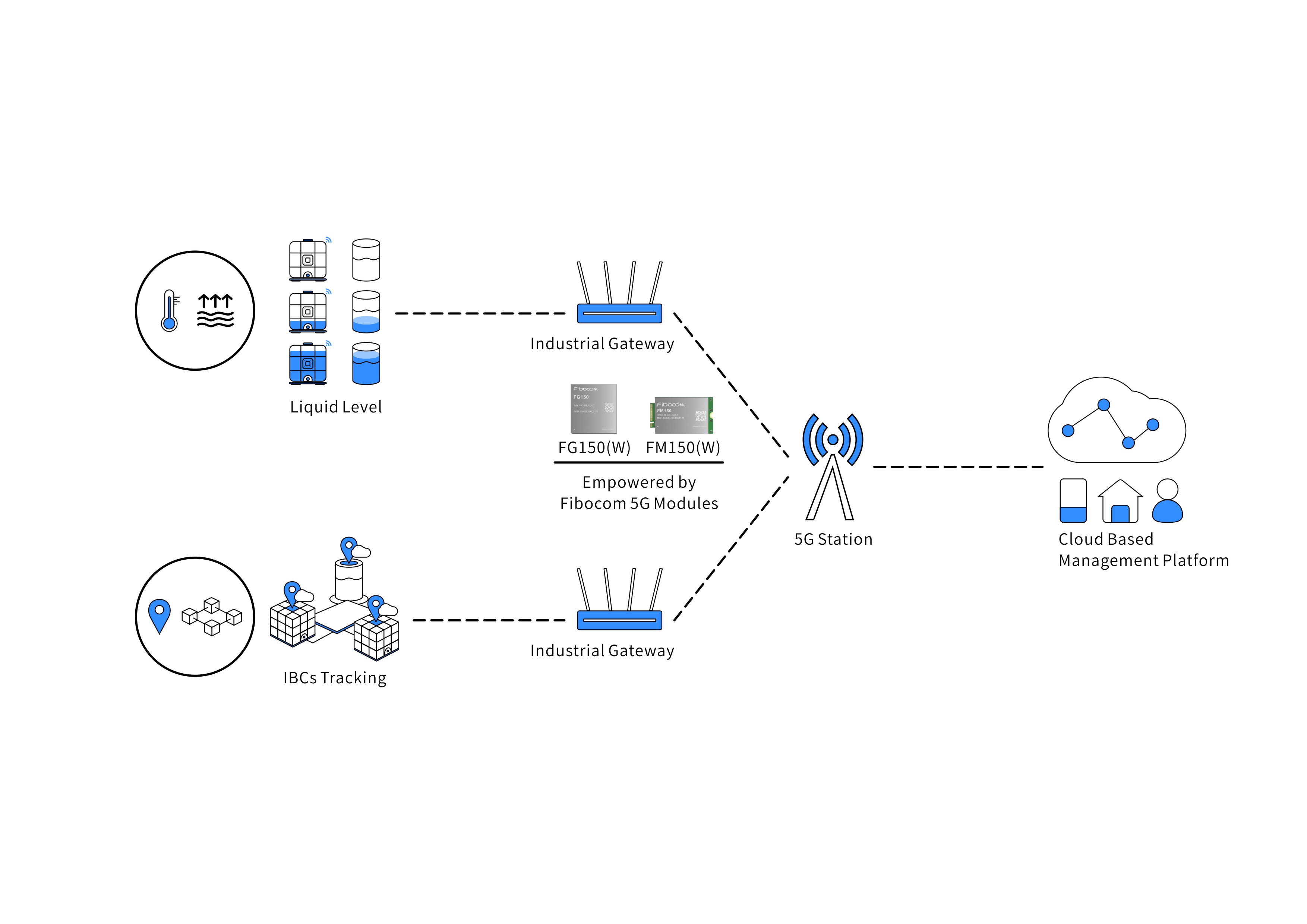 Topology
What 5G offers is a systematic change that allows IBC operators to start adopting the use of a single simplified and unified network platform. 5G delivers multiple Gbps faster than the latest LTE, 5G can rapidly upload real-time images to address critical security issues in smart IBCs. With low latencies, IBC operators can track in real time, and send commands to stop the transportation of IBCs when the leak and dangerous road condition is detected. Also attractive is the ability of 5G to interconnect a massive number of IBCs, which could allow operators to monitor and control on the management platform and deal with emergency cases remotely and more promptly.
Why Fibocom 5G Module?
With 5G's ultra-low latency and reliable connectivity, the smart and connected IBC's are used to improve daily operational processes and reduce risk. Industrial gateway embedded with Fibocom FG150(W)/FM150(W) 5G module act as a smart IBC's "Manager" which is perfectly suitable for remote monitoring applications.
Both versions of the Fibocom 5G modules support 5G standalone (SA) and Non-Standalone (NSA) network architectures, support 5G Sub 6 and mmWave operations. Fibocom 5G modules are compatible with 5G/LTE/WCDMA multi-network standards. Fibocom 5G modules cover many 5G countries in Asia Pacific, Australia, Europe, North America, etc., providing perfect wireless experience to customers in the fields of 4K/8K video live broadcast, cloud office (ACPC), drone, robot, AR/VR, 5G virtual dress mirror, 5G cloud game, 5G digital signature, 5G wireless gateway, 5G CPE, 5G SD-WAN, smart grid, telemedicine, connected cars, intelligent transportation system, autonomous driving, smart home and smart cities, etc.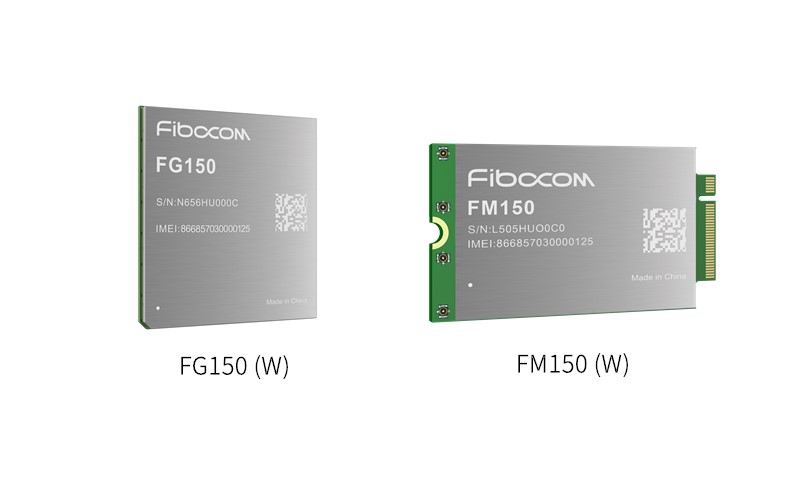 Fibocom FG150(W)/FM150(W) 5G Wireless Module
41*44*2.75mm, LGA & M.2 form factor,
Rich Interfaces: USB3.1, PCIe3.0, UART, GPIO, I2C, RGMII, MIPI, UIM, I2S, SDIO, SPI to meet the demands of diversified IoT applications,
Multiple operating platforms: Linux, Android, Windows,
More Features: FOTA/DFOTA, VoLTE, GNSS(GPS/GLONASS/Galileo), Audio, eSIM etc.
Implementing 5G for smart IBCs monitoring delivers tremendous benefits to process industries. Innovative 5G connectivity enables automatic data collection from even the most remote storage tanks without substantial capital and labor investment. Having complete insights into their assets, companies can make informed decisions to reduce costs and enhance operational efficiency and safety.
About Fibocom
Founded in 1999, Fibocom is a leading global provider of IoT (Internet of Things) wireless solution and wireless communication modules. We are committed to bringing reliable, accessible, secure, and intelligent wireless solutions to every IoT application scenario for the increasingly digitalized industries and enriched smart life of the whole society. In 2017, Fibocom become the first stock-listed (Stock Code: 300638) wireless module provider in China.
We provide technically advanced and high-performance 5G, 4G, NB-IoT/eMTC, 3G, and 2G, smart, auto-grade, GNSS, Wi-Fi/BT wireless modules. By technically embedding Fibocom's wireless solutions into IoT devices that will become smart and remotely manageable with stable data transmission between devices and operation center, we empower the intelligent future of all industries that mainly include smart retail, ACPC (Always Connected PC), industry 4.0, smart grid, smart homes, smart agriculture, smart cities, telemedicine, metering, smart security surveillance, and the intelligently connected cars, etc. We have many long-term industry customers including Fortune Global 500 enterprises, which is an important driven power of our fast development.
Fibocom is headquartered in Shenzhen, China. We have R&D centers in both Shenzhen and Xi'an, and subsidiaries in the U.S., Germany, India, Taipei and Hong Kong as regional operation centers. We have more than 1000 global employees, and provide products and services in more than 100 countries and regions.
Media Contact
Ellie Yuan
market@fibocom.com
+86 755-26733555
Disclaimer: The views and opinions expressed in this article/press release are those of the authors and do not necessarily reflect the approved policy or position of the GSMA or its subsidiaries.