Fibocom Launches the World's First Blockchain LTE Cat 1 Wireless Module L610
Shenzhen China – May 28th 2020 – Fibocom (Stock Code: 300638), a leading provider of cellular embedded wireless module solutions for the Internet of Things (IoT), announced to launch the world's first LTE Cat 1 wireless module integrated with blockchain technology.
The cellular wireless module is an essential element in the IoT physical structure, as it enables the "Things" to be connected, so that big data of "Things" (IoT devices enabled by cellular modules with wireless communication ability) can be collected in real time. Based on UNISOC 8910DM LTE Cat 1 bis chipset and Aitos's BoAT (Blockchain of AI Things) framework, Fibocom L610 LTE Cat 1 cellular module innovatively combines IoT and blockchain, which is essentially valuable to the IoT industry in terms of scalability and security concerns.
Fibocom L610 enables wireless communication at a speed of 10Mbps, low latency of less than 100ms, and a mobility rate of 100Km/H. That is a very exciting result considering its wireless performance is as good as that of the much more costive LTE Cat 4 wireless module and that the global operators are gradually closing 2/3G networks before 2025.
That is, in case of 2G/3G's absence, LTE Cat 4's costiveness, and NB-IoT's lower speed, Fibocom L610 LTE Cat 1 module is a perfect choice for IoT application requiring medium communication speed. More than that, by innovatively integrating Aitos's BoAT blockchain SDK at the application layer, L610 affords such blockchain capabilities as follows:
Access control, ensuring that only stakeholders access data
Security, encrypting every transaction
Transparency, making the entire transaction ledger visible to all participants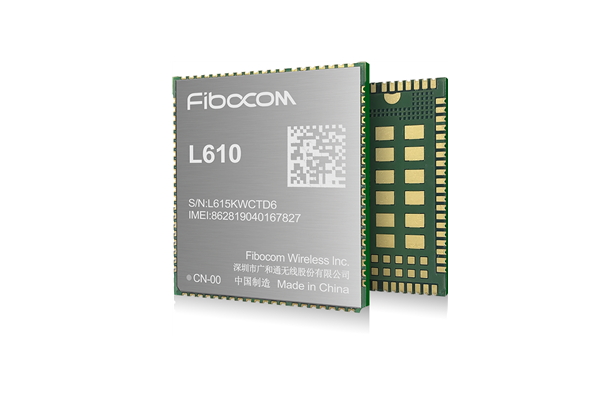 Being certified in early April, Fibocom L610 is now at the stage of mass production in China and it is globally targeted with different overseas versions supporting frequency bands of mainstream telecom operators in Asia, Europe, and Latin America.
Support three modes including LTE Cat 1 bis/GSM/GPRS.
Provide both Standard Data Transmission and Open CPU.
Multiple Functions including VoLTE、Audio、Camera、Display,Keypad etc.
BT and WIFI Scan
Rich interfaces include USB/UART/SPI/I2C/SDIO etc.
Compatible with Alibaba cloud, Huawei cloud, and other mainstream IoT cloud platforms.
Typical application scenarios include smart electricity power meter, asset tracking, POC walkie talkie, industrial DTU, mobile POS, and connected devices in the sharing economy, etc.
" Fibocom L610 is an industry first. On the IoT side, it is an affordable, high-performance 4G wireless module suitable for all medium-speed IoT applications. On the other hand, L610 is block-chain technology enabled, which aims to protect and bring out the full potential of the IoT data. The combination of blockchain and IoT can offer significant benefits to industrial applications." Said by Fibocom Business Director – Mr. Liu Sunzhi.
About Fibocom
Founded in 1999, Fibocom is the first wireless communication module and Internet of Things (IoT) solution provider listed in China (Stock Code: 300638). Headquartered in Shenzhen, with R&D center in both Shenzhen and Xi'an, Fibocom is globally located in North America, Europe, India, Taiwan, and HongKong, serving customers over 100+ countries.
Fibocom main product lines include 5G, LTE, NB-IoT/eMTC, HSPA+, GSM/GPRS, and smart wireless modules, empowering customers from industries of consumer electronics, wireless payment, metering, security surveillance, and connected cars, etc. With Perfect Wireless Connection as our DNA, Fibocom is envisioned to improve smart life and make the all-connected world within reach.
Media Contact:
Ellie Yuan
info@fibocom.com
+86 755-26733555
Disclaimer: The views and opinions expressed in this article/press release are those of the authors and do not necessarily reflect the approved policy or position of the GSMA or its subsidiaries.