Fibocom Participated in the 33rd GTI Online Workshop to Present Development Progress of RedCap
Fibocom participated in the 33rd GTI Online Workshop on May 25th, 2022. Shirley Tang, director of Fibocom product marketing dept., shared the latest market trends of RedCap and how it can benefit verticals.
Shenzhen China – May 26th, 2022 – Fibocom (Stock Code: 300638), a leading provider of cellular embedded wireless module solutions for the Internet of Things (IoT), participated in the 33rd GTI Online Workshop. Shirley Tang, Director of Product Marketing, Fibocom, presented a live speech on "How RedCap Brings More Benefits to Verticals" on May 25th, 2022.
GTI is an international cooperation platform dedicated to promoting mobile information technology and industry development. Fibocom, as one of the partners of GTI, has always been deeply involved in industry discussions, actively working together with industry partners to promote the commercialization of 5G.
The workshop has gathered operators, chipset vendors, module vendors and terminal equipment manufacturers, to discuss the development trend of 5G cost optimization and green 5G. Fibocom, focusing on the development of wireless communication technology and applications, shares views on 5G RedCap module and its empowerment for verticals.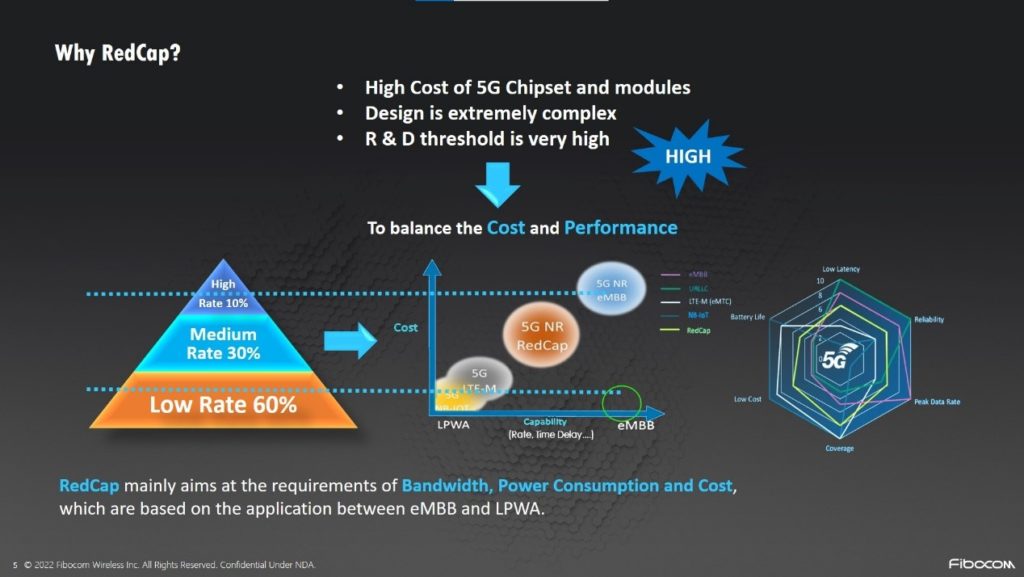 For application scenarios with low speed and latency requirements, 3GPP has introduced 5G Reduced Capability (RedCap) in Release 17, for the overall improvement of 5G network quality and coverage. RedCap falls between eMBB and LPWA to ensure a balance of capabilities in terms of speed, coverage, energy consumption and cost performance. The emergence of RedCap is expected to fill the gaps of massive connectivity demands for diversified marketplaces, even paving the way for the metaverse.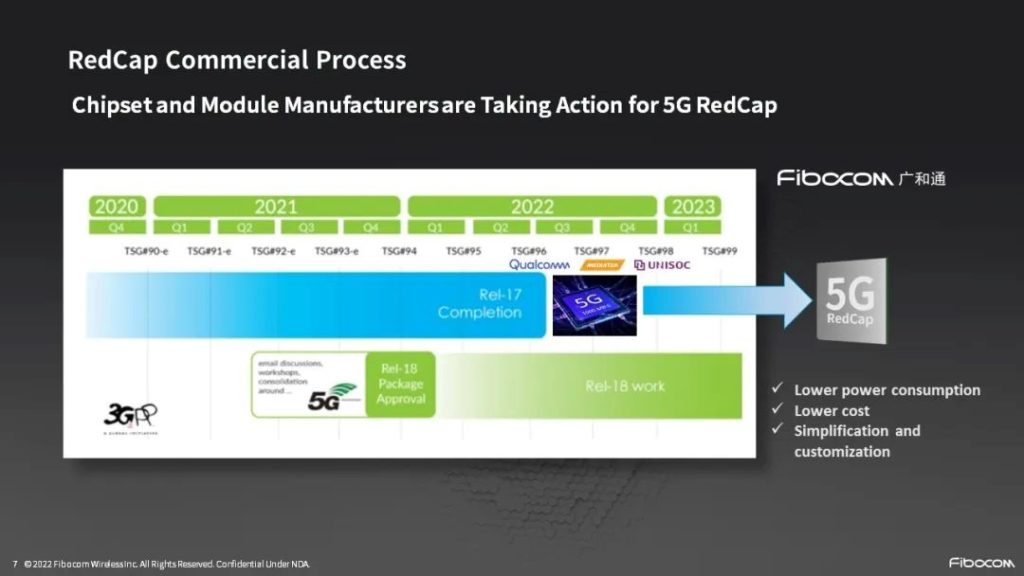 Chipset and module manufacturers are taking action for 5G RedCap. Fibocom has started the research on 5G RedCap, aligning its product development with the R17 standard to meet various market needs. The R17-based RedCap allows 5G modules to be more power efficient, cost-effective, customized and simplified, which is set to empower a wide range of verticals such as smart grid, industrial gateways, routers, video surveillance, wearables, etc.
"RedCap will effectively facilitate 5G networks to empower more low and mid-speed IoT scenarios," said Shirley. "Fibocom continues to focus on the development of wireless communication technology and dives into the opportunities and challenges of 5G applications, achieving the goal of low-cost and green 5G."
For more information, please visit:
Resources
About GTI
GTI is an international platform for industry cooperation. It was kicked off in 2011 by China Mobile, SoftBank, Vodafone and a few of other operators. After over ten years of joint efforts, GTI has developed 141 operators and 251 industry partners. In 2016, GTI 2.0 was officially launched, aiming to further promote 4G evolution, 5G development and cross-industry innovation.
For more information, please visit https://www.gtigroup.org/, or contact GTI Secretariat admin@gtigroup.org.
About Fibocom
Fibocom is a leading global provider of wireless communication modules and solutions in the sector of IoT (Internet of Things), as well as the first stock-listed (Stock Code:300638) wireless module provider in China. We provide end-to-end IoT wireless communication solutions for telecom operators, IoT equipment manufacturers, and IoT system integrators. With over two decades' engagement in M2M and IoT communication technology and extensive expertise, we are capable of independently developing high-performance wireless communication modules including 5G, LTE/LTE-A, NB-IoT/LTE-M, Android Smart, Automotive, WCDMA/HSPA(+), GSM/GPRS, Wi-Fi, GNSS, etc. Besides reliable, convenient, safe and intelligent IoT communication solutions for almost all vertical industries, we are also geared to customize the best and optimal IoT modules and solutions catering to your special requirements.
Media Contact
Ellie Cai
Disclaimer: The views and opinions expressed in this article/press release are those of the authors and do not necessarily reflect the approved policy or position of the GSMA or its subsidiaries.