Fibocom Presented on 5G Module Cost Optimization and Network Slicing at the 30th GTI Workshop
Shenzhen China – March 31th, 2021 – Fibocom (Stock Code: 300638), a leading global provider of IoT wireless solutions and modules, has demonstrated its newest research and practice on 5G Module Cost Optimization & Network Slicing at the 30th GTI Online Workshop. Fibocom 5G FWA Business Development Director Simon Tao delivered a speech on 23rd through live streaming.
GTI organizes a series of events each year, bringing carriers and manufacturers together to share technical information on the LTE industry, discuss development strategies and promote 5G commercialization. GTI regularly invites its members and other companies in the industry to participate in GTI workshop, which is a platform for participants to share information and technical issues arisen during the TD-LTE industrialization and 5G commercialization. The 30th GTI Online Workshop was held on 23rd-25th March, 2021. This year, the participants explored and shared insights about key issues on 5G eMBB-Network, 5G Cloud XR and 5G Enterprise Network Solutions (5G ENS).
Fibocom proactively merged our product line into 5G scenarios, featuring enhanced Mobile Broadband (eMBB), ultra-Reliable Low-Latency Communication (uRLLC) and massive Machine Type Communication (mMTC). For example, we offer Enhanced UL module featuring uRLLC applicable for machine vision improvement, high precision positioning GNSS module featuring uRLLC for devices such as trackers and Automatic Guided Vehicle (AGV), 5G NR module featuring eMBB for 5G cloud games and Extended Reality (XR) RTBB, NB-IoT and Cat M module featuring mMTC applicable for smart meters, etc.
In terms of 5G Network Slicing, Fibocom 5G wireless modules FG650, based on UNISOC 5G chip, is integrated with the world's first end-to-end, full-policy Network Slicing Selection Function (NSSF) that conforms to 3GPP standards. The solution enables devices to independently and flexibly select network slices through APP ID, FQDN, DNN, which means that slice can not only provide personalized services based on different industry sectors, but also effectively isolate the same type of traffic, and even provide customized services for various users from the same industry, empowering new business models, such as cloud games, live video broadcast, HD video playback, and so on.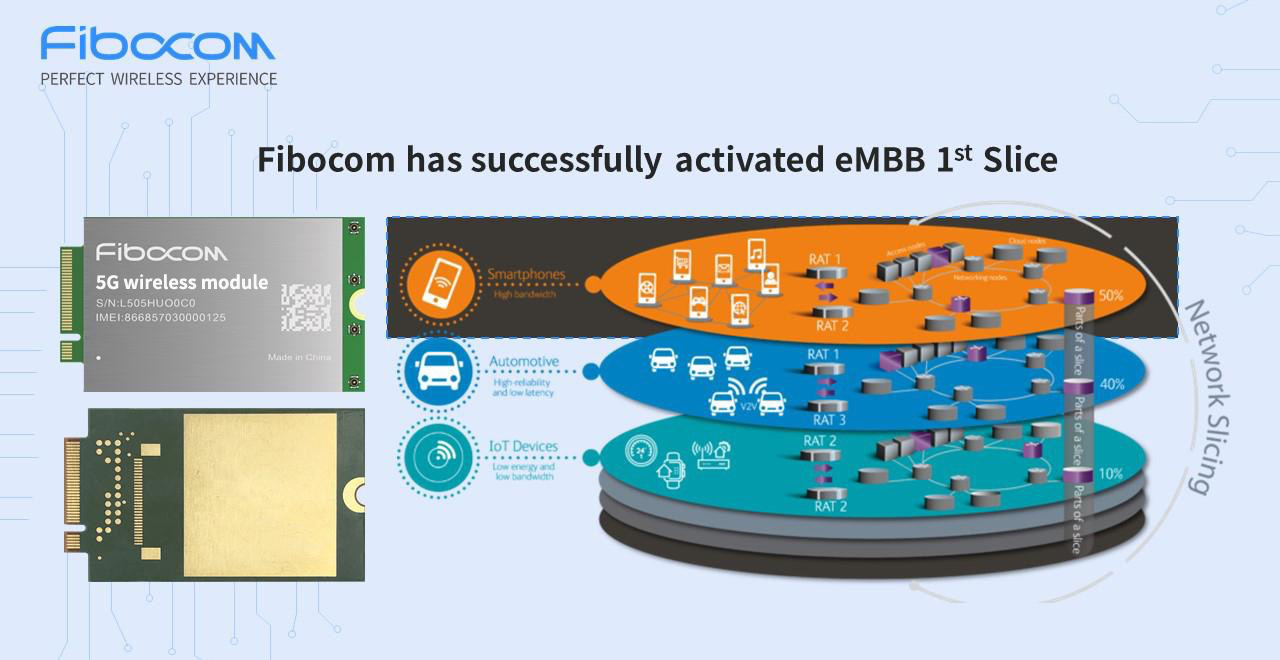 Speaking of 5G module cost optimization, Fibocom 5G FWA BD Simon Tao stated: "Customers expect to buy the most valuable services at the lowest cost, but when we ONLY focus on the lowest cost and highest performance, it's hard to ensure a seamless experience. Fibocom have taken a number of technical tools and key measures to meet the needs of our customers, such as lean circuit design in hardware and streamlined software architecture."
"Furthermore, Fibocom provides customers with end-to-end, one-stop IoT wireless communication solution, namely, Module as a Service (MaaS). With MaaS, not only do customers obtain the ideal module but also a series of customized services, including antenna design, product reference design, product testing and global certification, software integration, cloud registry and connectivity management. Therefore, Fibocom continuously empowers customers to maximize their market value and help them win the market at a higher price", said Mr. Tao.
About Fibocom
Fibocom is a leading global supplier of wireless communication modules and solutions in the sector of IoT, as well as the first wireless communication module producer listed on the A-share market in China (stock code: 300638). We provide end-to-end IoT wireless communication solutions for telecom operators, IoT equipment manufacturers, and IoT system integrators. With over two decades' engagement in M2M and IoT communication technology and extensive expertise, we are capable of independently developing high-performance wireless communication modules including 5G/ 4G high speed cellular modules, LTE Cat 1/ 3G/ 2G/ NB-IoT/ LTE Cat M LPWA IoT cellular modules, Android smart modules and automotive communication modules for vehicle applications. Besides reliable, convenient, safe and intelligent IoT communication solutions for almost all vertical industries, we are also geared to customize the best and optimal IoT modules and solutions catering to your special requirements.
About GTI
Global TD-LTE Initiative (GTI) is an international industry cooperation platform founded in 2011 by China Mobile, Sprint (Clearwire), SoftBank Mobile and Vodafone. After 10 years of development, GTI currently has 139 operator members and 247 industrial partners. During the GTI Summit 2016 held on February 23rd at the Mobile World Congress in Barcelona, GTI 2.0 was officially launched, dedicated to continuously promoting 4G evolution, 5G development and cross-industry joint innovation.
Media Contact
Ellie Cai
info@fibocom.com
+86 755-26733555
www.fibocom.com
Disclaimer: The views and opinions expressed in this article/press release are those of the authors and do not necessarily reflect the approved policy or position of the GSMA or its subsidiaries.