A study of six content services in the mNutrition Initiative portfolio
Between 2014 and 2017 the GSMA worked with six mobile network operators to support the launch and scale of agricultural services. Leveraging findings from user experience design, business intelligence, and customer feedback, the product teams developed services that have cumulatively reached more than five million registered users worldwide.Download the Report
SIX STORIES OF AGRICULTURAL TRANSFORMATION THROUGH MOBILE
Document
Monday 31 Jul 2017 | AgriTech |
Grameenphone Bangladesh scale voice-driven agricultural information service GP Krishi Sheba with a traditional value-added service marketing campaign.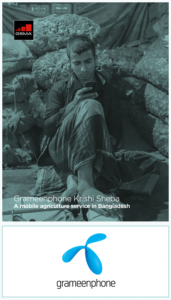 The mAgri programme has produced other resources on content services and the wider opportunities for mobile agriculture. Find them here. The GSMA mAgri partners on this journey included frog, Centre for Agriculture and Biosciences International (CABI) and Firetail.
In collaboration with Frog, we developed the mAgri design toolkit – a practical guide for applying our user-centred design methodology throughout the product development cycle.
Do you run mAgri services? What can you tell us about the scale and impact of services in your region? Get in touch: mAgri@gsma.com.
The mNutrition Initiative was funded by UK Aid from the UK Department for International Development.