This is the third blog in a series introducing the grantees and key partners supporting The GSMA Innovation Fund for Digitisation of Agricultural Value Chains. This blog was jointly written with our global UX and product design partners, Dela Kumahor and Yann le Beux (YUX Design).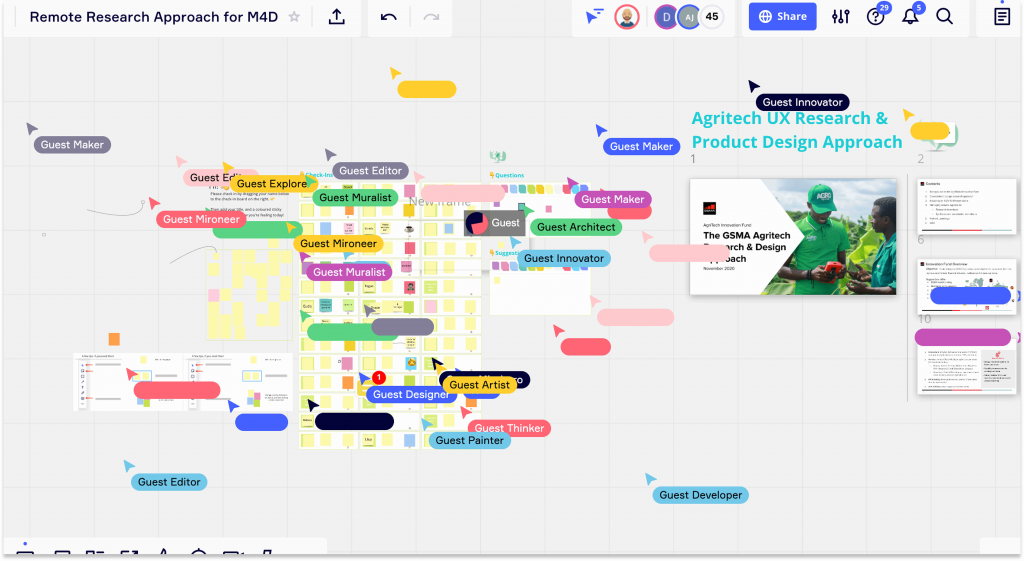 ---
Designing for users: The usual approach for GSMA AgriTech
The GSMA Innovation Fund for Digitisation of Agricultural Value Chains aims to improve the productivity, financial inclusion and climate resilience of smallholder farmers in LMICs. This initiative is the 6th iteration of grant and technical support provision to mobile network operators, mobile money providers and agritech organisations to deliver life-enhancing digital services.
One of our key learnings from the initial rounds of working in this field was the need to understand how users were interacting with the services, whether their needs were being met and if they were deriving any benefits from the products being offered.
To address this challenge, and make our products respond to on-the-ground needs of farmers and other user groups, we initiated DIY user testing with grantees back in 2011[1] and started making serious investments into human-centered user experience and design research as a central pillar of our technical assistance to all grantees/partners, starting in 2016.
Built on ten years of learning and a commitment to designing products that respond to user needs, today, our user experience and design research work stream (hereinafter referred to as UX research) is well-defined with three core objectives:
---
Given the core objective of making design decisions based on user needs, historically, all of our UX research would be conducted within grantee countries. GSMA and our product design partners would travel to rural areas to interact with farmers and other agriculture-sector stakeholders.
However, as with many other things, COVID-19 disrupted these plans as global travel restrictions were in place when we initiated our projects in mid-2020.
---
Remote and hybrid models of research: How we responded
With the reality of remote working upon us, we went back to the drawing board, as any design team would, to assess the situation and user needs. We spoke to our grantees and their consortium partners to map out the objectives of UX research, the constraints to working during the pandemic and how we could still deliver on the objectives while leveraging alternate means of research and user testing.
It became clear that while international travel remained largely disrupted, local travel conditions in each market varied. Further, we were working with consortia of local organisations in each market that had access to strong farmer networks and, in some cases, had "feet on the ground" with the ability to reach farmers in remote locations.
As a result, we developed two additional delivery models, depending on the differing ability to reach our stakeholders in person across different markets:

---
Remote Model: In markets where local travel was also curtailed, we implemented a fully remote research model – with all members of the research team connecting with potential users (farmers, agribusiness field staff, mobile money agents etc) via video or audio calls.
Hybrid Model: Where local travel was possible, the local members of the research team would travel in-person to research locations while the GSMA and global design partner joined remotely.
In addition, we developed a series of processes to support both the models. This meant incorporating online tools such as Notion (for research planning & information repositories as an example) and Miro (for synthesis, brainstorming & ideation) in our work. We also leveraged a combination of video calls with farmers (often assisted by grantee team members with direct access to farmers, given lower digital literacy levels) and screen shares of invision/Adobe XD to run live user tests. Where hybrid research was being conducted, guidelines to reduce COVID-transmission risk were shared with all participants (e.g. outdoor interviews, wearing masks, empowering field teams to make decisions on-the-go, including cancelling travel or interviews, if needed, to prioritise safety).
Tools
Online tools were already a key part of our workflow, but we came to rely on them more than ever, and in new ways, during this process.
Zoom:
Simultaneous translation on Zoom allowed the local UX team and grantees to conduct the interviews in a language that users were most comfortable with, while the GSMA and design partners could watch and listen in English, taking notes and contributing questions, where appropriate, in real time.
Notion:
Notion solved two specific problems; it allowed us to have multiple team members in each interview taking live notes in one central location; and it allowed us to create detailed tagged and searchable repositories of insights for each project.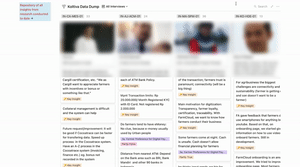 Miro:
Miro formed the basis of all of our workshop and synthesis activities, where we performed and documented the user journey mapping, ideation, feature prioritization and service blueprinting. This closely mirrored our in-field process and enabled a certain amount of interactivity that we would have struggled to replicate remotely otherwise.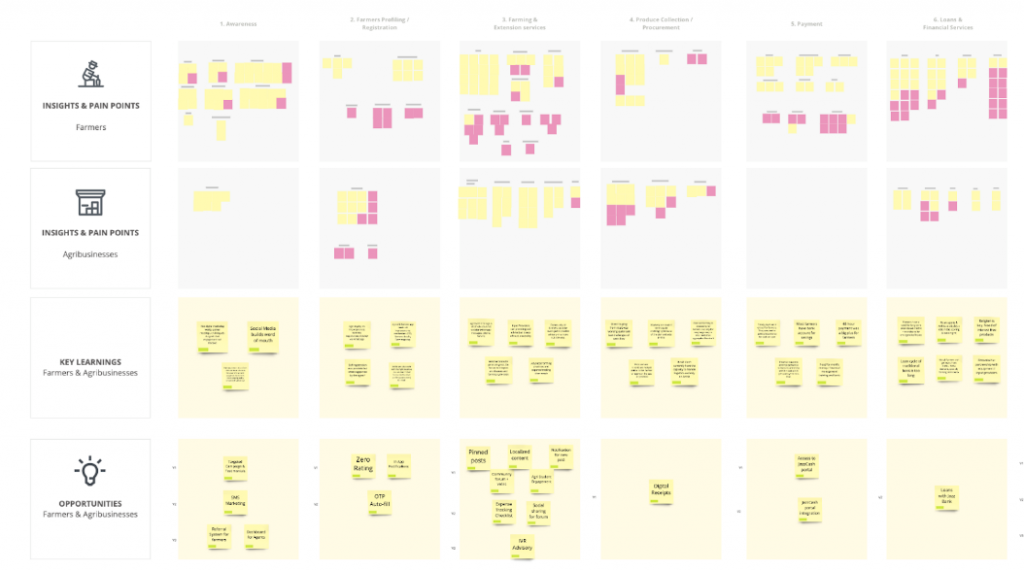 ---
Lessons Learned
The process allowed us to learn from the numerous practical and logistical consideration involved – some things were done better remotely than they could be in person; others needed to be managed to get the best possible results in a difficult environment. Below are some key lessons we took away:
Research Preparation
Focus on what is critical:
Set research objectives for what is critical and time sensitive. In our case, this meant breaking two-year plans into 6-12 month objectives and focusing on those during the initial research phase.
Finding the right local researchers:
This is a difficult process and takes time. Working with the local research teams, remotely, during the preparation phase provided an opportunity to onboard and test them before engaging a larger amount of our budget and resourcing. One of the lessons learned is that we needed to spend more time identifying and training local UX teams, either at partner agencies or within the grantees team.
Research
Connectivity:
It will come as no surprise that this was one of our major concerns, and so it proved to be. We tried to leave 15 minutes on each side of each interview to account for connectivity or digital literacy challenges. Rather than being a burden though, these connectivity tests proved to be a great way to build rapport ahead of the interview itself. Conducting trials of the various tools (and combinations of tools) that we planned to use – video conferencing, user testing, screen shares etc. – ahead of the research also proved to be prudent.
Managing biases:
Local teams may go into the research with a bias to validate existing roadmaps and plans. We worked to build research capacity & encouraged open discussion by engaging with grantee leadership.
Usability testing:
Having tech-literate agents from the grantees or consortium partners present – especially those that were a known entity to the interviewee either personally or by association – to facilitate connecting and help address any technical issues helped to reduce many uncertainties. Showing the User Interface to be tested via a shared screen allowed us to see facial expressions as users reacted to the interface and allowed us to administer the test with just one device – a laptop or a phone – on the user's side. The alternative would have been a more complicated set-up with multiple devices and smartphones.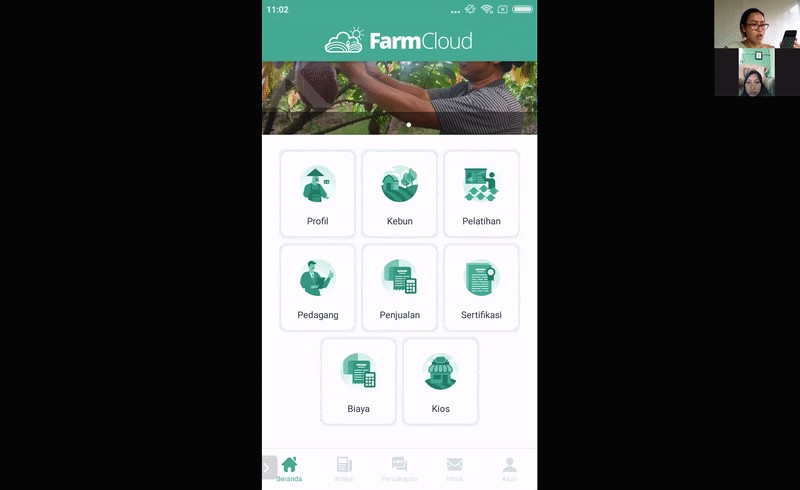 Live with the issues:
There will be issues you cannot address; local apps may not be accessible without a local number/OTP and connectivity challenges will still happen. Address them as best as you can through the suggestions above and focus on getting the best information you can.
Synthesis
Stretched timelines:
Synthesis will take much longer as it's impossible to maintain focus on an online call for 8 hours straight. Getting some information from remote teams will also take longer – it is best to build that into your timelines.
Cherish the flexibility:
Remote synthesis workshops could be even more collaborative than in-person sessions which, per the in-country approach, could run up to eight hours a day for a week.
As in many areas, the global pandemic pushed us out of our comfort zones. We remain strong advocates of human-centered design and research but we are no longer as rigid in defining the parameters of how that work should be executed. While in-field research and face-to-face synthesis is ideal, we found great value – and in some cases an even better way of doing things – while being physically distant. Some of these benefits were ecological and financial, such as reducing travel while others carry long-term impacts, such as building local capacity for design. While we remain strong advocates of in-field research & synthesis, because that is where one truly understands the user perspective, the realities of the last year have allowed us to build effective backup plans driven by the remote/hybrid approaches to design.
---
In 2019, the GSMA AgriTech programme launched The GSMA Innovation Fund for Digitisation of Agricultural Value Chains, which aims to scale digital solutions for the agricultural last mile and improve smallholders' financial inclusion, livelihood and climate resilience. The Innovation Fund prioritises digital enterprise services targeted at organisations, like agribusinesses and cooperatives, procuring from smallholders living on less than $2 (USD) per day. It emerges from the success of the 3-year mNutrition Initiative that tested and scaled digital advisory services for smallholder farmers in six markets across Africa and Asia. This Fund is the latest step in the programme's evolution to unlock the impact of a wider range of digital agricultural use cases.
You can read more about it in the first blog in the series here.
---
THIS INITIATIVE IS CURRENTLY FUNDED BY THE UK FOREIGN, COMMONWEALTH & DEVELOPMENT OFFICE (FCDO), AND SUPPORTED BY THE GSMA AND ITS MEMBERS.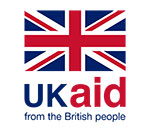 ---
[1] User testing with grantees was initiated in 2011 utilizing in-house GSMA experts, with the support of grantee teams.