340 million people are projected to need humanitarian assistance in 2023 — a figure that has grown exponentially in the past decade. Humanitarian needs can be triggered by a range of factors, including natural hazards such as floods and cyclones and man-made disasters such as conflict. The recent devastating earthquakes in Turkey and Syria are a stark reminder that many of the world's population are vulnerable to disasters. Digital and mobile innovation can help us to anticipate and prepare for disasters before they strike, reducing the negative impacts of these crises such as lives lost. In a recent call for applications, the GSMA Innovation Fund focused on the theme of anticipatory action to support innovations that will help prevent or reduce the severity of humanitarian crises.
This blog outlines some of the trends we saw from the applications submitted and provides a snapshot of organisations seeking funding to support their anticipatory action solutions.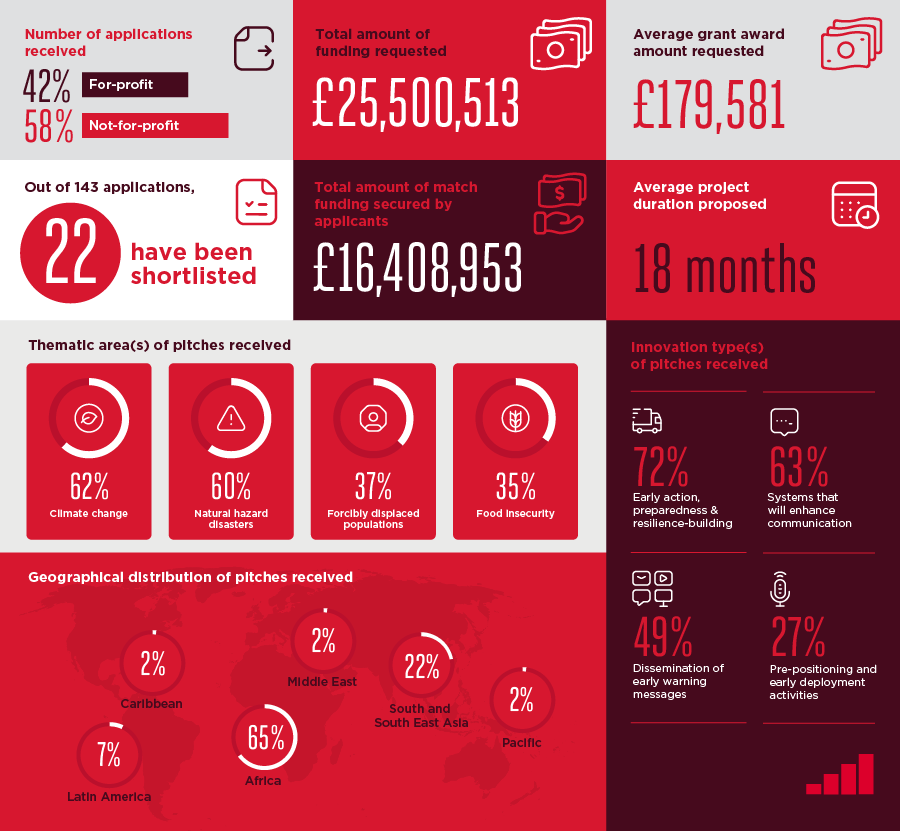 Technology: making humanitarian action more anticipatory
Traditional humanitarian approaches have focused on reactive responses to crises, which can be slow, expensive, and sometimes inadequate. Anticipatory action shifts the focus from a reactive response to a proactive one. This approach often harnesses technology, through early warning systems, data analysis, and predictive models to identify and mitigate risks meaning that lives can be saved, suffering can be reduced, and the impact of crisis can be minimised.
Mobile technology is playing an increasingly important role in anticipatory action. For example, mobile phones can be used to collect data on water levels, crop yields, and other indicators of potential risks and share information warning communities vulnerable to drought, flooding or food insecurity through text messaging and mobile apps. This data can also be used to inform decision-making and to target interventions more effectively. 
One of the key technologies driving anticipatory action is artificial intelligence (AI). AI algorithms can analyse large volumes of data from various sources, such as satellite imagery, social media, and weather forecasts, to identify patterns and trends that may indicate an impending disaster. For example, historical data on floods can be analysed to predict when and where they are likely to occur, allowing humanitarian organisations to prepare accordingly.
Additionally, there are also technologies such as blockchain and the Internet of Things (IoT) that are being explored for their potential in anticipatory action. For example, blockchain can be used to provide secure, transparent data sharing between different organisations and stakeholders, while IoT devices can be used to monitor and control various systems, such as water distribution networks, which is explored in this recently released GSMA 'IoT for Development' report. 
Despite the promise of these technologies, there are also challenges and limitations to their use in anticipatory action. One of the key challenges is the need for reliable, high-quality data. Many areas at risk of disasters are also data-poor, with limited infrastructure for data collection and analysis. In addition, there are ethical concerns about privacy and data protection, as well as the potential for bias and discrimination in artificial intelligence algorithms. 
Early action and early warnings lead the way
Applicants were asked to indicate which categories of innovation apply to their proposed project, clarifying the methods that will be used to benefit communities vulnerable to humanitarian crises. It is very encouraging to see that most proposals submitted to the Innovation Fund address early action, preparedness and resilience building given the growing necessity for political, technological and financial support of early warnings for all. The GSMA attended the inaugural advisory board of the UN-led Early Warnings for All (EW4A) global initiative in March 2023 and recognises that mobile networks are an incredibly powerful channel to warn people of imminent hazards.
Thematic focal areas
Applicants were also asked to indicate which humanitarian themes apply to their project. 62% responded that climate change is directly relevant to their project, and 60% responded that their project relates to natural hazards or disasters. 37% indicated that their projects address challenges faced by forcibly displaced populations and 35% confirmed food insecurity as a theme for their project. This thematic split supports an observation made by the Centre for Humanitarian Action that, "the focus of most anticipatory approaches has so far been on extreme natural events such as floods, storms, and droughts". However, an increasing number of humanitarian organisations and academics aim to expand the agenda of anticipatory action to include situations of conflict. The breadth of projects proposed to the Fund is exciting and speaks to the potential of anticipatory action across a wide range of humanitarian contexts.
Geographic distribution
Of the primary countries for each proposed project, 63% of applications received were for projects in Africa, which is lower than previous rounds of the Innovation Fund. 23% were applications for projects in South and Southeast Asia, 7% in Latin America, 2% in the Caribbean, 2% in the Middle East and 1% in the Pacific. While the Asia Pacific region is the most disaster-prone region in the world, with nearly 45% of the world's natural disasters occurring there, Africa has the highest density of the least developed countries in the world as well as a long history of humanitarian aid flowing into the continent. Geographic areas with the largest concentration of applications received does not therefore necessarily reflect the geographic concentration of humanitarian crisis nor the areas most vulnerable to disaster.
Enthusiastic backing from match funders
The total amount of funding requested from the 154 applicants was £25,500,513. The Innovation Fund process requires applicants to have match funding in place, to show existing support for their innovation. Applicants indicated that a total of £16,408,953 is secured as match funding. This suggests that there is enthusiastic backing of humanitarian innovations, and that anticipatory action solutions may be of increasing interest for donors, investors, and partners. On average applicants requested £179,581 from the Innovation Fund and the average project duration was 18 months.
We are encouraged by the high number of good quality applications received by the Innovation Fund and appreciate the time taken by every organisation who proposed a project in this round of funding. We look forward to announcing the new cohort of successful grantees in late 2023. Before then, you can explore the full GSMA Innovation Fund portfolio of organisations here.
---
The three authors of this blog are supporting the Innovation Fund on anticipatory humanitarian action and bringing fresh perspective and expertise due to their varied backgrounds. Jenny Thornton is based in the UK and prior to joining the GSMA, worked in the 'tech for good' space managing international projects for the Internet Watch Foundation and Get Safe Online. Ezra Yego is based in Kenya and prior to joining the GSMA, worked for the UN Sustainable Development Solutions Network (UNSDSN) and UNICEF. Zohaib Jawad is based in Islamabad, Pakistan and prior joining the GSMA, worked with leading Fintechs of Pakistan in the capacity of Sr. Product Manager as well as having a background in economics, research and development.  
---
This initiative is currently funded by the UK Foreign, Commonwealth & Development Office (FCDO), and supported by the GSMA and its members.