In recognition of World Environment Day, today the GSMA's CleanTech team is releasing its first research report: Digital Dividends in Natural Resource Management. In this blog we are showcasing Huawei's Rainforest Guardians initiative, one of three in-depth case studies from the report which highlight how digital technologies are transforming natural resource management (NRM) activities in low and middle-income countries. Please be sure to see Part One of this blog, where we have shared the top five lessons we've taken away from our research.
Tropical rainforests cover approximately eight per cent of Earth's land area, yet they are home to over half our planet's animal species and play a critical role in cleaning the air, managing water supplies and regulating ocean currents, wind patterns and rainfall. Rainforests also stabilise local and global climates by absorbing and storing massive amounts of carbon dioxide: UN-REDD estimates that forests and forest soils store more than one trillion tonnes of carbon, more than all the carbon currently found in the atmosphere.
Despite these benefits, tropical forests are being destroyed at a rate of at least 31,000 square miles every year, releasing much of the carbon they store into the atmosphere as carbon dioxide and other greenhouse gases. Virtually all deforestation is driven by human activities such as agriculture and logging, and in tropical countries it is estimated that illegal logging accounts for between 50 and 90 per cent of the timber trade.
To address this challenge, in 2014 the non-profit Rainforest Connection (RFCx) was founded with the aim of giving citizens and conservation partners new ways of understanding the rainforest through bioacoustics monitoring, a process through which audio recording devices and data transmission systems are deployed in forests to monitor the sound of animals and human activities in real time. In the Philippines, Huawei's TECH4ALL programme and RFCx are working together to test a new monitoring system that leverages connected mobile devices and AI to prevent illegal logging and animal poaching in five protected areas in Palawan, an area described as the country's 'last ecological frontier'.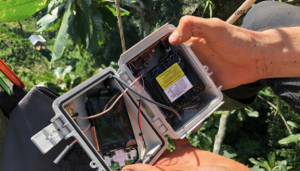 Upcycled Huawei smartphones are placed into protective boxes and connected to solar panels and microphones (see photos below), allowing the RFCx system to livestream the sound of the forest 24 hours a day. The mobile devices have proven to be extremely durable—RFCx estimates that they can operate non-stop for two years without human intervention—and are less expensive and easier to power than most other types of connected devices. The recorded audio is then uploaded in real time to the cloud, where Huawei's deep learning AI models analyse the data and instantly detect the sound of vulnerable animals or illegal human activity. Huawei worked with wildlife experts to label initial recordings from the rainforest in a cloud archive, and AI specialists used this baseline data to help improve the AI model so that it could function autonomously with a high level of accuracy. The audio recordings are accessible to forest rangers, who also receive real-time alerts when the monitoring system detects the sound of chainsaws, trucks and other indicators of forest destruction so that they can respond appropriately.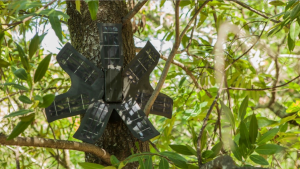 The AI model deployed in the Philippines has been used in 10 other countries and has raised the detection rate of chainsaws to 96 per cent. Rangers have also indicated that they are now traversing less ground to find illegal loggers and poachers, and experiencing fewer false alarms. In Brazil, the Guardian system is now alerting local tribes in real time when anyone encroaches on their land, allowing rangers to block feeder roads, seize trucks and equipment, and detain illegal loggers. In 2020, RFCx estimates that the amount of rainforest protected by the system will increase the absorption of CO2 by 30 million tonnes, which is the equivalent of taking six million cars off the road.
You can learn more about this project by reading our new report, and by visiting the new website TECH4ALL has designed for the project in the Philippines, which includes much more information about the project, pictures and a video case study.
Private Sector Perspectives
Our 'Digital Dividends' report highlights that new initiatives from the private sector, such as TECH4ALL or Microsoft's AI for Earth, are playing an important role in facilitating shared value partnerships with governments and non-profit organisations, often by providing their partners with access to their company's technical skills, resources and digital expertise.
To learn a bit more about how this works at Huawei, we asked the TECH4ALL team to tell us a bit more about why environment issues such as rainforest protection have become a key priority for their organisation, how Huawei is helping partners deliver greater impact, and what they think the future holds for digital innovation in natural resource management:
Can you tell us a bit about Tech4All's approach to protecting the environment?
Huawei's vision and mission are to bring digital to every person, home and organisation for a fully connected, intelligent world. TECH4ALL is Huawei's long-term digital inclusion initiative. We believe that technology is crucial to conserving nature and biodiversity and mitigating climate change.  Aligned with the UN's Sustainable Development Goals, the environmental domain of TECH4ALL focuses on four areas: reducing carbon emissions, increasing the use of renewable energy, expanding the circular economy, and reducing resource use. We develop green technologies, solutions, and processes to achieve these aims, and we help consumers, customers, suppliers, and industries to adopt technologies that positively impact the environment. We work with a wide range of organisations to expand the scope and efficacy of environmental initiatives and we're keen to establish new, long-term partnerships.
Why is protecting the environment important for Huawei?
If left unchecked, the environmental threats facing the planet are likely to have a damaging and disruptive effect on every aspect of life and continue to cause an irreversible loss in biodiversity. As one of the world's leaders in the field of ICT, we believe that technology is not in opposition to nature; it's a part of nature. ICT can greatly boost economic prosperity and protect the environment for future generations. 'Tech for a better planet': that's our belief and also is the commitment that keeps us moving forward.
How many environmental projects does TECH4ALL support, and in which parts of the world do you work?
We're currently working with Rainforest Connection (RFCx) to use technologies to protect rainforests and the species that deforestation endangers in 10 countries, including spider monkeys in Costa Rica and forest turtles and binturongs in the Philippines. By the end of 2019, we had deployed the "Guardian" solution over more than 2,500 square kilometres of rainforest to detect the sounds of illegal logging – the major source of deforestation. In 2020, we plan to scale up the solution to cover 15 countries and 6,000 square kilometres. And we're also working to replicate this platform in ocean protection scenarios. Besides the RFCx collaboration, we are also cooperating with other organisations and partners to bring digital technologies to more protected areas. Visit our TECH4ALL minisite for more info about our environmental projects.
Based on your experience, what are the key benefits that digital technology can bring to natural resource management, or to organisations like RFCx?
Digital technology greatly improves the efficiency of data collection, transmission, and storage. It enables a real-time response to threats, such as illegal logging, and greatly improves how ecosystems are managed. For example, artificial intelligence can be trained to identify the sounds of wildlife so experts can track their behavioural patterns. Connectivity and technology can also raise awareness of environmental issues. For example, anyone can download the RFCx app and listen to the sounds of rainforests live-streamed from around the world, which in turn encourages people to get involved in conservation efforts.
Looking ahead, how do you think technology is going to change natural resource management over the next five years?
Over the next five years, AI, 5G, IoT and other emerging technologies will mature and converge. Our Global Industry Vision 2025 describes how ICT is driving change for everyone, everywhere. By 2025, for example, we estimate that 337 million people and 10 per cent of companies will use VR/AR. By 2025, the percentage of people living in areas covered by 5G networks will have reached 58 per cent.
Cloud, 5G, 4K+, VR, AR, and artificial intelligence will raise environmental protection awareness in a way that we haven't been able to before. For example, people living in cities will be able to monitor changes to our planet and enjoy an immersive virtual experience with wildlife. With up to 1 million animal and plant species threatened by extinction, it is our hope that eco-tourism powered by cloud, 5G, VR, and AR will boost awareness about the threats facing the planet.
By 2025, 85 per cent of business applications will be cloud-based and every enterprise will use cloud. This means that environmental organizations won't need to buy or develop their own storage and analysis systems. Data collection, transmission, storage, analytics, and other complex tasks can be simplified. AI will be able to monitor biodiversity, ecosystem patterns, threats, and animal behaviours much more precisely. Both pre-emptive and real-time responses will be possible.
How would you like to see GSMA and our other members (mobile operators, tech companies) engage on this topic?
We believe that every individual and company should be open and prepared to collaborate when it comes to protecting the environment – after all, the Earth represents our collective destiny. GSMA is a policy maker and strong advocator of the ICT industry. We suggest that GSMA and all members establish long-term, continuous collaboration with organisations in the NRM field. In addition to project practice, GSMA can also participate in industry activities, like setting up NRM discussions at Mobile World Congress and getting involved in events in the NRM field. We're willing to work closely with GSMA, operators, and other partners to promote the application of digital technologies in the field of natural resource management.
If other organisations are interested in partnering with Tech4All, how should they let you know?
Our website and email are always open: www.huawei.com/tech4all and tech4all@huawei.com.
We cannot go it alone. Achieving the TECH4ALL vision – leaving no one behind in the digital world – is impossible without partnerships. And new partnerships can come about in many ways: we can join existing projects led by others, so our ICT expertise can help make a difference. Organisations can join existing TECH4ALL projects to generate greater synergies and impact. And we can co-create coalitions and new initiatives for digital inclusion. We'd love to hear any ideas and suggestions on how we can work together.
This initiative is currently funded by the UK Department for International Development (DFID), and supported by the GSMA and its members.