The GSMA Digital Utilities programme was part of the Kenya Water & Sanitation International Conference & Exhibition 2023, held in the vibrant city of Mombasa. The event brought together a diverse array of stakeholders, including government representatives, policymakers, industry experts, innovators and development practitioners. It provided a platform for these stakeholders to exchange practical knowledge, insights and lessons on climate-smart digital solutions and innovations in the water and sanitation sector. During the conference, we had the opportunity to contribute to the discussions by sharing insights and lessons from our recent report, developed in collaboration with WSUP and four Kenyan water utilities). The report, titled, 'Water Utility Digitalisation in Low- and Middle-Income Countries: Experiences from the Kenyan Water Sector', delved into the experiences and best practices of digital transformation within the Kenyan water sector.
The conference had five themes:
Technology and innovation for the promotion of good governance in water and sanitation
Leveraging financing and market opportunities to accelerate the availability and access of potable water and sanitation for all
Harnessing technology for accelerated access to water and sanitation
Capacity development and research to invest in and develop human digital capital in the water and sanitation sector and
Climate change, health and environment
In this blog, we share some of our takeaways on these, with a focus on the digital technologies role across themes.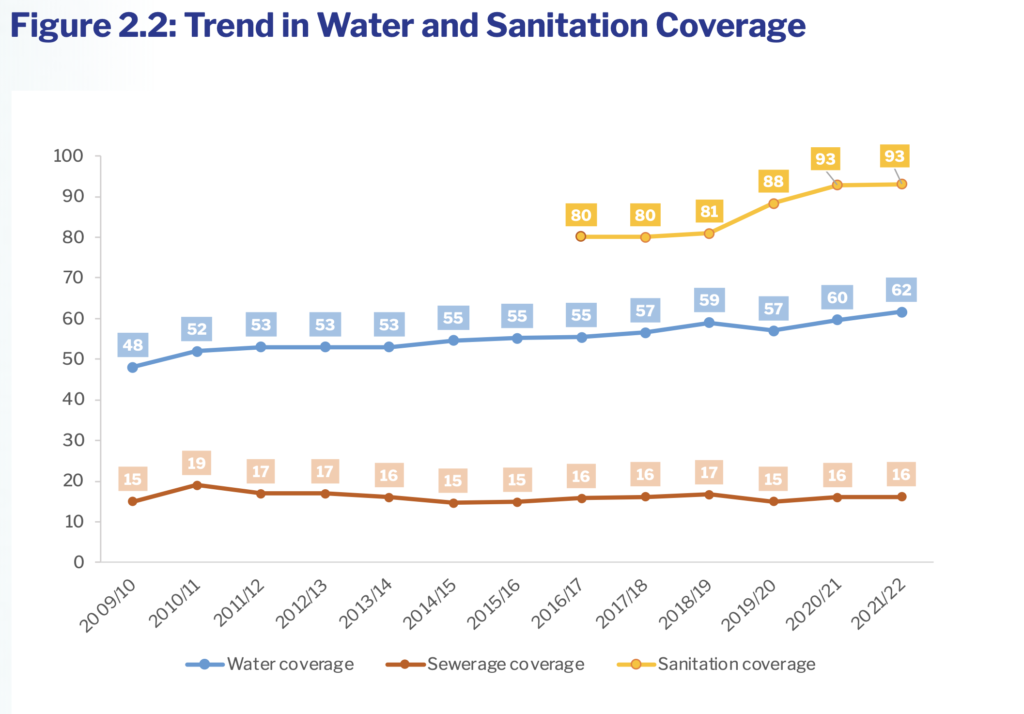 Digital innovation for good governance in water and sanitation
The importance of digital innovation for good governance in the water and sanitation sectors cannot be overstated. As low- and middle-income countries (LMICs) strive to meet the increasing demands for safe water and sanitation services, technological advancements play a pivotal role in enhancing governance practices and service delivery. The discussion at the conference focused on several areas:
Enhanced Transparency and Accountability: Digital tools drive real-time monitoring, reporting and data analytics, fostering trust among stakeholders and improving governance.
Efficient Service Delivery: Automation optimises operations, detects leakages and enables better resource management, reducing losses and enhancing response times.
Data-Driven Decision-Making: Technology-driven data collection and analysis uncover areas for improvement, optimise resource allocation and support long-term planning and investment.
Citizen Engagement and Participation: Digital innovation empowers citizens through mobile apps, social media and community-based monitoring, enabling active involvement in governance and service improvement.
Highlights of the digital innovations we saw during the conference
Smart metering
It was impressive to see many smart meter providers showcasing their products. Smart meters enable automatic meter reading which is essential for gaining efficiencies in billing as it records consumption and key operational data and eliminates the time, costs, and errors of manual meter reading. Some of the solutions showcased during the conference included:
CityTaps, a former GSMA Innovation Fund portfolio company, has developed a water utility subscriber management solution, CTSuite, which combines a smart, prepaid water meter (CTMeter) with an integrated software management system (CTCloud) to process PAYG payments through mobile money. CityTaps has been able to scale and replicate its solution in several countries in Sub-Saharan Africa including Kenya, Niger, Burkina Faso, Tanzania, Zambia and Namibia.
Software as a service for water utilities
Digital platforms and enterprise resource planning (ERP) apps are supporting more effective utility management and providing a foundation for digitalisation across utility operations. One of the challenges water utilities have had in implementing these solutions has been the high upfront costs required. This is especially true for smaller water utilities. To circumvent this challenge business model innovation through Software-as-a-Service (SaaS) models is already underway. Wonderkid is one of the companies that is pioneering this model.
Wonderkid supports utilities with Utility Master, an integrated enterprise resource planning (ERP) solution tailored for the water sector. It combines digital payments, billing efficiency, revenue collection, operations, and customer service modules. They have scaled their solutions across multiple Sub-Saharan African countries including Kenya, Malawi, Mozambique, Liberia, Nigeria, Ethiopia, and the Democratic Republic of Congo.
MNO-led solutions: Safaricom Business Water Solutions
Mobile services play a vital role in digital solutions for the water sector including mobile payments, smart metering and network monitoring. Safaricom Business aims to become a leading IoT solutions provider in Kenya by offering insights-driven technology solutions across verticals. During the conference, Safaricom showcased a range of solutions including pre-paid water meters, automated water dispensers, ultrasonic bulk water meters, electromagnetic bulk water meters and Safaricom's water management platform. The platform utilises Safaricom's Narrow-Band (NB-IoT) network to enable efficient water management.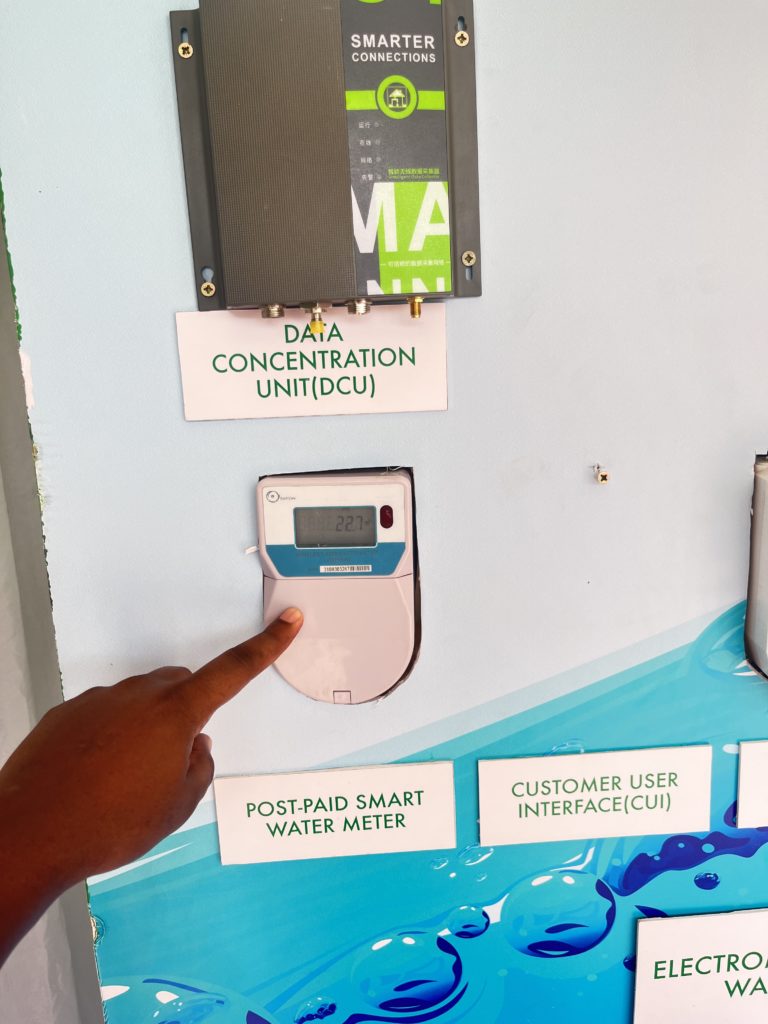 Mapping
GIS mapping of infrastructure is critical for the management of the water system, as many utilities used to rely on institutional memory to locate their core assets. GIS mapping of customers also helps with workflow management as technicians can now be sent to specific connections or parts of the network. At the conference, Esri's ArcGIS showcased its spatial analytical tools that contribute to actionable intelligence in areas such as asset management, operational intelligence, customer engagement, planning and engineering.
Leveraging innovative financing and market opportunities to drive investment in water utilities
Much of the conference discussion focused on blended financing and getting more commercial investment into the sector. Instruments such as guarantees, loans and equity investments play a crucial role in enhancing the financial viability and attractiveness of projects, reducing risk perceptions, lowering financing costs and establishing sustainable financial models for water utilities.
The Kenya Pooled Water Fund (KPWF) highlighted the water sector's potential appeal to financiers due to its perpetual customer base. However, water service providers (WSPs) need to improve their operational robustness and demonstrate their user base and service stability to secure more favourable commercial investments. Developing long-term capital and financial plans, including up to 20-year plans, would facilitate financiers' understanding of the water sector. Simultaneously, WSPs should actively work on reducing operational and maintenance costs to generate a sufficient monthly surplus, which determines the maximum investment amount that the finance sector can provide. Key questions asked by commercial banks before providing financing to Water Service Providers (WSPs) include:
Mapping: Have WSPs mapped their service area and end users?
Revenue: What are the expenses and inflows from the end users?
Revenue Collection: How do WSPs plan to collect the expected revenue from end users and minimise wastage?
Non-Revenue Water: How are WSPs addressing the issue of Non-Revenue Water?
Capital Development: What is the overall capital required for the project and are there any measures to reduce project costs and increase viability?
Commercial banks that attended the conference included Equity Bank, National Bank of Kenya, Family Bank and Co-operative Bank.
On the water sector side, it was noted that financial institutions need to develop products aligned with the sector's specific needs. There is a significant mismatch between the abundant supply of funds to the water sector and the sector's requirements in LMICs. Concerns regarding investment risk from financiers and capacity limitations at the WSPs are legitimate. Digital solutions have demonstrated their potential to address these concerns by enabling the direct flow of payments from end-users to financiers, who then allocate the funds to the WSPs. Check out our recent blog on 'IoT and Digital Payments: A game changer for results-based financing'.
Here are some interesting initiatives we saw at the conference:
The Aqua for All Challenge Fund
Description: A pioneering blended finance structure to accelerate access to clean and reliable water supply in peri-urban and rural areas of Kenya. The Aqua for All Challenge Fund addresses the financing gap for small-scale water providers (SSWPs) in Kenya through an innovative revenue-based financing model. The fund is a partnership of Aqua for All with Family Bank, Sidian Bank and private sector service providers in Kenya. The fund expects to support 150 SSWPs and raise KES 330 million (€2.7 million) for micro- and small water infrastructure investment projects over the next two years. It will impact 200,000 people across Kenya with (improved) access to water and two commercial banks will build their capacity to develop cash-flow financing products for the water sector.
Who can apply?
Community water projects with piped water systems
Women and Youth WASH enterprises with piped water systems
Private water projects serving the community with piped water systems
Registered as a Society/Water User Association (WUA) by the registrar of societies, a Trust or Company with piped water systems
SSWPs located in Kajiado, Kiambu, Machakos, Makueni, Nairobi and Nakuru counties
Eligible investment projects
Household and water kiosk connections
Moveable assets such as pipes, fittings, meters and pumps
Smart technologies like smart metering and sensors
Pipeline extensions and storage tanks
Repairs or upgrades of pumping capacity
Source development (excluding boreholes)
Solar system installations
MajiKonnect by the National Bank of Kenya
Description: MajiKonnect is a financing program for the Water Sanitation and Hygiene sector for MSMEs, Corporates and Water Service Providers (WSPs).
Key features:
Designed to accelerate financing for WSPs, corporates and MSMEs in the Water Sanitation and Hygiene sector.
Customised collaterals and security requirements
Flexible repayment period for up to 10 years (for infrastructure projects)
Technical assistance to support loan development and implementation
Subsidised loan costs
Who can apply?
MSMEs
Water works contractors
Water vendors and refillers e.g. water kiosks
Water bowsers
Borehole services, general traders
Suppliers of water related equipment and wares
WSP's
Private water services providers
Public water services providers
Community/group water projects
Energy for water e.g solar, biogas
Conclusion
The Kenya Water & Sanitation International Conference & Exhibition highlighted the transformative power of digital innovation in accelerating access to safely managed water and sanitation for all. By harnessing these advancements and leveraging data, information, and digital tools, we can drive sustainable improvements, optimise resource utilisation and ensure that no one is left behind in the journey towards achieving SDG 6.
From our experience funding start-ups and SMEs in the water and sanitation sector through the GSMA Innovation Fund, we have seen that digitalisation is transforming how utilities function and how water services are delivered. New technologies enable existing systems to operate more efficiently and make new service delivery models possible. In our previous report, we examined the scaling journey of two innovators in the water sector, Wonderkid and CityTaps, whose experiences hold lessons for all seeking to accelerate digitalisation. Our Digital Utilities programme remains committed to collaborating with stakeholders, sharing knowledge and promoting the adoption of digital innovation, innovative financing, and partnerships to advance access to water and sanitation services in LMICs.
The Digital Utilities programme is funded by the UK Foreign, Commonwealth & Development Office (FCDO), and supported by the GSMA and its members.