In this guest blog from GreenCape, Reshmi Wolvers (Project Manager, Alternative Service Delivery Unit) and Cilnette Pienaar (Head of Communications) highlight the Alternative Service Delivery Unit's unique working model that is increasing access to essential urban services for low-income residents in South Africa.
City authorities and utilities face challenges providing services to informal settlements, where over 60 per cent of urban dwellers in low-income countries are estimated in to live in. There is therefore a need for public, private and civic sector stakeholders to come together and collaborate to solve this problem. Through our insights and activities, the GSMA Digital Utilities programme supports innovative solutions and partnerships to drive access to affordable, safe, reliable, and sustainable urban utility services in low- and middle-income countries. GreenCape's work in South Africa exemplifies how critical partnerships and alternative service delivery models are to guarantee inclusive access to essential services such as energy, water, sanitation, and waste-management for low-income urban residents living in informal settlements. We'd like to thank Reshmi and Cilnette for authoring this blog. We are excited to showcase GreenCape Alternative Service Delivery Unit's (ASDU) work, and we hope to encourage others to adopt innovative models to accelerate service delivery across urban areas. The guest blog now follows.
---
The provision of basic services, especially in informal settlements remains one of the biggest challenges that cities face, as they grapple with rapid urbanisation, rising inequality and climate change. In South Africa, close to four million people live in informal settlements. These settlements are predominantly located on municipality-owned land and are often built on dangerous sites that are prone to disasters such as floods and fires. Residents typically also experience high social vulnerabilities such as poor service delivery and high poverty, unemployment and crime levels. Basic service delivery is essential to improving the health and well-being of urban residents, resulting in greater prosperity as societies are able to innovate, create businesses and jobs, develop skills, and stimulate investment. Fortunately, innovative technologies that are modular, lower risk, scalable and flexible, and which allow the private sector to participate are enabling new alternative service models to fill these gaps. However, South Africa has been slow to adopt these digital solutions.
Listen to the podcast: Democratising the Provision of Alternative Service Delivery in South African Informal Settlements
GreenCape is a non-profit organization that works at the interface of business, government, and academia to identify and remove barriers to economically viable green economy infrastructure solutions in the developing world context. GreenCape's sector experts specialise in energy, circular economy, water, smart agriculture, alternative service delivery and climate finance. To reach unserviced and unserviceable communities, GreenCape has an Alternative Service Delivery Unit (ASDU) which is a data-driven, community-led service delivery unit established to design, facilitate and manage the provision of tailored service models. These service models are financially sustainable, technically sound and socially inclusive.
The ASDU team works with different informal settlements in South Africa, in partnership with various stakeholders, to improve access to basic utilities services, strengthening urban resilience.
Co-designing resilient communities
Read the report: Co-designing resilient urban communities: The power of human capital in inclusive public engagement
Engaging communities during project design is critical to the success of any service delivery projects. Through this engagement, communities appreciate their own strengths (assets) which encourages community buy-in and support. It also helps stakeholders gain knowledge on current systems that are in place and what works for the community. This asset-based community development approach is being implemented by the ASDU to develop alternative service delivery models.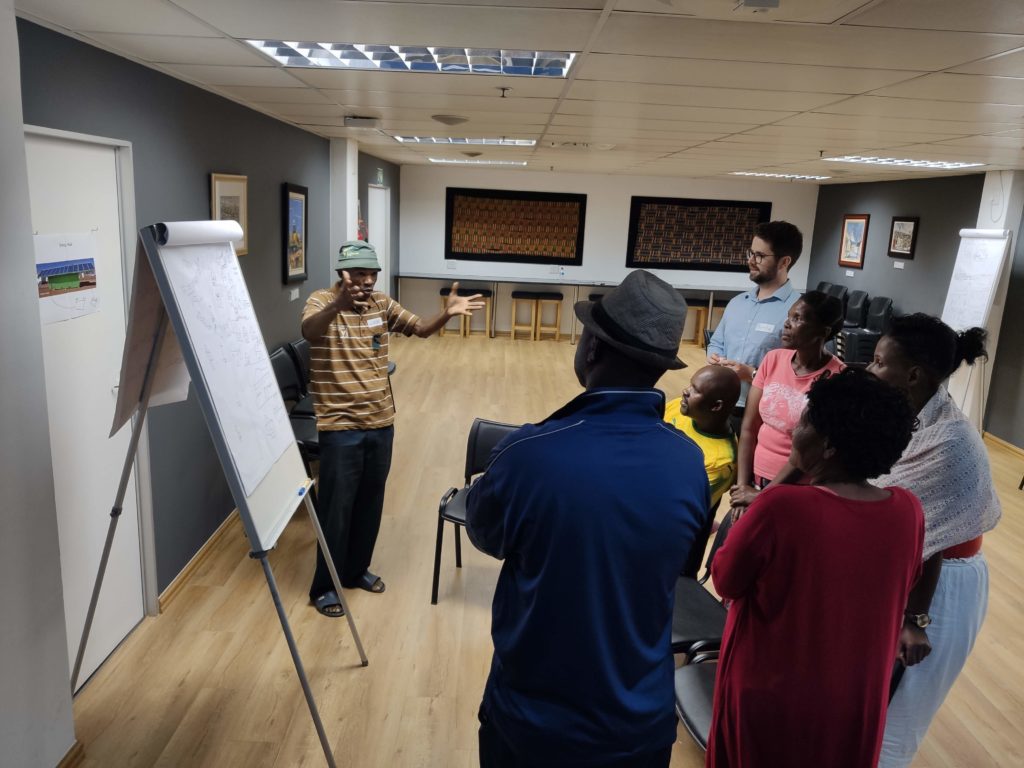 The ASDU follows a collaborative and immersive process with partners such as funders, landowners, service providers and the communities themselves. This process begins with stakeholder engagement and site selection and delves deeply into a mobilisation exercise involving door-to-door enumeration and a concurrent co-design process. This enables us to interpret the data and understand which alternative service delivery offerings would be the best fit for all partners involved. A thorough tendering process follows to find the right service providers that meet the needs and priorities of the affected communities and other stakeholder requirements. Upon the selection of a provider, more consultations and interactive co-design workshops are held with the different partners throughout the delivery, simultaneous with monitoring and evaluation phases, up to project close-out.
Solar powered electricity for shacks
Watch the video: Encouraging active citizenship and energy democracy through alternative service delivery
When your flight comes in for the landing approach at Cape Town International Airport, you might notice two things: The iconic Table Mountain, and solar panels on the corrugated iron roofs of some of the informal settlement homes next to the airport. This alternative energy solution was co-designed by the communities themselves, and implemented by GreenCape in partnership with iShack, Community Organisation Resource Centre, Airports Company South Africa (ACSA), Wartsila and the Friedrich Naumann Foundation for Freedom.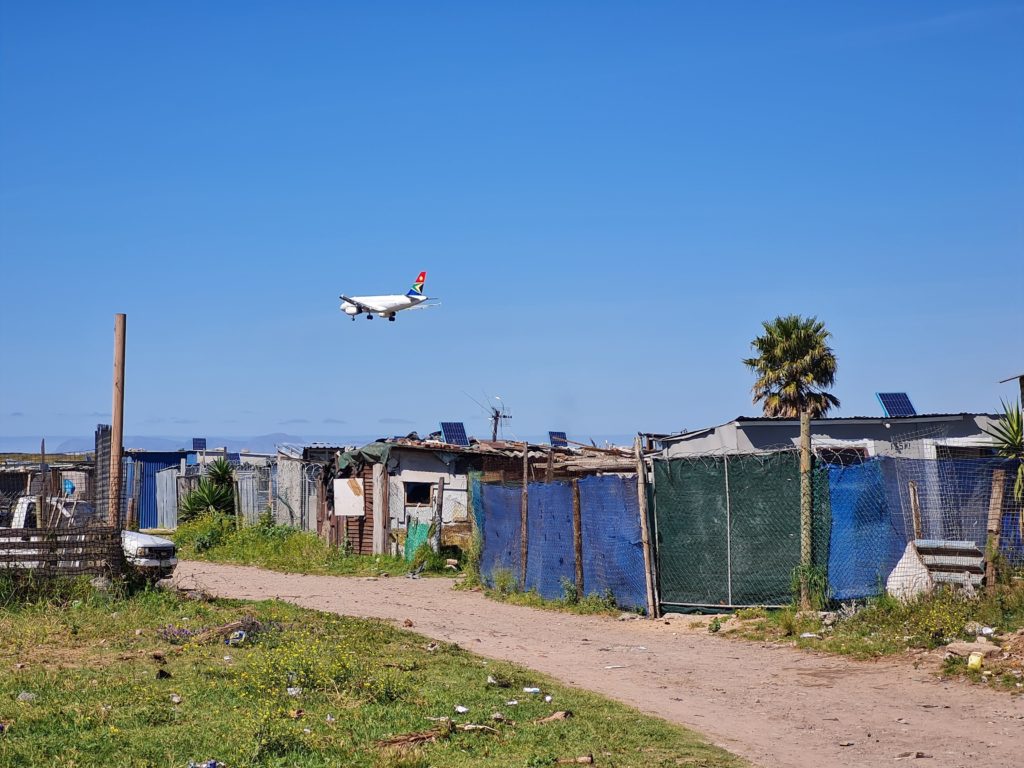 Two communities that have benefitted from this approach are Freedom Farm and Malawi Camp. These two informal settlements are located on land owned by the ACSA and have been home to an estimated 3,000 people for over thirty years. In 2019, the settlements had no formal electricity infrastructure, more than 90 per cent of their residents did not have access to safe sanitation services and communal water points were limited. The unemployment rate in the area was close to 45 per cent, and more than 50 per cent of schooling-age children were not enrolled. Based on their enumeration data and the co-design workshops, residents of Freedom Farm and Malawi Camp prioritised home-level electricity such as lighting and charging of cellphones, and connection to media services such as television and radio. GreenCape then collaborated with its partners to install solar panels and provide televisions to households. Unlike in the past where residents used to pay up to R140 (~$8) per month just for candles, they now pay as little as R50 (~$3) a month for a solar home system. This system includes three internal home lights, phone charging, small direct current appliances such as radios and torches. They have the option to potentially add a television set to the service bundle, all powered by the sun.
Solar street lights with free communal Wi-Fi
Read the case study: Witsand Informal Settlement: Building resilient urban communities though innovation and partnership
Although Witsand is a diverse, vibrant and active community, it is characterised by a lack of formal land tenure, insufficient public spaces and facilities, and inadequate access to basic services. Following a similar mobilisation and enumeration exercise as in Freedom Farm, the Witsand leadership prioritised an area wide intervention versus a household level one. They expressed the preference for area lighting and internet connectivity, owing to the high statistics of school-age children not being in school, unemployment and the dangers of having to walk up to one kilometre in the dark to get to the toilets on the outskirts of the community. The enumeration data corroborated this request, resulting in the installation of Wi-Fi-enabled solar streetlights. This project was undertaken together with ThinkWifi, a Cape Town-based service provider who are building public Wi-Fi infrastructure to provide free, uncapped Wi-Fi across South Africa. Their innovative business models allow for both the infrastructure and the connectivity to be funded without the end user paying a cent.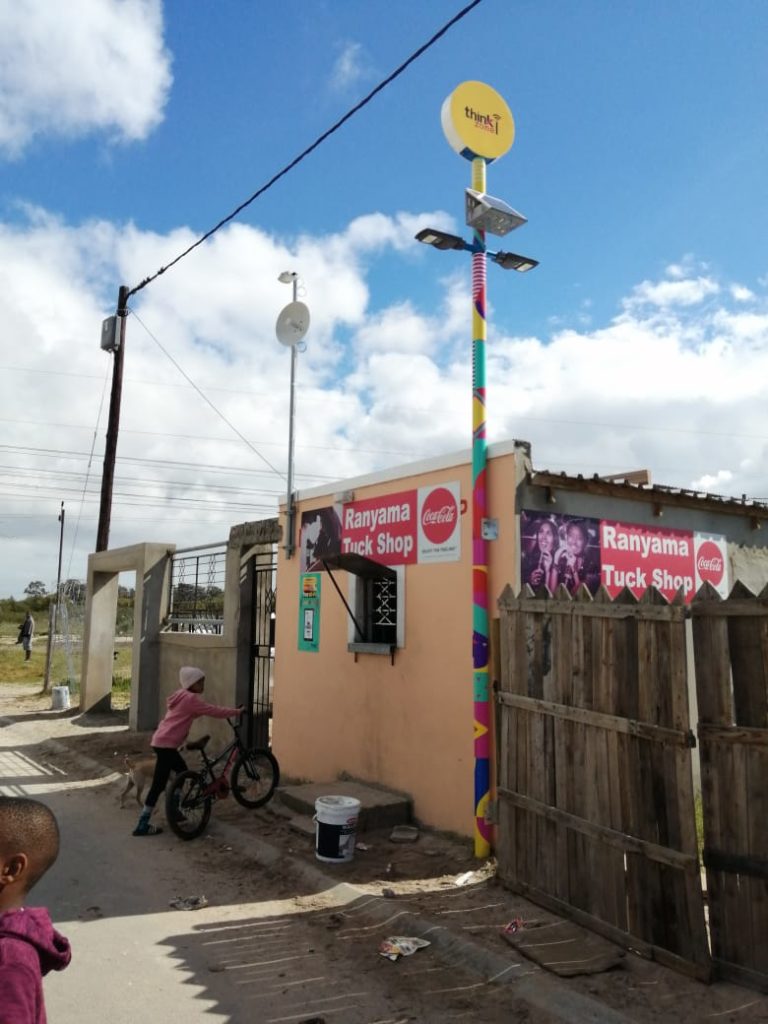 The installation of these streetlights has improved safety and security, enabling businesses to stay open later into the evening. Residents are more vibrant and active in the evenings whereas previously, they would retreat to the safety of their homes once dusk set in. Connectivity in the communities means that there is now better access to educational and enterprise opportunities for community members. Research from the GSMA has shown that access to the internet has the potential to transform lives and accelerate sustainable development. 12,000 people are now connected to free Wi-Fi, supported by just 11 solar streetlights!
The opportunity for partnerships in alternative service delivery
The key function of the ASDU operational team is to ensure the implementation of sustainable solutions in South Africa. One of the major learnings about this space in South Africa is that it would not be possible without public and private partnerships that are guided by the communities they serve. The City of Cape Town, in partnership with the ASDU, is supporting innovative SMMEs, who operate at the base of the pyramid, that can partner with municipalities to deliver services to informal settlements. Currently, some of the SMMEs include PayGas, Lululab and PJS
Towards that end, the ASDU is starting to investigate prospects for project implementation in South Africa's Mpumalanga Province, where there are exciting energy transition opportunities to include communities in co-creating their own energy futures as South Africa's coal mining and coal-fired power is eventually phased out. As the world transitions to clean fuels, we hope to be at the centre of this change, working together with multiple partners.
The Digital Utilities programme is funded by the UK Foreign, Commonwealth & Development Office (FCDO), and supported by the GSMA and its members.