Since its launch in 2016, the Ecosystem Accelerator programme has sought to bridge the gap between mobile operators and start-ups in emerging markets. The programme provides mobile-first start-ups with grant funding, technical support and opportunities to develop strong partnerships with local mobile operators. Spanning across two cohorts, the Ecosystem Accelerator programme has built a portfolio of 24 start-ups across Asia Pacific and Africa. Collectively, these companies have raised an additional £21.3 million in funding as of September 2018, representing more than six times the amount the programme has disbursed to these ventures. The 24 projects have had a positive socio-economic impact on over one million citizens.
To unlock further socio-economic impact, the third round of the Innovation Fund was launched in March 2018, allowing start-ups across Asia Pacific and Africa to apply for £100,000 – £250,000 in grant funding. In total, 699 pitch applications across 46 countries were received from both continents. For the analysis below, we have extracted key insights from these applications, emphasising the top 200 of them.
The number of applications received in the third round grew by 25 per cent compared to the second round which saw 554 applications from across 41 countries. About 70 per cent of the third round's 699 pitch applications came from Africa while the other 30 per cent were from the Asia Pacific region.
Upon a thorough review, the top 200 applications were selected, focusing on several criteria, including, but not limited to, business propositions, teams, funding situations, use of mobile technology and the ability to yield tangible socio-economic impact.

Focusing on the geographical distribution within the top 200, Bangladesh, Indonesia and Vietnam gathered the most applications across Asia Pacific, each country accounting for six per cent. In Africa, most applications in the top 200 came from Kenya (11 per cent), Nigeria (11 per cent) and Uganda (seven per cent). In terms of sectors, 21 per cent (42 start-ups) are Fintech start-ups, followed by Agritech (15 per cent) and Healthtech (14 per cent) start-ups. Waste & Green Tech start-ups accounted for 12 per cent, followed by E-Commerce and Transport Tech start-ups with 10 per cent each. Looking at the funding situation, while 12 per cent of these start-ups had raised over £1 million, 54 per cent had raised less than £100,000 at the point of their application in March-April 2018.
Since the launch of the programme, we have been closely following the work done by local tech hubs across Asia Pacific and Africa (see our latest research: 1000 Tech Hubs are Powering Ecosystems in Asia Pacific and Africa). In the third round, reflecting the previous two rounds, we found a correlation between the quality of the start-ups' applications and the support the start-ups received from tech hubs. Indeed, more than 54 per cent of the top 200 start-up applications came from start-ups which have received support from local incubators or accelerator programmes (including the likes of CcHUB (Nigeria), BongoHive (Zambia), Plug & Play Indonesia, Phandeeyar (Myanmar). There was also a growth in the number of applications from start-ups currently enrolled in incubation or acceleration programmes led by local mobile operators, including MTN Y'ello, an incubator programme active in Congo and Cote d'Ivoire, and GP Accelerator, an accelerator programme led by Bangladeshi mobile operator, Grameenphone (Telenor Group).
This last point touches on another strong focus of our Innovation Fund – the collaboration between start-ups and local mobile operators. When applying in March-April 2018, more than 36 per cent of the top 200 start-ups were already working, in some capacity, with local mobile operators. Using our 'Haves' and 'Needs' framework documented in our Building Synergies report, we have mapped out the types of support these start-ups would like to receive from mobile operators. The top three 'needs' were: Access to mobile operators' payment channels (34 per cent of the top applications' need) – usually focusing on the access to mobile money APIs, Customer acquisition and market insights (22 per cent) and Access to mass communication channels (20 per cent) – often SMS and USSD APIs access.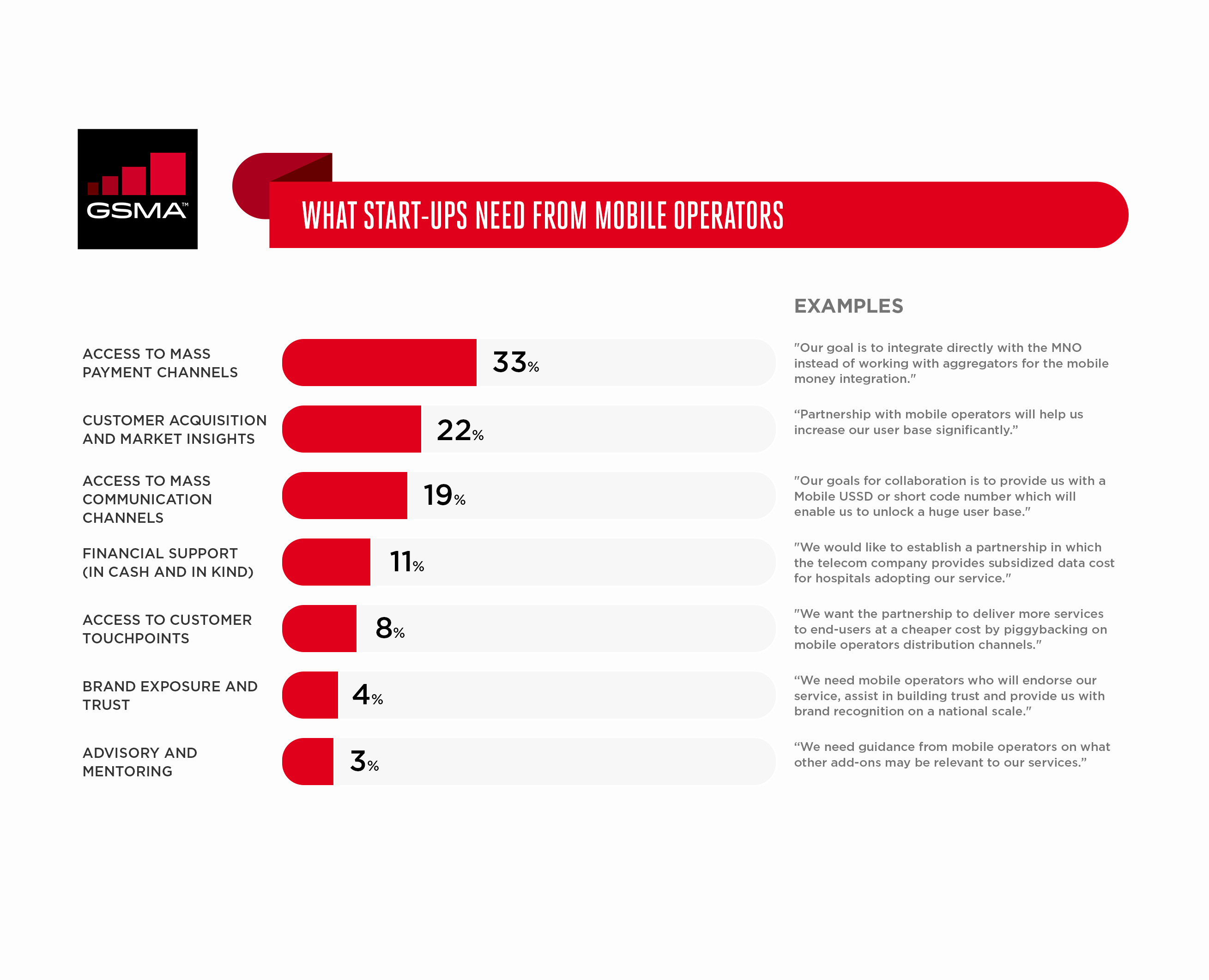 Finally, looking at the types of challenges these start-ups are addressing, the top 200 are collectively addressing 15 of the 17 United Nations' Sustainable Development Goals (SDGs). Four SDGs were mentioned by 70 per cent of the start-ups as the main ones they are tackling: No Poverty (SDG 1), Good Health and Well-being (SDG 3), Decent Work and Economic Growth (SDG 8) and Sustainable Cities and Communities (SDG 11).
With the GSMA Ecosystem Accelerator Innovation Fund now in its third round, this is a good time to look back and see how some of these statistics have evolved since our first round, launched back in July 2016.
Overall the number of applications rose by 73 per cent between Round 1 and Round 3 (402 in Round 1 to 699 in Round 3) and the number of countries represented grew by 12 per cent over the same period (41 in Round 1 to 46 in Round 3).
As highlighted previously, the role played by local tech hubs appears to also become increasingly important for the local start-up ecosystems. Over the three rounds, we have noted that the correlation between the quality of the applications received and the fact that those start-ups are supported by local tech hubs keeps increasing (in Round 1, 44 per cent of the top applications received came from start-ups supported by local tech hubs, while the ratio reached 54 per cent in Round 3).
When double-clicking on the teams behind these start-ups, it was brought to light that the percentage of start-ups with women co-founders increased from 13 per cent in Round 1 to more than 44 per cent in Round 3. Also, 85 per cent of Round 3's top 200 start-ups had women in their management teams, exceeding Round 2's 71 per cent. While there has a been an increased effort through our outreach strategy to encourage more women-led start-ups to apply to our Innovation Fund, this increase could also be a reflection of a positively evolving landscape in the Asia Pacific and Africa tech ecosystems.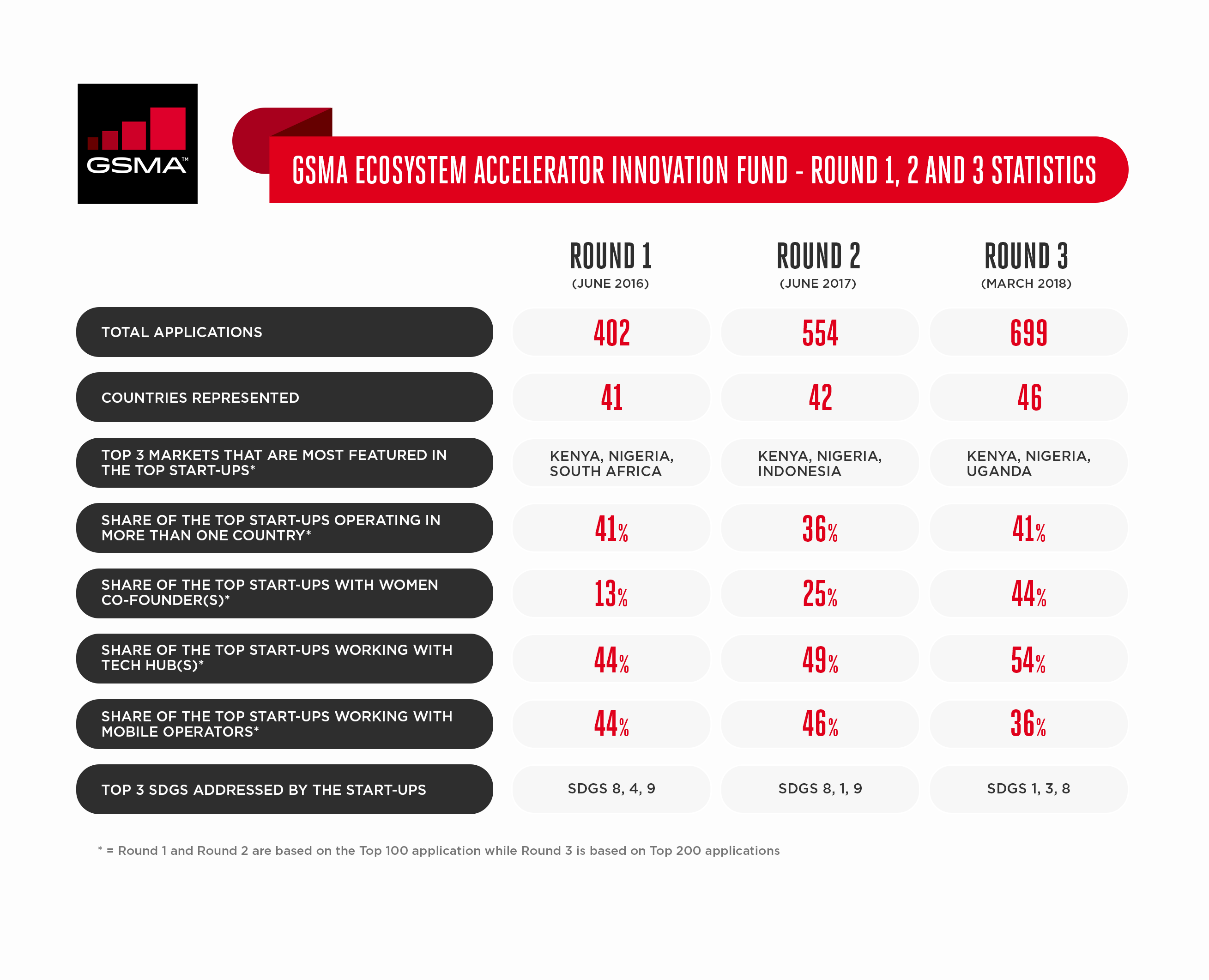 After reviewing each of these 699 start-ups' applications and conducting a more in-depth due diligence on close to 30 of them between May and September 2018, the GSMA Ecosystem Accelerator is now proceeding with the last selection phase through an independent panel. Stay tuned for the Round 3 start-ups portfolio announcement in the coming weeks!
The Ecosystem Accelerator programme is supported by the UK Department for International Development (DFID), the Australian Government, the GSMA and its members.