This is the sixth blog in a series introducing the grantees and key partners supporting The GSMA Innovation Fund for Digitisation of Agricultural Value Chains.
Nigerian agritech company AgroMall is one of seven grantees under The GSMA Innovation Fund for Digitisation of Agricultural Value Chains. This Innovation Fund launched in June 2019 to support the scaling of digital solutions for the agricultural last mile and the goal is to improve smallholders' financial inclusion, livelihoods, and climate resilience. AgroMall uses technology and data to facilitate digital agriculture finance, enhance production, reduce post-harvest losses and improve access to markets for Nigeria's smallholder farmers. With the help of the GSMA, the company aims to leverage digital technologies and expand its service offering to include digital payments for the procurement of crops, digital agronomic advisory, and agri Digital Financial Services (agri DFS) including loans and insurance.
Farmer challenges
The 2017 Global Findex database shows that, of the 104 million Nigerians aged 15 and older, less than 40 per cent own a bank account with a financial institution or through a mobile money provider. For Nigerians living in rural areas, the share drops to 33 per cent in the same period. Unbanked Nigerians rely on cash and therefore lack an economic identity or digital footprint. As many Nigerian smallholder farmers remain unbanked, banks and lending institutions perceive them as high risk, making it difficult to access formal financial services, such as digital payments and credit, to reinvest in their farms and improve crop quality and yields. Making cash payments for the procurement of crops fuels theft and fraud, requires farmers to travel long distances to receive cash as payment and contributes to inefficiencies and a lack of transparency within the value chain. Nigerian farmers' ability to produce enough crops and improve their income is also affected by a variety of environmental and supply chain issues; climate change and a paucity of affordable and reliable logistics are severely impacting the agricultural sector among others.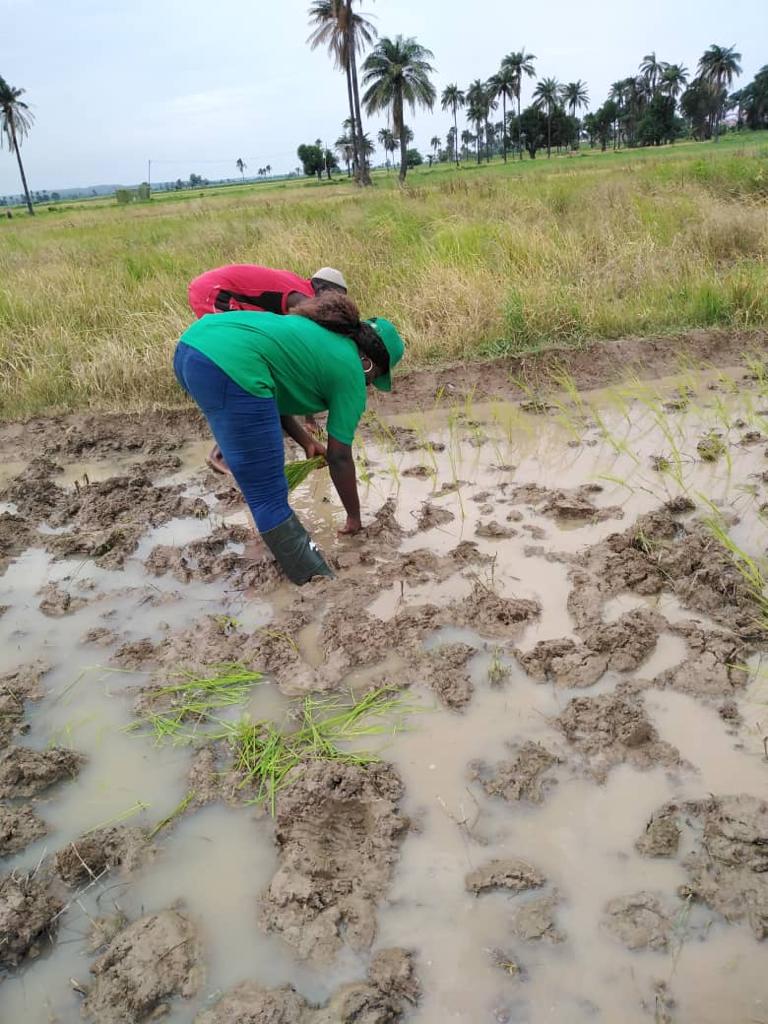 Supporting farmers to receive higher profit margins
In Nigeria, agricultural value chains involve a variety of actors and activities that contribute to bringing a basic agricultural product from production in the field to final consumption. Among value chain actors, there are numerous intermediaries who make it difficult for smallholders to receive a fair profit margin for their produce. Additionally, poor access to quality inputs limits farmers' ability to achieve high yields. For example, hybrid and high yielding seeds demand prices that are beyond farmers' reach. The cost of purchasing water pumps for irrigation and pesticides for controlling the armyworm is an additional burden that rice and maize farmers cannot always take on.
To improve smallholder farmers' access to markets, AgroMall offers a more direct procurement route that cuts out middlemen. Moreover, AgroMall plays the role of a trusted intermediary that facilitates financing of inputs and farm services and helps connect farmers with potential off-takers via a mobile and web-based platform. Farmers can access loans to purchase inputs at competitive prices and repay those loans at a relatively low interest rate. Farmers and off-takers then make their selling- and buying-decisions based on the prevailing market price. Once a buyer is happy with the quality and quantity of the produce, the farmer is paid digitally. Both buyer and farmer can provide comments and ratings for each other that can facilitate future transactions.
Reducing the number of intermediaries in the value chain can make the procurement process more equitable and empowers farmers to achieve a fair price.
Direct versus indirect procurement model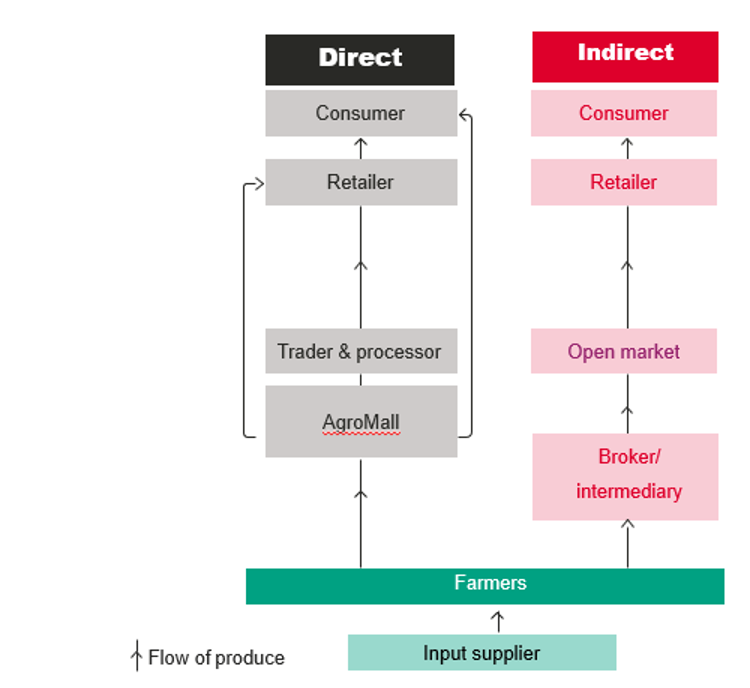 Using data to improve access to finance and information
To better support the production process, AgroMall agents collect a variety of data including farm size, soil nutrient composition, yield and other metrics. This data is then used to provide tailored services to farmers. With the help of the GSMA, AgroMall has taken steps to digitise processes that occur when engaging with farmers and use the captured data to better assist them with their farming activities. Here are some examples of the services that use these digitised processes:
Loans: AgroMall has formed a data sharing partnership with several cooperatives and a financial service provider (FSP). Data captured on AgroMall's platform, such as digital profile data and procurement records, are used to create digital footprints for farmers. Loan requests are first approved by the cooperative. The FSP co-approves loan applications if the loan amount exceeds a certain threshold. Based on the collected data, farmers' financing needs can automatically be calculated, and farmers are issued with loans to buy inputs, pay for services or equipment.
Digital advisory: AgroMall offers a customised digital agronomic advisory service that guides farmers to adopt good agricultural practices and address issues they are facing in the field. The information provided can range from what fertiliser to use to helping with pest or soil diagnosis.
Digital payments: Farmers registered with AgroMall can sell their crops either via the direct procurement route or via an agribusiness and receive digital payments in return. Farmers can either cash out the money received or use it to buy airtime. Farmers receive their procurement and payment records on their phones as transaction notifications.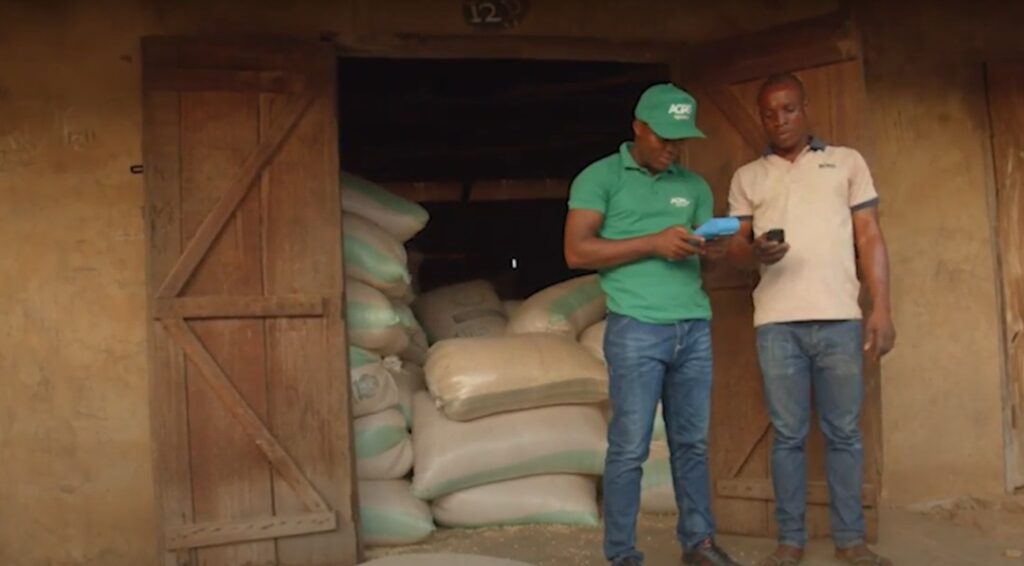 What's next for AgroMall?
Agritechs in Nigeria face an ecosystem struggling to support long-term growth, a generally challenging business environment, as well as limited access to funding opportunities. Despite all these challenges, AgroMall has been very successful in supporting smallholder farmers by using digital tools to provide effective agronomic advisory, extension services, management, and engagements in agricultural value chains. With the help of the GSMA, AgroMall has pilot-launched their new services, including the digital agronomic advisory service and loans, with over 50,000 smallholder farmers. The company has just started to roll out the first digital payments to farmers. Over the next ten months, AgroMall will be launching a new climate smart advisory service and a new insurance product. These two services will help smallholder farmers adapt to climate-change and prepare for unexpected weather events such as drought or floods. We are excited to see what comes after that!
In 2019, the GSMA AgriTech programme launched The GSMA Innovation Fund for Digitisation of Agricultural Value Chains, which aims to scale digital solutions for the agricultural last mile and improve smallholders' financial inclusion, livelihood and climate resilience. The Innovation Fund prioritises digital enterprise services targeted at organisations, like agribusinesses and cooperatives, procuring from smallholders living on less than $2 (USD) per day. It emerges from the success of the three-year mNutrition Initiative that tested and scaled digital advisory services for smallholder farmers in six markets across Africa and Asia. This Innovation Fund is the latest step in the programme's evolution to unlock the impact of a wider range of digital agricultural use cases.
You can read more about it in first blog post in the series.
---
THIS INITIATIVE IS CURRENTLY FUNDED BY THE UK FOREIGN, COMMONWEALTH & DEVELOPMENT OFFICE (FCDO), AND SUPPORTED BY THE GSMA AND ITS MEMBERS.