This post is part of a two-part blog series on a programme for Scaling Innovation and Supporting Entrepreneurship across the Indo-Pacific during the pandemic. This programme was funded by the Australian Government's Department for Foreign Affairs and Trade (DFAT) and provided technical assistance to 10 start-ups in Cambodia, Fiji (3), Myanmar (3), Papa New Guinea (2) and Samoa. Here we look at the impact of the programme on ATEC, a clean cooking social enterprise
ATEC: Using mobile to improve access to modern cooking solutions
ATEC provides sustainable, affordable, and accessible clean cooking solutions, aimed at low-income households in Cambodia and Bangladesh. In 2021, ATEC was selected by the GSMA and DFAT as part of a cohort of start-ups on the scaling innovation and supporting the entrepreneurship ecosystem across the Indo-Pacific programme.
ATEC project timeline in Cambodia and Bangladesh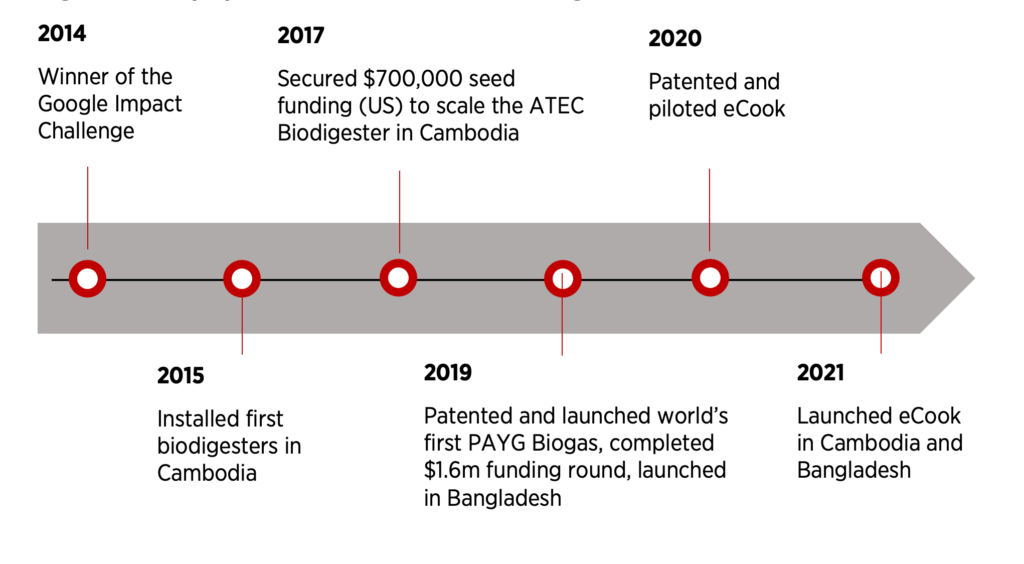 Innovative solutions are needed to achieve SDG 7 and SDG 13
According to the World Bank, four billion people worldwide lack access to modern cooking solutions. This causes households to cook with unsafe, polluting fuels and technologies that hold back advances on health and the environment. It also limits progress on gender equality, as women bear a disproportionate share of the health and safety risks involved in cooking with unsafe, polluting fuels.
Current trends suggest that unless rapid action is taken to scale up clean cooking, the world will fall almost 30 per cent short of the SDG 7 target of universal access to clean cooking fuels and technologies by 2030. Progress on SDG 13 (Climate Change) is also insufficient to achieve the 2030 targets, highlighting the need for urgent action.
To solve these problems, ATEC offers two main products. The ATEC Biodigester converts farm waste into safe and clean biogas for daily cooking needs, making it suitable for off-grid farming households. The eCook induction stove, which was the focus of this programme, is designed for on-grid households that can use electromagnetic energy to heat things directly.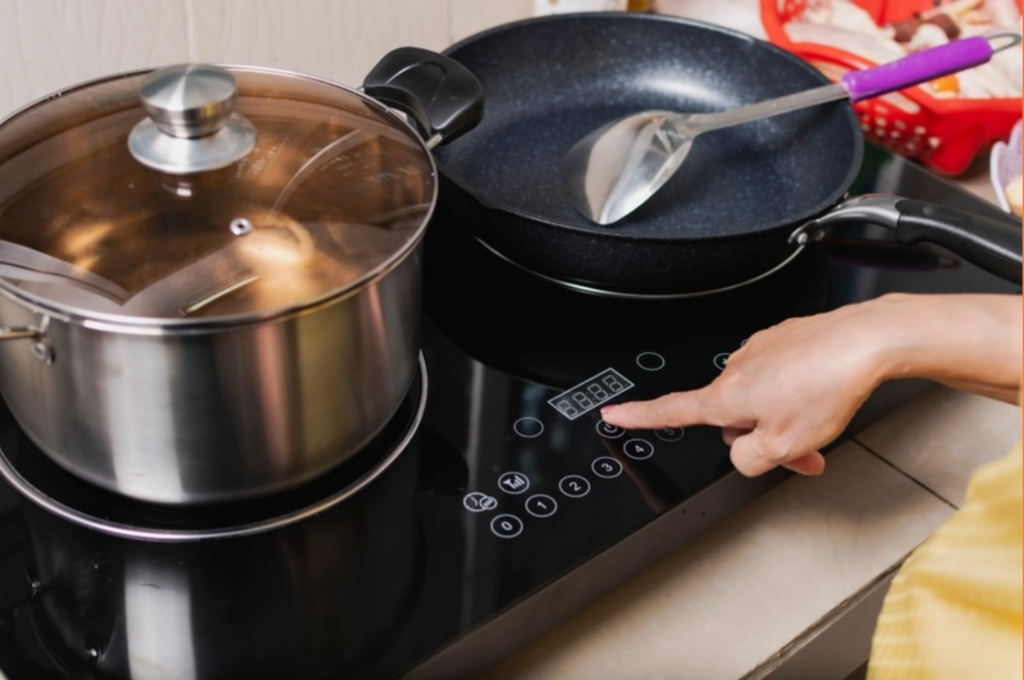 The eCook offers several benefits compared to other cooking solutions:
Reduced emissions: The eCook induction stove also produces less greenhouse gas emissions compared with other cooking methods. In Nepal, for example, ATEC estimates that electromagnetic induction stoves will produce 1.25 fewer tonnes of greenhouse gas emissions per user each year compared to LPG stoves and 3.5 fewer tonnes than traditional biomass stoves.
Improved health and safety: An ATEC survey in Cambodia found that 100 per cent of induction stove users feel safer using eCook than an LPG stove. This is because ATEC's eCook solution utilises induction technology to directly heat cookware via electromagnetic fields. It therefore does not require an open flame, which helps to prevent fumes that can compromise respiratory health, as well as fire-related incidents in the kitchen. Furthermore, the eCook induction stove's in-line RCD safety protection monitors the power supply and cuts off the power if there is an electrical fault in the stove to prevent a fatal electric shock.
Faster cooking: The eCook induction stove cooks food much more quickly compared with other methods of cooking (such as cooking with wood). The time saved allows users to participate in the labour market more fully. This is particularly important for women, who perform the majority of the world's total unpaid care, including cooking.
Lower costs: With an upfront cost of around $200 (compared to an annual average income of around $1500 in Cambodia), electromagnetic induction stoves were previously unaffordable for low-income households. ATEC addresses this challenge by combining GSM connectivity with pay-as-you-go (PAYG) financing. This allows eCook customers to purchase the stove on monthly instalment plans starting from $5 per month. Electromagnetic induction also wastes less energy compared to liquefied petroleum gas (LPG) and ethanol. This results in lower energy costs and reduced emissions. For example, ATEC's study in Bangladesh showed a 64 per cent reduction in energy costs when using electromagnetic induction stoves rather than LPG. A similar study in Cambodia showed a 55 per cent reduction in energy costs.
Scaling innovation and supporting the entrepreneurship ecosystem
To help ATEC scale its business at a critical time, the GSMA provided support in the following areas:
Mentoring: A dedicated mentor was assigned to ATEC's Lead Engineer for 6 months to assess, diagnose and support the start-up's business needs. The focus of the support was on growing eCook revenues; for example, by pursuing new opportunities relating to carbon credits, data monetisation and IoT.
Technical assistance: The GSMA worked with UrbanEmerge and The Hungry Lab to research how ATEC could benefit from the voluntary carbon credit market. Following this, ATEC has begun to formalise its plans to hire a carbon consultant. It has received submissions from multiple candidates and aims to appoint somebody in due course In addition, consultants explored ways that ATEC could introduce secondary revenue streams by leveraging its eCook data on cooking habits and electricity usage. The consultants also produced a report outlining the various regulatory frameworks and guidelines for selling products with embedded IoT chips in ATEC's current and potential markets.
Gender technical assistance: The GSMA worked with Value for Women to help ATEC formalise gender inclusion principles and improve the inclusivity of hiring and selection policies. ATEC added more inclusive language as well as images depicting more women in their recruitment adverts in Cambodia. This helped the start-up increase the proportion of female applicants to 37 per cent for their most recent vacancy in Cambodia. Furthermore, Value for Women helped ATEC draft a gender statement to demonstrate the company's commitment to gender equality and equity. Consultants also provided training on gender best practice to ATEC's management team, which could then be passed onto the rest of the workforce.
Macro factors support ATEC on the path to scale
Rising electrification rates support demand for electric cooking solutions. In Bangladesh and Cambodia, where ATEC currently sells the eCook induction stove, more than 90 per cent of the population now have electricity access. While this figure currently stands at around 50 per cent in Sub-Saharan Africa, the IEA estimates that 60 per cent of the region's population will have access to electricity by 2030. This highlights the potential for growth in sales of electric cooking solutions globally.
Another important factor in scaling ATEC's eCook solution is the continued growth of mobile money and mobile connectivity, which allows customers to pay by instalments and ATEC to remotely control and monitor usage. In 2020, the global value of mobile money transactions exceeded $2 billion a day, and is expected to surpass $3 billion a day by the end of 2022. Meanwhile, GSMA Intelligence expects global mobile internet penetration to increase from 77 per cent to 82 per cent in the same period, driven by growth in Asia-Pacific and Sub-Saharan Africa. Against this backdrop, there is significant potential for electric cooking solutions to scale up clean cooking. However, the scalability of electric cook stoves ultimately depends on the affordability of the solution, which has impacted their sales to date. Buying a stove outright is unachievable for most people, hence the significance of ATEC's decision to sell eCook stoves on monthly instalment plans starting from $5 per month. This also highlights the importance of ATEC advancing with the plans it developed during the GSMA and DFAT programme around introducing secondary revenue streams (such as carbon credits and monetising existing data) that can drive down user costs.
The Ecosystem Accelerator programme is supported by the Australian Government, the GSMA and its members.