Qlue is an Indonesian start-up that provides smart city solutions to governments and businesses. In November 2018, the Ecosystem Accelerator programme – supported by the Australian Government and the UK Foreign, Commonwealth & Development Office (FCDO) – awarded Qlue an Ecosystem Accelerator Innovation Fund grant to expand its civic engagement platform to three new cities in Indonesia. The project was completed in February 2020. The GSMA recently conducted a light-touch evaluation to review the impact of the grant and understand how the results were achieved. This blog shares some of those findings and examines Qlue's growth in the period after the grant project concluded.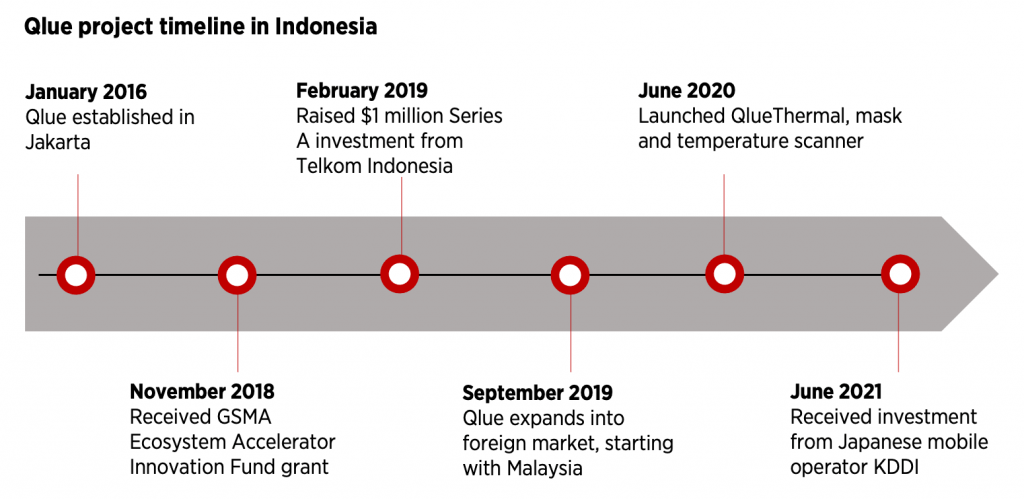 Understanding the grant period
Qlue's civic engagement platform, QlueApp, offers two-way communication between city residents and governments. Residents can report problems and request services, while governments can monitor and respond through Qlue's platform for visualising data (QlueDashboard). In March 2019, Qlue finalised agreements with governments in Java, Sulawesi and Bali Nusa Tenggara to roll out QlueApp. The grant funding enabled Qlue to develop customised dashboards for the local government in each region. They integrated the bespoke dashboards with QlueApp, providing governments with a visual tool that could help identify where resources needed to be directed. Qlue also used the grant funding to run a digital marketing campaign which raised awareness of the civic engagement platform among city residents.
The platform accumulated 67,099 active users across the three regions by February 2020. Moreover, the benefits of Qlue's solution impacted more than just the active users; living standards for other citizens in the regions improved as a result of governments being able to resolve citizen problems more effectively. Qlue estimates that over 1 million citizens benefitted from the rollout of QlueApp in the three regions. Furthermore, the platform allowed governments to make significant savings through allocating resources more efficiently, as a result of the reports generated on QlueApp.
Partnerships with mobile operators were important factors in Qlue's success. Before the grant period, Qlue already had an agreement with Telkomsel in Jakarta, whereby Qlue provides the civic engagement platform and Telkomsel offers marketing support and supplies devices for government officials. Qlue subsequently formed a similar partnership with mobile operator Indosat Ooredoo, supporting the rollout of Qlue's civic engagement platform in the regions of Java, Sulawesi and Bali Nusa Tenggara. The scale of mobile operators allows them to have dedicated teams in these regions, helping the Jakarta-based Qlue team to build relationships with key officials. The partnership also benefits mobile operators, who can differentiate their connectivity services from competitors through bundling Qlue's solutions.
Being part of the GSMA Ecosystem Accelerator Innovation Fund portfolio also helped boost Qlue's credentials among potential investors, particularly telecoms operators. In February 2019, Qlue received Series A investment from MDI Ventures, the corporate venture-capital initiative of Telkom Indonesia.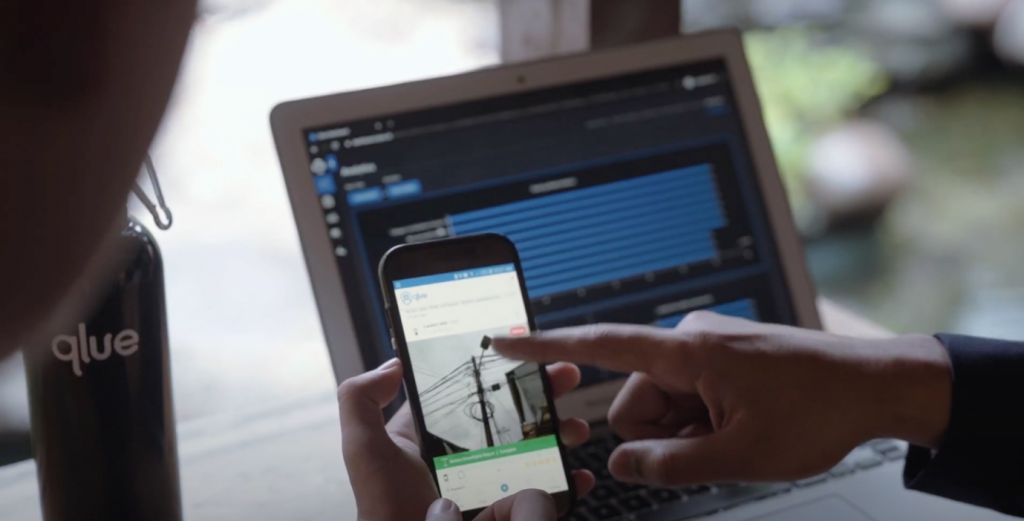 Pursuing new opportunities
The investment from MDI Ventures helped Qlue fund the development of new smart city solutions, which use AI and IoT technologies to tackle problems in areas such as climate change. The start-up is positioning itself to take advantage of growth in these technologies. GSMA Intelligence forecasts that the number of smart city IoT connections in Asia Pacific will more than double between 2021 and 2025, reaching 514 million connections. Indonesia is likely to play an important role in this, with a well-established smart city vision acting as a catalyst for the IoT market.
The momentum behind smart cities is unlikely to be undone by COVID-19. Although governments have reallocated budgets to prioritise fighting the virus, there are also new opportunities for innovation. The agile nature of start-ups allows them to pivot quickly, reflected by Qlue stating in an interview with the GSMA in mid-2020 that it was only approaching municipalities if the solution helped reduce the spread of COVID-19. Qlue added new labels relating to COVID-19 on its civic engagement platform, allowing citizens to report medical equipment scarcity, fully occupied hospitals, crowding, COVID-19 symptoms and food shortages.
The company also launched QlueThermal – a solution that measures body temperature and face mask usage which has been deployed in over 150 locations. QlueThermal has been sold to a variety of business sectors, including banks, entertainment venues, hospitals, retail stores and offices. This reflects Qlue's wider strategy to grow revenues from private sector companies using its AI and IoT product lines, while reducing its reliance on public sector clients, which account for 70% of Qlue's business. The GSMA highlighted the importance of relationships with local governments for driving the adoption of Qlue's civic engagement platform in a previous blog, but noted challenges such as project delays and achieving a political balance.
Qlue's innovations have been recognised by several awards, including the Best Mobility Project at the Global Smart Cities Contest and the Best m-Government Service Award from the World Government Summit in Dubai. The company is looking to build on its success in Indonesia by implementing solutions in Malaysia, Japan and Singapore. In June 2021, Qlue received investment from Japanese telecoms operator KDDI, which could help the start-up to expand internationally.
At the same time, Qlue is likely to face increased competition from international companies in Indonesia, as the size of Jakarta and other Indonesian cities attracts new smart city solutions. Qlue's local knowledge and long-standing partnerships with different stakeholders will be crucial to maintain a competitive advantage as international competitors enter the market.
On the path to scale
The grant project expanding Qlue's civic engagement platform to three new cities provided significant benefits to residents in Java, Sulawesi and Bali Nusa Tenggara. By increasing transparency and efficiency, government resources were allocated more efficiently and key problems in areas such as crime and waste disposal were resolved.
A key learning for Qlue during the grant period was that success in Jakarta does not guarantee the same outcome in other metropolitan cities. As an archipelagic country, the availability of connectivity and infrastructure can vary significantly in Indonesia, while there are notable differences in digital literacy and social norms between islands. To overcome this barrier, Qlue created an index to determine the readiness of different regions in Indonesia to become smart cities. Through tailoring its solution to each region, Qlue has grown to serve over 130 clients across 58 Indonesian cities. Furthermore, the start-up's plethora of solutions, including new AI and IoT-based products, positions it well to capitalise on future growth in smart cities.
The Ecosystem Accelerator programme is supported by the UK Foreign, Commonwealth & Development Office (FCDO), the Australian Government, the GSMA and its members.