The GSMA Digital Utilities Innovator spotlight blog series continues to highlight innovative companies addressing energy access and reliability challenges in African cities. In the first blog, we featured three innovators tackling these challenges by providing technology and payment solutions to help utilities in West Africa and beyond operate and provide services more effectively.
This second blog delves into the profiles of two innovators distributing portable energy solutions, responding to the unique context of urban residents and businesses across Africa and making sustainable energy more accessible, reliable, and affordable. It also showcases how these solutions empower entrepreneurs, drive economic growth, and positively impact the environment.
Unreliable electricity's impact on small businesses in Africa
In urban Africa, the informal sector is a significant source of employment and the backbone of economic development. With over 80% of jobs being generated in the informal urban economy, micro, small, and medium enterprises (MSMEs) comprise a substantial portion of these businesses. Besides limited access to finance, unreliable electricity has emerged as a major obstacle for MSMEs, with more than one in ten firms in Sub-Saharan Africa citing it as their most significant operational challenge. Electricity is a critical input for businesses that rely on productivity, and the unreliability of the power supply results in substantial productivity losses for MSMEs.
Percentage of firms in Sub-Saharan Africa identifying each issue as the biggest obstacle to growth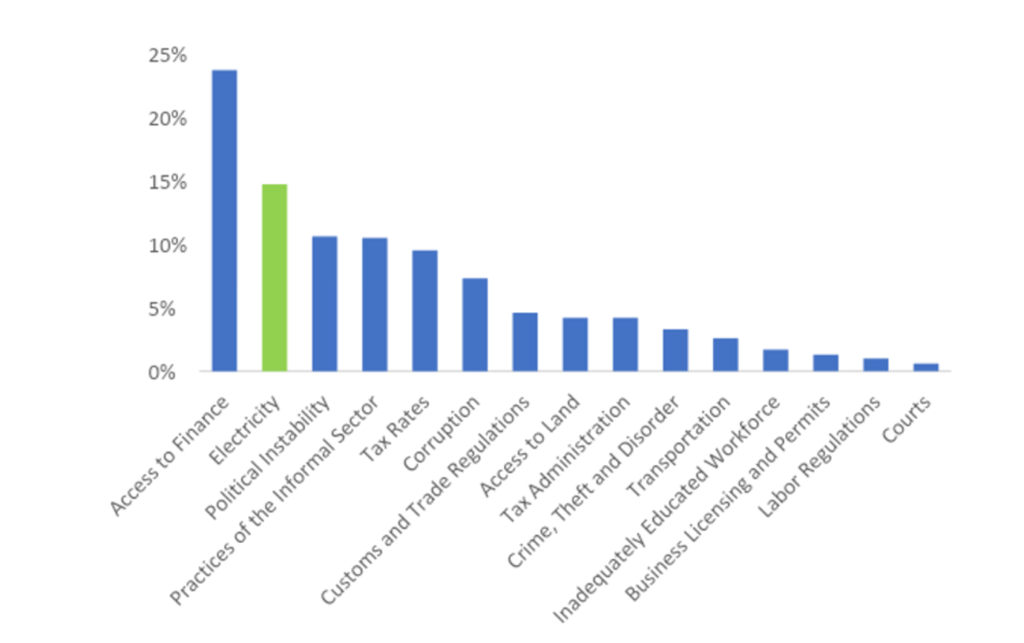 Source: How Can Small and Medium Enterprises Cope with Power Outages? (2022), Energy for Growth Hub. Based on World Bank Enterprise Survey data for 2006-2020.
To cope with unreliable urban energy, most small businesses resort to individual electricity generation, mainly petrol and diesel generators. A 2019 A2EI and Dalberg report estimates that 22 million small gasoline generators are being used to power households and small businesses in Nigeria, due to poor grid access and supply. These generators are not only expensive to operate but also contribute to environmental degradation and health hazards. The widespread use of generators impacts various sectors, including businesses, education, healthcare, and overall socio-economic development.
There has been a recent development in the country that changes this landscape. The Nigerian government's decision to remove fossil fuel subsidies in May of this year led to a sharp increase in prices and has made traditional diesel generators more expensive to operate. Similarly, across Africa, the war in Ukraine and other global economic dynamics have pushed up the cost of diesel, exacerbating the challenges faced by MSMEs. As a result, businesses are now more actively seeking alternative and more cost-effective energy solutions. Fortunately, solar alternatives are emerging as viable options that offer both reliability and cost competitiveness. This cost-effectiveness is a key factor driving their attractiveness for adoption among urban residents and businesses throughout the continent.
Global battery advancements and electric vehicle adoption driving change
A significant trend in the battery market worldwide is the growing adoption of electric vehicles (EVs). As more countries embrace sustainable transportation solutions, the demand for advanced battery technologies has skyrocketed. The massive production and use of batteries in the EV industry have driven economies of scale, resulting in lower production costs and more sophisticated battery designs. This positive trend has a direct impact on portable energy solutions, as batteries become cheaper, more efficient, and increasingly accessible to small businesses in Africa.
Mobile Power, one of the featured innovators with an existing household Battery rental business, has already recognised the synergies between its existing portable battery market and the EV industry in Africa. As they actively involve themselves in the continent's EV market, they leverage the advancements in battery technology to create even more efficient and cost-effective portable energy solutions. This innovative approach not only benefits small businesses but also contributes to Africa's overall sustainable energy transition.
Here are some of the key challenges the innovators featured below are addressing:
Lack of energy access and reliability: The batteries can be powered by both the grid and solar energy, allowing businesses to serve customers for longer hours and access cleaner energy, eliminating the need for dirtier and more dangerous energy sources.
Expensive alternative solutions: One innovator offers an outright purchase option or a hardware-as-a-service rental model, while another provides a pay-per-swap rental model with no upfront cost. These flexible payment options remove barriers to entry and allow customers to make daily payments as per their convenience.
Immobility: Portable power solutions accommodate the lifestyle of gig workers and commuters in African cities who often engage in multiple income streams and require reliable energy on the go. It provides a suitable solution that aligns with their dynamic lives.
Negative environmental impact: Solar-powered solutions reduce the reliance on fossil fuels and minimize carbon emissions. Additionally, they provide a sustainable and eco-friendly alternative for powering devices on the go, promoting a greener and more sustainable lifestyle.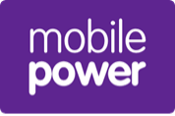 Mobile Power is a company that empowers individuals and businesses with reliable and convenient Battery rental solutions transforming their energy and transport needs. Its solar-powered Battery-rental MOPO Hubs are operating across Africa‍, providing energy for homes, businesses, and electric transport without consumer debt.
Mobile power has a unique pay-per-use business model that allows off-grid customers to access clean energy through an agent network. Its 'MOPO Hubs' are conveniently located within communities and provide up to four full-time jobs for local women and men as our MOPO Agents. The agents distribute MOPO batteries to consumers, manage customer relationships and ensure the timely return of the MOPO batteries. The MOPO batteries can only discharge energy after agent payment through the MOPO App.
Customers use the smaller MOPO50 for a variety of purposes such as phone charging, lighting, and powering small DC appliances. The larger MOPOMax battery is used for generator replacement, powering AC appliances up to 2000W such as freezers, TV's as well as productive energy use such as e-motorbikes, 3-wheelers, or other commercial activities.
With no customer financing or deposit, the MOPO Network offers a customer-friendly energy and clean transport business model which eliminates the need for upfront deposits and complex financing. With no barriers to entry, customers can begin saving from day one, and they have the flexibility to pay with cash or mobile money, catering to various customer segments. Its pay-per-swap battery-sharing networks solve energy distribution by overcoming the main challenges faced by the market.
For its partner operators, Mobile Power offers several advantages, including reduced dependence on distribution infrastructure like grids, resulting in decreased risk and increased revenue. It is a profitable solution for off-grid communities without relying on subsidies, and the multi-purpose MOPO Batteries allow operators to enter new markets like e-mobility, and generate additional income. Furthermore, the installation of MOPO Hubs on existing infrastructure enables operators to leverage spare capacity and resources, turning them into monetisable assets.
Reeddi is a Nigeria-based company that offers innovative clean, reliable, and affordable electricity solutions to households and businesses. Their proprietary energy generation and distribution technology includes smart data harvesting and analytics, allowing customers to access reliable electricity easily through an affordable daily rental fee. Reeddi's novel approach removes mobility, cost, payment, and flexibility constraints often associated with other energy-generation assets. With their energy systems, users can reduce energy expenses by 30% while simultaneously creating energy-based businesses and employment opportunities in their operating markets.
The Reeddi Capsule powers everyday devices including fans, drones, TVs, laptops, digital cameras, and other gadgets with an AC input capacity of less than 200W. The company has also focused on the durability of the capsule to guarantee a four-year lifespan. The device can be charged by solar or grid electricity. The company runs a hardware-as-a-service business model that generates revenue through daily rental fees that users pay to access the Capsules. The company also offers a direct sale option for relatively more affluent customers. Reeddi also plans to commercialise customer data which is collected across different use cases, including payment data, automated customer due-diligence and onboarding process, device tracking, users' GHG emission offset and, insurance.
Reeddi's technology and business model cater to the current and future energy demands of individuals, households, and businesses in an affordable manner. The rent-to-use hardware-as-a-service approach ensures accessibility and affordability. It tracks user parameters to create credit records, enabling the deployment of other productive use products based on user credit history. The integrated software platform also tracks energy demand and usage, providing valuable insights into customer needs based on income, location, and community profile, thus offering an in-depth understanding of local customer requirements.
Looking ahead
This GSMA Digital Utilities Innovator spotlight blog series has showcased innovative companies like Mobile Power and Reeddi, which are transforming energy access and reliability in African cities through digital innovation. These companies are addressing the challenges posed by unreliable electricity, particularly for small businesses, by offering portable energy solutions that are affordable, accessible, and environmentally friendly.
For small businesses in Africa, access to reliable electricity is crucial for productivity and growth. However, many face obstacles due to limited access to finance and unreliable grid electricity. Portable energy solutions offer an effective and sustainable alternative, empowering entrepreneurs and driving economic growth. The use of advanced battery technologies, driven by the growing adoption of electric vehicles worldwide, has made portable energy solutions more efficient and cost-effective.
The spotlight on innovators like Mobile Power and Reeddi demonstrates the positive impact of digital innovation in providing reliable and sustainable energy solutions to African urban communities. By empowering small businesses and urban residents with portable energy options, these companies are driving positive change, fostering economic growth, and contributing to a greener and more resilient future for the continent. As these innovative solutions continue to evolve, they hold the potential to transform the energy landscape and improve the lives of millions across Africa.
The Digital Utilities programme is funded by the UK Foreign, Commonwealth & Development Office (FCDO), and supported by the GSMA and its members.