Through this series of blogs, the GSMA Digital Utilities programme will be profiling innovative companies using digital technology to respond to some of the most important energy access and reliability challenges facing African cities.
These innovator spotlights will showcase how digital innovations are uniquely placed to make energy services in African cities more reliable, affordable, and sustainable. They will also highlight how households and businesses can leverage energy access productively. This first blog profiles three urban energy innovators who are primarily tackling energy access and reliability challenges across West Africa, but are also aiming to expand to the rest of the continent. We look at the challenges they are solving, how they are doing it through digital innovation and why this is important for the urban energy sector.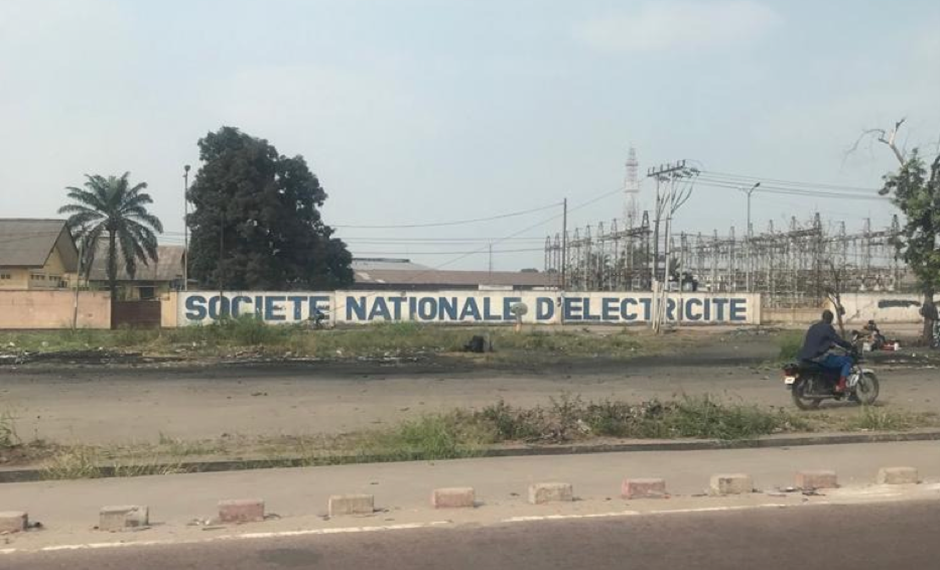 Outlining the energy access and reliability challenge in African cities
According to the World Bank, 670 million people are expected to still be without electricity in 2030. While most of these people are in rural areas, several African countries also face large urban energy gaps. For instance, in the Democratic Republic of Congo, less than 20% of urban households have access to energy (also see graphic below). Even when urban residents have grid connections, they are not necessarily guaranteed reliable and affordable energy access. In Nigeria, chronic grid outages (estimated to amount to a staggering 4,600 hours per year) have made power unreliable to those connected to the national grid. Blackouts significantly dampen economic growth and private sector development with the World Bank estimating that the economic cost of power shortages in Nigeria at around $28 billion or 2% of GDP. They also mean that business will often rely on costly polluting alternatives such as diesel generators – Nigeria's installed distributed diesel genset capacity being significantly greater than the country's grid-connected, power generation capacity.
Urban energy access rates across selected African countries (2019)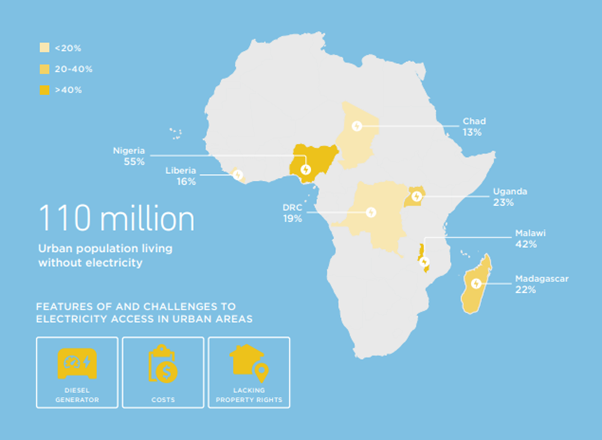 As African cities grow rapidly with an additional one billion people expected to be living in towns and cities across the continent over the next 30 years, there is rising energy demand to meet the needs of urban households and business. Without plans for affordable and reliable urban energy provision, several countries are at risk of not only failing to meet SDG 7, but also depressing the economic potential of several emerging cities. In a previous blog on the rising role of off-grid solar providers in cities across the Democratic Republic of Congo, we noted that for many donors, and policymakers driving energy access is primarily associated with a focus on rural areas. Yet this perspective overlooks an important but growing challenge that will only be amplified by rapid urbanisation and climate change – reliable, affordable, and sustainable energy access that allows cities to be economically competitive and responsive to the growing needs of low-income urban populations.
What does unreliable access mean in urban areas?
Preliminary findings from an Energy for Growth research initiative in Kampala highlight that low-income urban populations face a range of challenges that curtail energy access and reliability including:
Demand suppression – informal energy resellers often limit appliance use due to the cost of power and/or weak grid infrastructure.
Landlord/tenant power asymmetry – landlords have disproportionate power to raise prices and regulate use of electricity.
Complex grid connection pathways – urban populations have complex, creative and diverse means to connect to electricity.
Economics of connection informality – there is a need to create tariff and incentive structures appropriate for informal urban populations.
Unvirtuous cycle of service quality and power theft – it is assumed poor reliability in informal communities is due to abundant informal connections that overload the distribution system.
It also showcases nine prevalent connection modalities used by low-income populations in Kampala and highlights the need of policymakers and energy service providers to gain a deeper understanding of these challenges to inform policymaking and business strategy (see graphic below).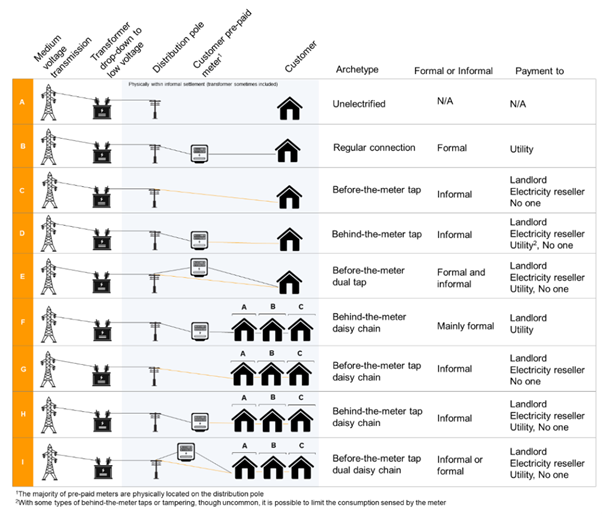 How are digital innovators responding to the challenges of urban energy access?
There is growing evidence that new business models, particularly those anchored around digital innovation, can bridge these gaps in urban energy access. As highlighted in the graphic above, there are different pathways to respond to the challenges facing low-income populations and business owners in African cities. Some pathways focus on directly providing access to new innovative products directly to customers (B2C models), while others focus on supporting existing utility service providers to become more efficient and extend more reliable services to low-income-populations (B2B/B2G models). Below, we profile three B2G/B2B start-ups whose solutions are directly supporting utilities across West Africa.
Beacon Power Services
Beacon Power services is a U.S. and Nigeria-based utility company that provides energy management software and analytics for utilities. Particularly, it provides data and grid management solutions to help Africa's power sector distribute electricity more efficiently. The company is currently working with four utilities in Nigeria and Ghana, covering more than 8 million customers (residential and businesses).
The company recently announced that it had closed a seed round of $2.7 million to improve electricity access and expand into new markets. The company notes that its AI-enabled grid management platform, Adora, solves one of two fundamental problems power distribution companies in Africa face:
1. It offers real-time visibility on network performance for electric utilities and connects to every utility asset and customer node on the grid, allowing energy providers to pre-empt outages and identify network losses, respond to them quickly and distribute electricity more efficiently.
2. Their Customer and Asset Information Management system solves a data challenge faced by utilities by factoring in the unique conditions within which they operate, for example, poor address systems, and helps them digitise their data, which serves as a foundation for network improvements.
According to Beacon Power Services (BPS), its digital solutions help energy utilities run more efficiently, make more money, and give consumers a larger supply of power by decreasing outages. This is crucial for a nation like Nigeria, where many DISCOs have low revenue collection rates and high aggregate technical, commercial and collection losses (AT&Cs).
This is also the case for Ghana, where BPS is collaborating with Electricity Company of Ghana (ECG). According to ECG and BPS, their collaboration in Kwabenya District in Ghana reached a milestone with a 25% increase in monthly revenue. Beyond improving revenue collection the BPS solution also allows ECG to monitor their operations in real-time, identify energy theft (also a focus of a solution our programme funded in Pakistan), map out energy flow, reduce AT&C, and identify areas where it can improve efficiency and has improved the overall reliability of the energy supply.
FINT

FINT is a peer-to-peer lending marketplace that connects verified borrowers who are seeking alternative credit sources to investors who are looking to make attractive returns from investing in consumer loans.
According to FINT, on average, customers in Nigeria buy electricity up to 3 times a month but get paid monthly, bi-monthly, or quarterly for individuals. For MSME's, electricity contributes to 60% of their cost of production. FINT is stepping in to solve this customer pain point through their BorrowPower electricity loans.
Access to a loan option would allow households and businesses to consume as much power as they need which increases productivity. FINT estimate that as many as 30% of the power distribution companies' customers in Nigeria require this loan solution.
According to FINT, BorrowPower electricity loan currently serves the underserved customers who have access to electricity but aren't consuming their intended capacity because of a lack of access to financing options. As BorrowPower scales, it will also address the needs of the unserved urban customers and those who aren't connected to the grid.
The BorrowPower infrastructure reduces loan default rates by >80% and improves the credit risk associated with micro lending. This creates an opportunity to increase credit penetration for customers.
Currently, the power distribution companies earn $2 billion, with ~30% of the country having access to electricity and, of that 30% consume less than their capacity. Electricity consumption promotes economic growth, by enhancing the production of capital, labour and technique, which has a ripple effect on the economy.
Smarterise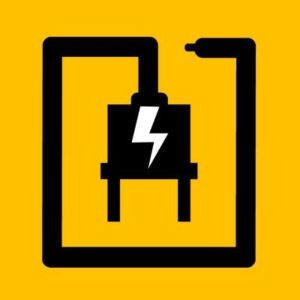 is a data-driven energy solutions company that helps building operators and energy utilities to make the most of their energy investments and operations. The company designs cost-effective solutions using IoT sensors, data, and operational presence to meet the energy needs of clients, mostly in the commercial and industrial sectors.
Smarterise provides various services and products to energy utilities and commercial buildings in Nigeria, including energy big data analytics, energy audits and power losses mitigation and prediction.
Energy audit is a holistic analysis of the entire building systems for energy savings. Energy audit indicates the best energy option to go for in a building and avoid making costly future mistakes. It may include a process or system to reduce the amount of energy input into the system without negatively affecting the output.
Like BPS, Smarterise also provides big data and predictive analytics products and services to mitigate energy losses by buildings and energy utilities.
The company also provides various energy data visualization products for consumers and businesses in Nigeria. These include prevailing diesel prices, electricity tariff pricing, grid availability and energy consumption calculator.
The world bank estimates that, one in three Africans does not have access to electricity, often resorting to using kerosene or spending hours in darkness. At the same time, energy utilities are cash-strapped, are utilising aging infrastructure and are unable to provide reliable energy to customers.
The services and products provided by companies like Smarterise, e.g. energy audits, big data analytics and smart metering will enable energy utilities to identify areas of energy wastage in their infrastructure. They also enable energy utilities to save money and become operationally efficient.
Looking ahead
The GSMA Digital Utilities programme will continue to profile start-ups using digital tools to address some of the key energy sector challenges facing households and businesses in cities across LMICs. We're also supporting a range of start-ups to build relevant partnerships with public sector organisations and corporate partners such as mobile operators that are critical to reach impact at scale. Our Digital Utilities Partnerships Hub provides a single source of information on innovative partnerships between private sector innovators and their role in making utility services in low- and middle-income (LMICs) more affordable, accessible, safe and sustainable. In our recently published toolkit, we highlight the role of start-up-public sector collaboration in the context of the many challenges facing cities in LMICs, provide a conceptual framework of how to position and define these partnerships, and offer practical tips and tools to start-ups navigating the complexity of public sector engagement.
If you'd like to learn more about our work in this area, please get in touch with Jisas Lemasagarai.
The Digital Utilities programme is funded by the UK Foreign, Commonwealth & Development Office (FCDO), and supported by the GSMA and its members.