Powerstove have developed a smokeless, biomass cookstove that generates electricity to charge phones or power LED bulbs using the built-in USB and DC port, and uses pellets (wood waste), enabling users to save 70 per cent on their energy costs.
According to the World Bank, only 22 per cent of poor people in Nigeria are connected to the country's electricity supply network. In 2021, the price of a 12.5kg cylinder of cooking gas rose from $6.4 to about $12 within six months. About half of Nigeria's population live in urban areas and depend on charcoal, kerosene, generator kiosks (cell-phone charging) and battery-powered torches for their energy needs. The rising energy costs have made basic energy unaffordable and has lowered spending power, especially among low-income households.
The GSMA Innovation Fund grant is to support Powerstove launch and scale-up their product in Nigeria. Powerstove will be focusing distribution of their cookstove units on low-income urban populations in Nigeria, through a pay-as-you-cook model. A further aim is to develop the cookstove functionality so that each cookstove's usage can be monitored through IoT and enable users to generate earnings from carbon credits.
We caught up with Okey Esse, Powerstove's Founder and CEO, to discuss his expectations for how their solution will evolve over the coming years.
What need does Powerstove cater to?
Energy poverty is a serious challenge in rural and urban communities. The rising cost of fuel for cooking and electricity has pushed many back into poverty. In the last five months, the cost of fuel for cooking and electricity has soared above 300 per cent, and for the first time in 16 years Nigeria's inflation is almost 20 per cent. So, we are manufacturing a smart, smokeless cookstove that uses our proprietary bio-pellets to cook food five times faster and self-generate free electricity for the users to charge phones, and power LED and home appliances. Also, we are currently selling the cheapest cooking fuel that saves users up to $300 annually.
We have pioneered a lot of innovations within the clean cookstove industry and one of them is the self-powered plug-and-play IoT devices that helps Powerstove to monitor both user behaviour and generate carbon credits in a transparent and traceable channel. In the next 12 months, we will be upgrading our IoT device to become compatible with our native blockchain, which will enable the monetisation of clean cookstove carbon credits using crypto tokens. We are also enabling geo-tagging of users and creation of digital accounts of the users to help in paying them a share of the carbon credits through digital identities.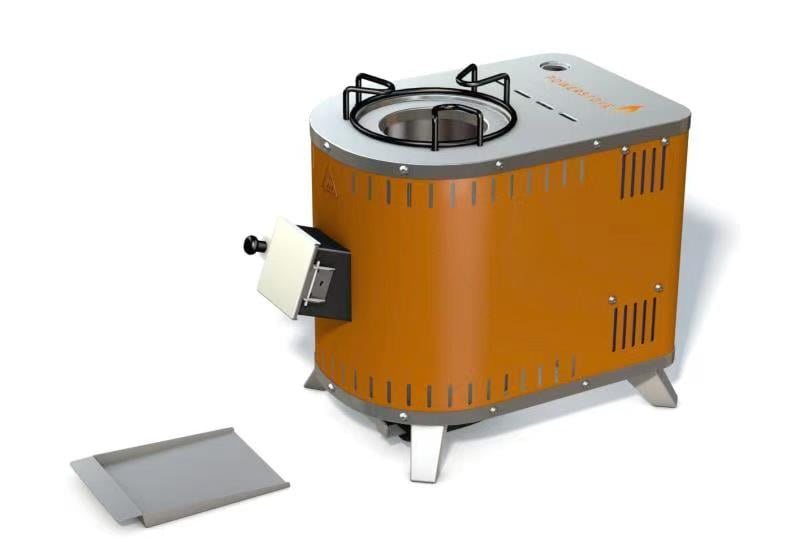 What are the challenges you expect to encounter in deploying the solution and with digital adoption?
Poor infrastructural assets hamper factory operations and increases production costs. However, we are currently upgrading and incorporating a solar power supply to account for power cuts and generator power supply. High inflation and FOREX are badly affecting direct costs of raw materials sourced both within and outside Nigeria. However, through bulk purchases, rebate systems and long-time supply contracts, we are able to lower the raw material costs to a manageable level.
Poor internet connectivity, especially in peri-urban communities, affected IoT deployment in version one. However, we have upgraded the IoT device to transmit data on 2G/3G networks and have the ability to store information for up to one week, pending availability of an internet connection to sync all of the data to the base server.
Powerstove have faced two challenges being local and pioneering new technologies. BoP families in the urban and peri-urban communities in Nigeria are not early adopters, so we are using product education, product demonstrations, product ambassadors and market awareness to increase product adoption.
What are you expecting to learn through the GSMA project?
We want to understand how our users interact with our products, their concerns, and fears. We want to see how our technology is driving financial inclusion, solving energy poverty, and enabling womens' inclusion in the energy value chain. So far, we have successfully demonstrated to our new users that Powerstove can solve basic household energy needs for cooking and lighting as well as creating huge savings from purchasing our bio-pellets.
How do you see your business model evolving?
We currently operate five models, each with a different revenue model, targeting different customer segments:
Sales through third party e-commerce websites, where customers pay full retail price for any of our products: Clean Cookstove, Wood Pellets, SHS and Accessories.
Pay-as-you-cook consumer financing allows users to pay 40 per cent of the product price with the balance spread over up to six months with nine per cent monthly interest.
Rent-to-own is targeted at HORECA (Hotels, Restaurants and Cafe), we provide cookstoves free for them but they sign a contract on a fixed monthly minimum quantity of Goodlife Pellets that must be purchased to keep the contract running for two years, after which the cookstove becomes theirs.
Savings-to-own is a consumer scheme that allows prospective customers (mostly poor and low-income households) that may not be able to meet the initial high cost required to purchase the cookstove, but can afford to save daily or weekly with Powerstove until they reached the agreed savings milestone of 40 per cent of the cost price of their choice. Then we offer the cookstove to the customer and allow him or her to pay the balance over up to six months.
Distribution Retail Kiosks (Hubs) allows those customers who cannot order products online to visit any of our growing mobile kiosks to make the purchase at the same price as via the website.
We have successfully expanded and upgraded our factory, which has increased our monthly production to 15,000 units. We also have developed a robust R&D unit that helps Powerstove integrate third party designs and production into our production workflow, hence improving our revenues from contract manufacturing. We have further developed a template that could see Powerstove effectively replicate and export our technologies in a joint venture project across Eastern and Southern Africa.
What partnerships have you formed, and what partnerships do you hope to form in the near future?
Forming partnerships is always a slow process, we hope to conclude partnerships with MNOs that can help in enhancing loan recovery, product purchase, data subscription and shared internet usage. Also, we are currently in discussions with financial institutions embrace our saving-to-own and pay-as-you-cook consumer scheme.
We remain the most innovative clean cookstoves in Africa, with the largest factory in Nigeria, that has over 71,000 active users across 15 bespoke products we designed and manufactured for African families.
What needs to happen for your service to scale and become sustainable?
We are keen on signing partnerships with MNOs that have mobile money facilities which can help our users make purchases. Also, we are looking at MNOs that can enable shared data subscriptions for more than 500 IoT users and provide special sim cards for 2G/3G internet connectivity.
Furthermore, we are increasing partnerships with local NGOs for product distribution and awareness, after-sales support, and user engagements and with institutional organisations to increase investments that de-risk our frontline market expansion to larger markets termed risky. We are also increasing our logistics and distribution channels to ensure more distributors and resellers in last mile communities are onboarded to sell our products with sustainable supply channels.
THIS INITIATIVE IS CURRENTLY FUNDED BY THE UK FOREIGN, COMMONWEALTH & DEVELOPMENT OFFICE (FCDO), AND SUPPORTED BY THE GSMA AND ITS MEMBERS.