This is the tenth in a series of blogs introducing the grantees and key partners supported by the GSMA Innovation Fund for the Digitisation of Agricultural Value Chains. The blog covers the objectives and ongoing priorities of Jazz Pakistan and its consortium partners in delivering digital agriculture services for farmers in Pakistan.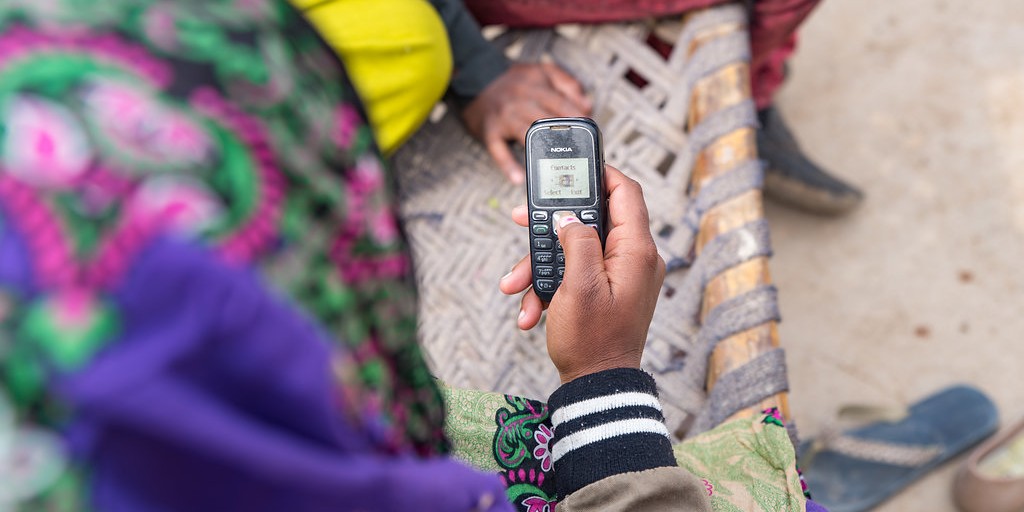 Agriculture is central to Pakistan's economy; it contributes 23 per cent to the national GDP and employs 37 per cent of the labour force. When the informal sector is factored in, it is estimated that 65-70 per cent of the higher than 220 million population depend on agriculture for their livelihood.
However, farmers' productivity in Pakistan is stagnating, with yields being lower than in neighbouring countries. This can be attributed, among other things, to a lack of information on farming best practices and timely weather forecasts but also to the impacts of climate change. According to the latest Global Climate Risk Index 2021, Pakistan is among the 10 most affected countries by the impacts of climate-related extreme weather events like floods and heatwaves. Securing loans from formal financial service providers (FSPs) is also cumbersome for farmers, as they often lack collateral and a credit history to prove they are credit worthy. Although a majority of farmers in the country already possess functional identities i.e., computerised national identity cards (CNIC) and voters' list registration, the high incidence of cash payments in the agricultural sector means that farmers often lack economic identities. Lacking access to economic identities, farmers remain financially excluded as FSPs cannot gauge their borrowing capacity.
Female farmers, who typically have lower access to assets, services and opportunities compared to male farmers, are disproportionally affected by these challenges, as they face socio-cultural barriers that limit their participation in the last mile of agricultural value chains.
Supporting a consortium of partners to solve farmer challenges
Jazz is the largest mobile network operator in Pakistan with over 70 million+ subscribers while JazzCash, its mobile money service, reaches over 12 million users across the country. Given the importance of agriculture to the national economy, Jazz has had a longstanding presence in the sector, primarily through BaKhabar Kissan – an omni-channel Business-to-Consumer (B2C) mobile agriculture advisory service that provides farmers with farming best practices, weather alerts and access to agriculture experts.
Recognising farmers' need for a more holistic suite of agricultural services, Jazz has partnered with a consortium of agritech companies including BaKhabar Kissan (and its sister concern Reap Agro) and Ricult, to deliver multiple digitally-enabled use cases: profiling, procurement, payments, credit and insurance services for farmers. In September 2020, this consortium led by Jazz was selected as one of the grantees for the GSMA Innovation Fund for the Digitisation of Agricultural Value Chains, a FCDO-funded initiative that aims to improve farmer livelihoods, financial inclusion and climate resilience through digital services. The consortium of partners had the following objectives:
Work towards establishing viable economic identities for farmers in Pakistan by leveraging functional identities available through national and Jazz databases as well as economic data points available from Reap Agro and Ricult;
Explore avenues for helping farmers improve their climate resilience;
Improve the usability of their service offering, via evidence-based user experience (UX) research and product design recommendations; and
Scale their service offering to more than 100,000 farmers across a variety of use cases mentioned above.
The consortium is delivering these objectives across three pillars; the BaKhabar Kissan/Reap Agro partnership, the Ricult partnership and the Jazz platform.
Consortium Pillar 1: BaKhabar Kissan/Reap Agro
Digitising procurement & improving financial inclusion and climate resilience of farmers
Operating primarily in the potato and maize value chains, Reap Agro is both an input provider and off-taker of agricultural produce that leverages digital channels to improve farmer productivity and market access. Backed by contracts with leading manufacturers like Pepsico and Candyland, Reap Agro, with support from BaKhabar Kissan, maintains detailed farmer profiles, including polygon mapping of their fields, and procures crops under a contract farming model with pre-locked prices with farmers. In return, Reap Agro offers advisory services to farmers (both through the BaKhabar Kissan app/IVR service and in-person through Reap Agro agents), input loans that are recorded on Reap Agro's balance sheet, and guaranteed crop purchase when the harvest is completed.

Figure 1: Reap Agro support model for farmers
Partnering with GSMA and Jazz, Reap Agro sought to enhance its service offering by incorporating financial services through formal financial institutions that allow for more scale than Reap Agro's own balance sheet, as well as adding in climate resilience solutions for registered farmers. Following initial UX and design research supported by GSMA AgriTech's global design partner, YUX, the Reap Agro service has been enhanced to offer digital procurement and payments, input loans and index insurance.
Digital Procurement & Payments: In 2020, the issuance of procurement receipts to farmers was largely manual while internal records at Reap Agro were maintained in Excel sheets. Following recommendations from GSMA and YUX, the procurement module was digitised to record all transactions against Farmer IDs on the Reap Agro portal. In addition, farmers started receiving instant SMS notifications about their sale and were able to retrieve their transaction history in-app.
Reap Agro also integrated with JazzCash and other mobile money providers, allowing Reap Agro to pay for farmers' produce using mobile money, which results in more transparent payments.
Input Loans: Prior to the GSMA intervention, Reap Agro was providing loans using its own balance sheet, which created liquidity challenges and limitations for scale. Following recommendations from UX research, Reap Agro partnered with two fintechs, Creditper and FINJA, and with FSP Mobilink Microfinance Bank, to offer in-kind input loans to farmers. Having obtained farmer's consent, farm and farmer data held by Reap Agro is shared with the FSP to support their credit decision. Since launch at the end of 2021, 400 farmers have received loans with an ambition to reach 6,000 farmers across loans and insurance by October 2022. The loans are interest-free for farmers and Reap Agro covers the cost of loans through the margin it makes from the sale of inputs.
Index Insurance: Partnering with Blue Marble Insurance and Asia Insurance, Reap Agro shares farmer profile and farm location data with the insurance provider to offer index insurance services to registered farmers. Initially, 304 farmers purchased rainfall insurance (covering excess or insufficient rainfall) and 236 received pay-outs following "out-of-bound" (above or below the defined range) rainfall. The service is now being enhanced to cover additional risks such as heat stress, wind and hailstorm.
Consortium Pillar 2: Ricult
Improving farmer financial inclusion
Ricult is an agri-fintech operating in Pakistan and Thailand. It provides farm advisory and financial solutions to farmers, as well as farm analytics and sourcing solutions to mills. Focused on the maize and rice crops in Pakistan, Ricult has traditionally operated through an app and web platform covering farmer profiling, advisory and procurement solutions. The company partnered with Jazz and GSMA to diversify into financial services and offer a more comprehensive suite of products to farmers.

Figure 2: Ricult offering for farmers
Digital Payments: In partnership with JazzCash and other mobile money providers, Ricult launched an e-payment solution for farmers. It builds on Ricult's existing digital procurement module and provides a distinctive payment solution to ensure that farmers are paid for produce they sell to Ricult within 48 hours. In addition, the platform now enables independent buyers to record their purchases on the Ricult app and pay farmers using JazzCash. Given the cash-dominated nature of the market, and farmers' preference for cash to cover immediate expenses, Ricult has enabled a split payments functionality which allows farmers to be part paid in cash (amount recorded on the app), with the remaining balance paid via mobile money. Over 5,000 farmers' digital procurement transactions have been recorded on the platform and 600+ farmers have received digital payments as of now.
Loans: The Ricult app currently generates leads for partner FSPs as farmers can apply for agricultural loans using their app. With support from Jazz and GSMA, Ricult is now in talks with FSPs to enable digital credit scoring and access to loans, leveraging farmer data held by Ricult in lieu of traditional collateral.
Consortium Pillar 3: Jazz Platform
A platform approach for growing the agritech ecosystem in Pakistan
In addition to working with partners, Jazz is leveraging its strengths in digitisation, connectivity, large retail footprint and mobile financial services offering to build its own dedicated agri platform that aims to create a scalable and customizable product for clients. The platform will cover both B2C and Business-to-Business (B2B) use cases, with an initial focus on farmer profiling, digital procurement, and payments. Leveraging key learnings from Jazz's agribusiness partners and design research conducted by YUX, the Minimum Viable Product (MVP) offering will be ready for pilot launch by September 2022.
Next Steps
Following 18 months of development, piloting and iteration of last mile digitisation services, the consortium is now focussed on reaching scale.
Reap Agro is partnering with on-ground activation partners to onboard new farmers, with a target of 25per cent of new farmers being female. It will also diversify its loan offering through Mobilink Microfinance Bank which has greater reach and balance sheet strength compared to the two existing partners. The climate-smart insurance offering will also be enhanced to cover additional risks.
Ricult aims to further scale its digital payments offering across rice paddy and maize value chains. At the same time, it will focus on increasing the number of farmers on its platform, primarily through digital marketing.
Going forward, Jazz aims to expand its own platform to include farm advisory, derivative financial products like loans and insurance, IoT services for farms and an online marketplace connecting buyers and sellers of both farm inputs and outputs. Ultimately, the platform will unify Jazz's partnerships under a consolidated suite to not only provide farm advisory, but also access to telehealth, tele-veterinary and on-demand agri expert consultations. The platform aims to extend procurement and payment services to more areas and agricultural value chains through onboarding multiple B2B partners.
While the GSMA's support to Innovation Fund grantees ends in Q4 2022, services launched under this initiative, and the corresponding scale they achieve, will enable the organisations to continue to grow sustainably.
The GSMA Innovation Fund for Digitisation of Agricultural Value Chains
In 2019, the GSMA AgriTech programme launched the GSMA Innovation Fund for Digitisation of Agricultural Value Chains, which aims to scale digital solutions for the agricultural last mile and improve smallholders' financial inclusion, livelihoods and climate resilience. The Innovation Fund prioritises digital enterprise services targeted at organisations, like agribusinesses and cooperatives, procuring from smallholders living on less than $2 (USD) per day. It emerges from the success of the three-year mNutrition Initiative that tested and scaled digital advisory services for smallholder farmers in six markets across Africa and Asia. This Innovation Fund is the latest step in the programme's evolution to unlock the impact of a wider range of digital agricultural use cases.
You can read more about it in the first blog post of this series
THIS INITIATIVE IS CURRENTLY FUNDED BY THE UK FOREIGN, COMMONWEALTH & DEVELOPMENT OFFICE (FCDO), AND SUPPORTED BY THE GSMA AND ITS MEMBERS.