Mobile phones are vital to rural development in Madagascar, an island nation with 25.6 million inhabitants where 63 per cent live in rural areas and about 80 per cent of the total workforce are involved in agricultural activities. According to World Bank's Global Findex database, the number of adults living in rural Madagascar with a mobile money account tripled between 2014 and 2017, reaching 12 per cent. While modest, this growth demonstrates the contribution of mobile-based technology to Madagascar's rural development as well as the level of untapped potential in the market.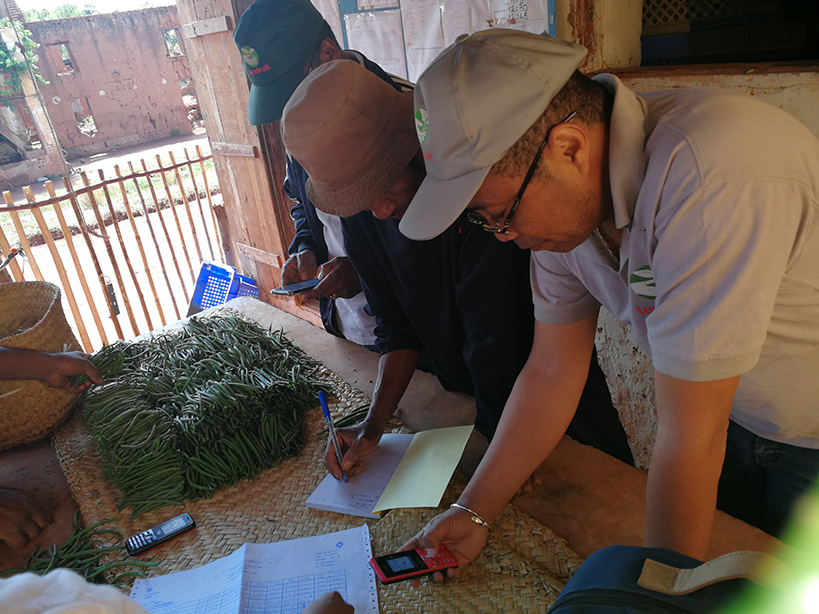 In 2017, the GSMA AgriTech programme facilitated a working arrangement between a mobile operator and Lecofruit, a local agribusiness. Lecofruit is one of the largest vegetable buyers in Madagascar, directly sourcing from 15,000 smallholders' farmers. Both companies collaborated to develop a digital solution for farmer registration, procurement and mobile money payments in the green beans value chain.
What are the main advantages of the service?
Digital services offer unique advantages that make them attractive to implement. For example, Lecofruits' service provides agribusinesses and farmers with digital, next day reporting on logistics, including transport to and from the collections and storage sites. This enables field agents to record and monitor crucial information including provenance and sale size from each farmer. Through instant verifications in the field (where the farmer confirms by replying to a message), both parties can agree on the weight of produce and subsequent payment owed. Farmers can then be paid directly by mobile money. This is a risk free process and provides more security for both the farmer and the agribusiness.
This digital process has two key benefits:
Increased efficiency and reduced errors – manual processes are time- and staff-intensive with a higher margin for errors. Through Lecofruit new process, green beans are weighed onsite and the provenance recorded and accepted digitally, leading to increased efficiency and fewer errors.
Minimised security risk – Lecofruit field staff are no longer required to carry or handle large amounts of cash to pay farmers in person, as farmers receive payments straight to their mobile money accounts.
What lessons were learned?
In April 2018, Lecofruit launched an initial pilot to test farmers receiving mobile money payments for their produce. By November 2018, field agents started using a USSD platform to record farmer information and procurement data. Lecofruit's current objective is to extend the use of the digital tool to the majority of its farmers and its team.
After a two-year implementation period, all stakeholders involved gathered a number of key lessons that can help other practitioners:
Suitability of the agricultural value chain is key:
Green beans are harvested throughout the year and farmers receive weekly payments during the harvest period. A high transaction frequency of is key to mobile money adoption, otherwise farmers' use of mobile money is limited to the immediate cashing out of their payments. The GSMA Value Chain Assessment Tool presents a framework for analysing value chains and supporting digital interventions in agriculture, particularly the digitisation of payments.
Stable mobile network coverage matters:
Poor network connectivity can hinder the use of digital tools and negatively affect users' trust in the system. For a pilot, it is preferable to choose an area with relatively good network infrastructure that allows successful completion of USSD-based transactions. In the case of mobile app usage, the app also needs an offline mode to account for any connectivity issues.
Effort in farmer training should not be underestimated: 
25% of Malagasy are illiterate, with the percentage even higher in rural areas. Digital awareness is low among farmer communities, highlighting the need for a simple, interactive, and customised training curriculum for farmers.
Phone ownership is the lynchpin of mobile money adoption: 
A considerable proportion of farmers did not have access to a phone mostly because of the cost of a handset. Lecofruit and the MNO are considering offering farmers a financing scheme for mobile phones. This will ensure regular usage of the SIM card and the mobile money wallet.
Mobile money agents need to be accessible and have enough liquidity: 
Farmers need to be able to access mobile money agents quickly and affordably as one of the key value propositions of mobile money is convenience.  The MNO should collaborate with nearby mobile money agents to ensure there is enough liquidity and frequently review its agents' distribution network to address any gap in the implementation area. The agents are the face of the service and play a significant role in development trust amongst the farmers in the service.
These lessons indicate that there are some key aspects and challenges to consider on your journey to the digitization of agricultural valuechains. Lecofruit was able to overcome these obstacles and is reaping the benefits of this initiative, together with the farmers they collaborate with. The digitization of the green beans value chain translated into improved traceability, greater farmers' financial inclusion and shared prosperity across the value chain.
If you would like to learn more about how to assess the suitability of value chains for digitisation, check out our Toolkit here. This collection of resources provides practical guidance on how to overcome pain points for farmers and value chain actors in the agricultural last mile.  Chapter 4 provides a framework for analysing value chains that will support you with your selection of suitable value chains and the identification of agricultural organisation partners for the digitisation of  procurement payments.