As disasters globally increase in frequency and severity, it is more important than ever for the humanitarian community, and partners across other industries, to strengthen systems of anticipation, preparedness, and resilience. Anticipatory Action refers to acting ahead of a predicted hazardous event. This action can prevent or reduce acute humanitarian impacts before they fully unfold. The humanitarian sector continues to shift towards Anticipatory Action because of its potential to lessen, or even avoid, the impacts. By anticipating, rather than reacting to, an extreme event, more lives can be saved, responses can be more cost-efficient, and human safety and dignity can be better protected.
What is Anticipatory Action?
Anticipatory Action follows on from Early Warning Systems, by utilising the forecasting or warning information it releases. Anticipatory Action then occurs prior to the impact of a crisis or extreme event in order to minimise negative impacts (see diagram below).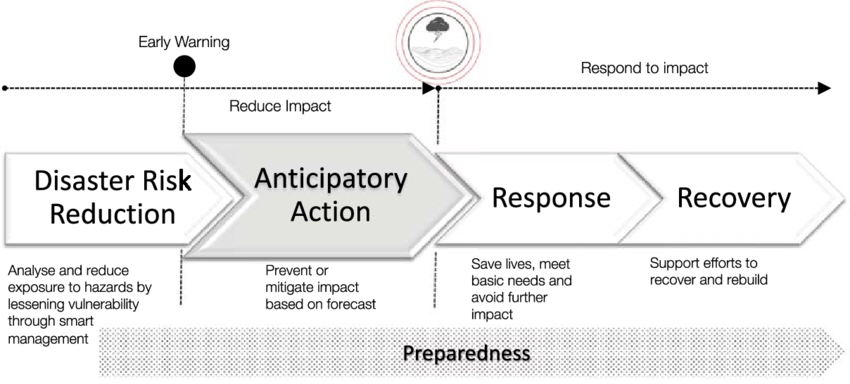 Source: Tozier de la Poterie, A. et al (2021). Managing multiple hazards: lessons from anticipatory humanitarian action for climate disasters during COVID-19. Climate and Development. 14:4, 374-388, DOI: 10.1080/17565529.2021.1927659
Anticipatory Action uses information from triggers, forecasts and Early Warning Systems to improve humanitarian responses, to protect lives and livelihoods of populations threatened by oncoming crises. Anticipatory Action continues to be utilised in the humanitarian sector because:
It can reduce suffering and/or mitigate negative impacts of crises.
It enables faster and more efficient form of response.
It can be highly cost-effective and can offer better value for money.
It protects the livelihoods and dignity of vulnerable populations.
Potential for the Humanitarian Sector
These key considerations show that Anticipatory Action has multiple advantages. For example, a forecast-based prediction of several floods in Bangladesh triggered the disbursal of 145,000 mobile-phone-based cash transfers four days before water levels rose to dangerous levels, allowing affected people to move themselves and their livestock to safety. This action reduced the number of people requiring shelter and most likely reduced loss of life. Understanding how Anticipatory Action fits into the sequence of actions in the lead-up to a crisis or extreme event helps to understand its purpose and potential.
Mobile Technology Supporting Anticipatory Action
Mobile technology can be ideal for supporting digital Anticipatory Action solutions in humanitarian contexts, in part, due to the wide availability of handsets, including increasing levels of accessibility to those affected by crises. It can also be instrumental in monitoring and predicting hazards, as well as facilitating the dissemination of risk information to vulnerable communities, governments, humanitarian organisations, and disbursal of cash assistance.
The rapid transfer of information is key when it comes to both Early Warning Systems and Anticipatory Action, making the mobile ecosystem a unique space for cultivating new digital innovations. For example, when an Early Warning System predicts a heat wave, mobile-enabled veterinary health services, such as the Muhinja Sohna Thar project in Pakistan, can provide smallholder farmers with communications instructing them on how to use hot weather gear to protect herders and how to use their already distributed veterinary kits to protect their livestock.
Mobile technology is therefore uniquely placed to accelerate the delivery and impact of anticipatory humanitarian action. However, care must be taken to avoid exclusion of marginalized groups within a vulnerable population. Considerations such as low digital literacy, low handset penetration, household and community behaviours around mobile usage, gender and disability gaps in phone accessibility, are all essential to reach marginalised groups and to avoid enhancing existing inequalities when doing risk communication and Anticipatory Action. Therefore, it is important to ensure systems are inclusive and assess whether digital solutions are appropriate for each context.
Past Early Warning System Investment leads on to our Anticipatory Action focused Fund
In previous years, GSMA innovation funding has facilitated the development of Early Warning System projects. One example is the Communities in Haiti Access New Technologies for Early Warning/Response (CHANTER) project, led by Mercy Corps. By leveraging SMS and interactive voice response (IVR) technology through Viamo's mobile communication platform, and via Digicel's Haitian mobile network, the CHANTER platform delivered a twelve-week curriculum on extreme weather preparedness and first response practices, as well as early warning messages. The messages were tailored based on the recipient's livelihood activity and their location to ensure they receive useful information. This demonstrates the central role mobile technology offers for innovative solutions addressing humanitarian crises.
Given the GSMA's experience to date of funding Early Warning Systems, together with the shift within the humanitarian sector towards Anticipatory Action, it is both logical and timely for the Fund to concentrate on new innovations that utilize digital and mobile to deliver in this area.
Apply to the GSMA Innovation Fund for Anticipatory Humanitarian Action
The latest round of the Fund is calling for solutions in anticipatory humanitarian action with a strong mobile technology component. The Fund is interested in solutions that:
Prevent and minimise the impact of humanitarian crises;  
Improve preparedness for sudden-onset crises;   
Enable dignified and inclusive communication and assistance; or  
Anticipate incidence and impacts of crises and enable earlier and more effective responses.   
As Anticipatory Action expands, so does the importance of monitoring and evaluation to improve practice, strengthen accountability, and enhance reflection and learning. The learning and evaluations that come out of funded projects will make a significant contribution by increasing knowledge, resources and expertise on how best to anticipate and mitigate the negative impacts of severe crises and extreme events.
---
This initiative is currently funded by the UK Foreign, Commonwealth & Development Office (FCDO), and supported by the GSMA and its members.