Mobile internet is changing lives and livelihoods around the world. It is a fundamental driver of our increasingly digital societies. Mobile internet provides the sole means of online access and engagement for millions of people globally, especially in low- and middle-income countries (LMICs). As a result, in LMICs mobile internet is a key facilitator for the shift of public services onto digital channels, the development of local digital content and services ecosystems, and for access to otherwise unobtainable help, advice and information.    
This success is particularly clear in Malaysia, the host of the GSMA M360 Digital Societies event that ran this week. The country has made strong progress in building and shaping a digital society – demonstrated by the extensive Malaysian Digital Association 'd Award' winners in recent years. Malaysia is just one example of many countries in the wider regions of East Asia and Pacific as well as South Asia  that have made strong progress in rolling-out and leveraging mobile internet.
Recognising the importance of mobile internet for digital societies (and other initiatives), the GSMA Connected Society team (in collaboration with GSMA Intelligence) launched the 2019 State of Mobile Internet Connectivity report this summer. The report features data and insights from the GSMA Mobile Connectivity Index (MCI). The Index measures the performance of 163 countries – representing 99% of the global population – against the four key enablers of mobile internet adoption. The four enablers (see figure 1) are crucial foundations, and amplifiers, for the mobile internet adoption and usage that is a central prerequisite for a digital society.
Figure 1. The components of the Mobile Connectivity Index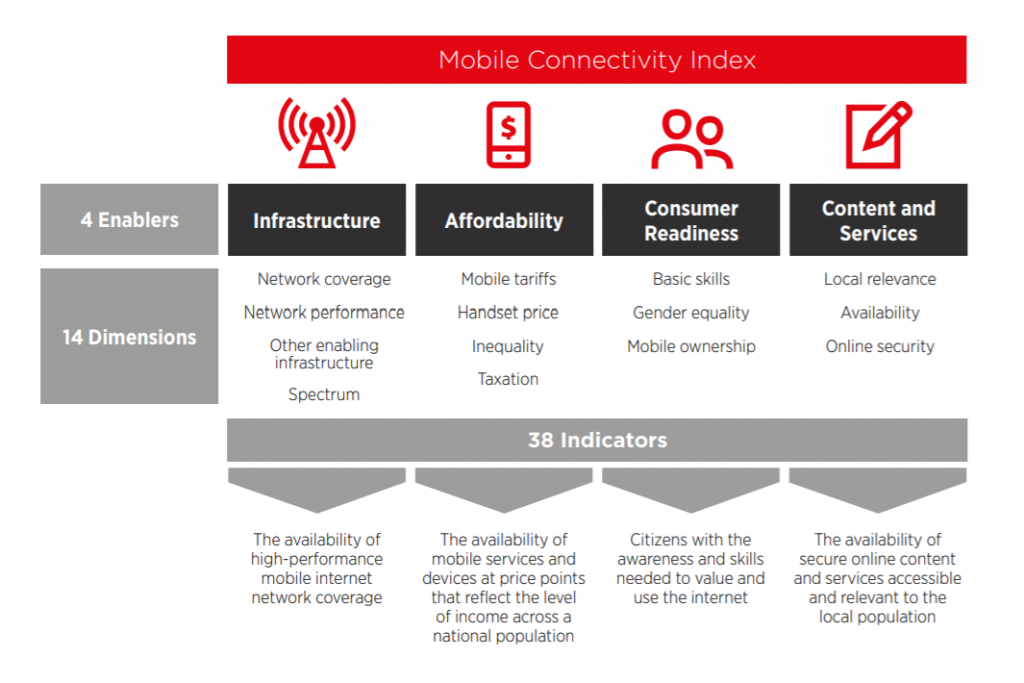 So, why are these four enablers so important?
First, mobile internet infrastructure provides the internet coverage needed to deliver online products and services over mobile – many of which are at the heart of digital societies. Significant investment by operators has resulted in strong improvements in infrastructure around the world, including particular growth in 4G coverage and mobile broadband coverage across Asia. 3G and 4G are now both available to many in both South Asia and East Asia and the Pacific.
Network quality has also significantly improved, with numerous countries now having internet speeds that allow citizens to explore the benefits that mobile internet can deliver. This is particularly important as the majority of citizens in LMICs rely on mobile internet to get online, as highlighted in responses to the GSMA Intelligence Consumer Survey. In some countries, mobile is essential. For example, in Myanmar, 94% of respondents who had used the internet in the last three months accessed it exclusively on a mobile phone.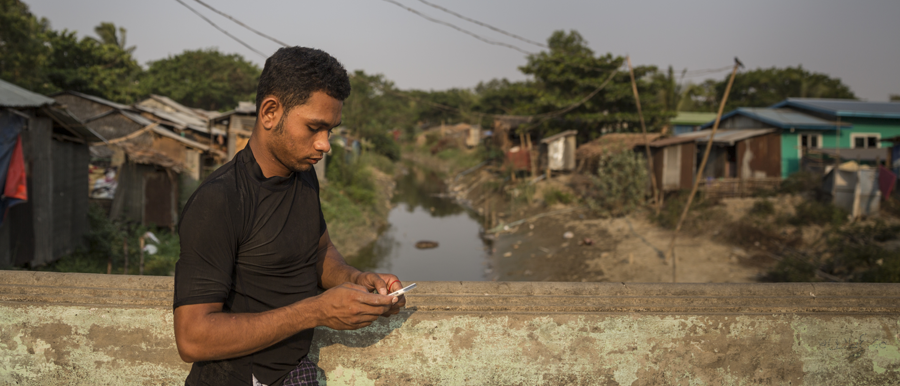 Affordability is a key driver of mobile internet adoption and use. The latest iteration of the Mobile Connectivity Index highlights that mobile data continues to become increasingly affordable in every region. South Asia, in particular has some of the best levels of affordability worldwide, considering LMICs only. Across these countries, average affordability of data is lowest in South Asia at 1.2% of monthly income. Operators such as Reliance Jio in India are making real efforts to ensure the affordability of their services.
However, internet-enabled devices remain expensive for many – particularly the poorest. In East Asia and the Pacific, for the poorest fifth of society, an entry-level device capable of accessing the mobile internet costs 89% of their monthly GDP. This issue is starker in other parts of the region. Notably, in South Asia, an entry level device costs 269% of the poorest fifth's monthly GDP. As digital societies evolve citizens will want to engage with many aspects of them through their mobiles. Therefore, ensuring the affordability of smartphones and data is essential.
Citizens also need to have the digital – and wider – skills and knowledge to participate in a digital society. The MCI's consumer readiness enabler assesses digital skills and other consumer attributes in relation to mobile internet access and usage. When surveyed as part of the GSMA Intelligence Consumer Survey, citizens in LMICs in East Asia and South Asia identified a lack of digital skills as the biggest barrier to mobile internet use – cited by 35% and 37% of respondents. These were the largest percentages across all low- and middle-income regions. Continued improvements in digital literacy are clearly needed.
Beyond this, the mobile gender gap needs to close, and equitable access to and ownership of devices is needed. These factors are particularly relevant in some parts of Asia, where the mobile internet gender gap – which measures how much less likely a woman is to use mobile internet than a man – can be significant. The GSMA's Mobile Gender Gap Report 2019 highlights that South Asia has the widest mobile gender gap of any region in the developing world. Here, women are 58% less likely than men to use mobile internet. A more extensive analysis of these figures can be found in this blog post.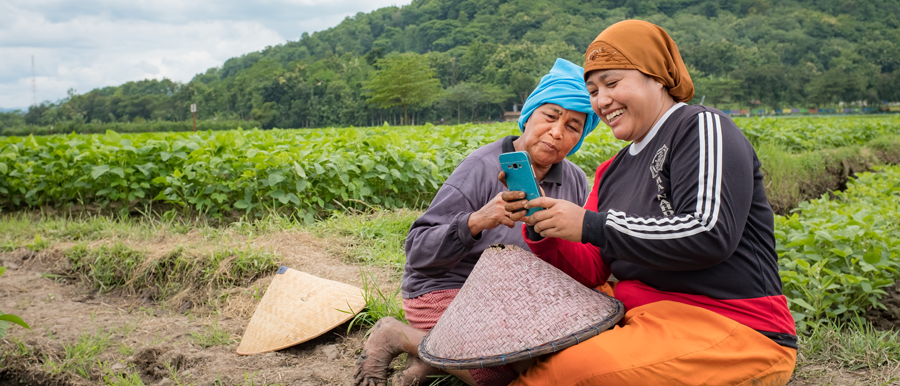 Finally, the success of any digital society is premised on its relevance to citizens. This is a particularly important factor across the South Asia and East Asia and Pacific regions. Across LMICs, GSMA Intelligence Consumer Survey respondents in East Asia and South Asia saw the mobile internet as less relevant to their lives than those living elsewhere. 23% of citizens in South Asia cited 'relevance' as a particular barrier to mobile internet use – compared to 12% of Latin American respondents.
In aiming to measure progress in this area, the MCI enabler of content and services assesses the availability of secure online content and services accessible and relevant to the local population. Here, we see that the extent of social media and social networks has increased considerably across several countries in the Asia and Pacific regions in recent years. The development of local content and services is also increasing. In this regard, Indonesia is one of the top ten most improved countries in the Mobile Connectivity Index since 2014. The country has seen a considerable increase in the development of local content, with a 200% increase in the amount of applications available in local languages since 2014. However, across all countries there remains space for more locally developed products and services – particularly those in local, and non-English, languages.
Malaysia, as this year's M360 host, is recognised as an 'Advanced' country in the Mobile Connectivity Index and has made strong progress across all of the above four enablers. There has also been sustained progress by many countries across East Asia and the Pacific, and South Asia – progress that can be tracked in the national data found on the GSMA Mobile Connectivity Index webtool. This provides country comparisons, and allows exploration of the four Mobile Connectivity Index enablers, and underpinning dimensions and indicators, in detail.
The developments highlighted by the 2019 State of Mobile Internet Connectivity report reaffirm the key role that mobile internet plays in any digital society. However, as the extent and scale of digital societies increase, it is crucial that this progress is matched – and supported – by the availability of affordable and accessible mobile internet connectivity that ensures that all can benefit from such societies. With this in mind, delivering, enabling and supporting the efforts of mobile internet operators and other stakeholders to achieve this must continue to be a priority.
If you enjoyed this blog you may be interested in our upcoming webinar which explores the state of mobile internet connectivity. Click here for more details and to register your place.