Agricultural insurance can act as a safety net when smallholder farmers experience losses and can enable greater potential for productivity, for instance by allowing farmers to use multiple varieties of seeds. Agricultural insurance services available through mobile also have the potential to lead to financial inclusion for farmers. However, despite showing promise as a tool to build climate resilience, agricultural insurance services have struggled to achieve mass uptake. There are a number of barriers to scale, some of which were raised at the 15th International Conference on Inclusive Insurance in Dhaka, Bangladesh, in November 2019. Key barriers include:
Low sales volumes of microinsurance products,
Limited familiarity and understanding of insurance amongst emerging customers, and
Insufficient investment in weather data for index insurance models.
Low sales volumes of microinsurance products
Agricultural insurance products often see lower uptake compared to health or funeral insurance due to the specific customer base they cater for, with the remoteness of most smallholder farmers an additional contributory factor. Distribution in the agricultural last mile is a challenge that digital agricultural solution providers are overcoming by using mobile. ACRE Africa in Kenya has replicated this approach by integrating its Bima Pima weather-index insurance service into M-Pesa's USSD menu. This has allowed farmers well-versed with Safaricom's M-Pesa mobile money service to easily sign-up for ACRE's service. Customers can also use M-Pesa to pay premiums and receive claim pay-outs.
Limited understanding of insurance among emerging customers
While ACRE benefitted from farmers' prior awareness of insurance through the use of its earlier Seed Replanting Guarantee service, other agricultural insurance providers are faced with the challenge of educating farmers about their insurance services. OKO Insurance launched its weather-index insurance service in Mali in January 2020 after a number of successful pilots. To educate smallholder farmers, OKO recruited a network of mobile money agents to engage with farmers on the ground. OKO also offers a USSD through Orange Mali's mobile service; this is provided in French as local languages in Mali remain largely oral. However, as not all farmers are fluent in French, OKO uses a call centre to interact with farmers in local languages.
Insufficient investment in weather data for index insurance models
Event participants also raised the problem of sourcing accurate weather data to support weather-index insurance models and weather forecasts for farmers. While both ACRE Africa and OKO rely on satellite data for their indices, numerous developing countries have sparse weather-station or rain-gauge coverage, leading to challenges in establishing the "ground truth" for index insurance services. In 2019, the GSMA AgriTech Programme published a report on how mobile technology can improve rural climate resilience and a video case study on the use of commercial microwave links (CML) for rainfall monitoring in Sri Lanka. The case study was part of a broader proof-of-concept project run by the GSMA in Sri Lanka, Nigeria and Bangladesh on how CML data can be used for rainfall monitoring and support service-creation for climate resilience products, such as weather forecasts, nowcasts, and even weather insurance.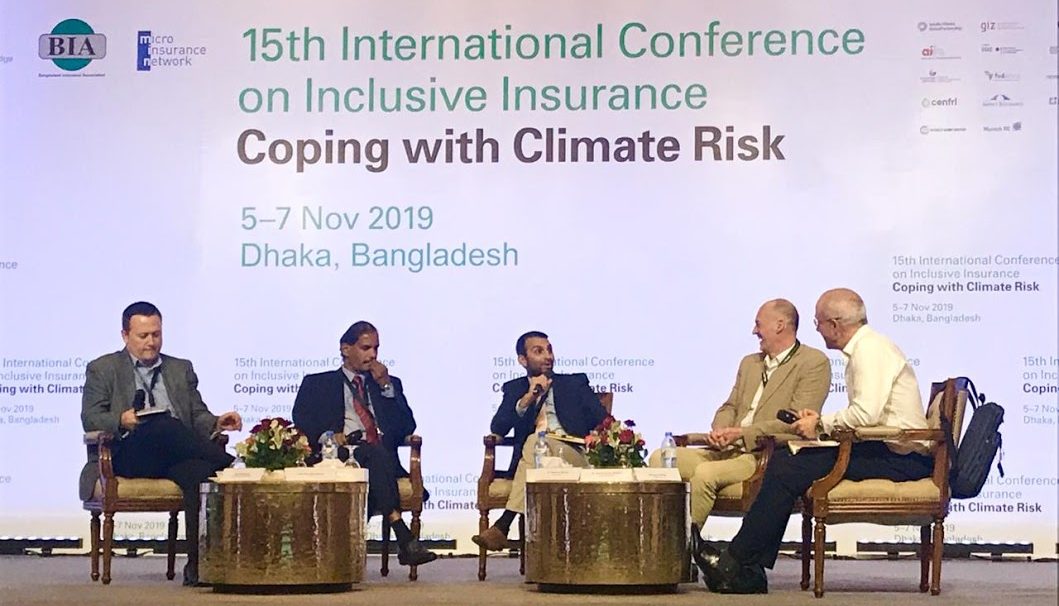 CML represents only one way that mobile network operators (MNOs) can use their assets to improve weather-index insurance services. MNOs can also co-locate automated weather stations with base stations, while mobile can be used as a distribution channel for content. For instance, Dialog Sri Lanka provides agricultural advisory and a two-day weather forecast to over 600,000 farmers across Sri Lanka through its Govi Mithuru service. Dialog is keen to use this established channel to offer insurance services to Govi Mithuru farmers, many of whom are not covered for weather-related losses. These examples demonstrate the potential of MNOs and mobile money providers, and their assets to support, improve and scale agricultural insurance services.
This coming March 2020, we will be publishing a detailed market analysis of agricultural insurance services. This report will explore current business models along with examining the current opportunities and potential challenges in the market.
Sign up to our quarterly newsletter and tick the AgriTech box to make sure you don't miss it.